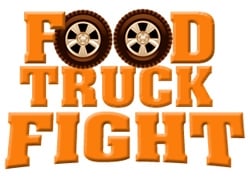 THIS POLL IS CLOSED. WINNER: WINDY CITY RH
Sure, hot dogs are considered typical street-food fare, but Windy City Red Hots owners Angel and Pia Miranda upped the ante with their alarm-red truck parked in an Ashburn garden-store parking lot. They imported all of their ingredients from Chicago to replicate that city's famous dog: The dogs are from Vienna Beef, the buns have poppy seeds, the relish is neon-green, and you'll get a pickle, onions, mustard, sport peppers, and celery salt on top. There are also Italian-beef sandwiches and pizza puffs. The competition is Sidewalk Sweetsations, which, yes, has cupcakes. (What bakery doesn't?) But there are also "cuptails," a cross between cupcakes and cocktails—think rum-and-Coke or a Long Beach punch—and "cup-pies," whose flavors include sweet-potato and Key Lime.
For a ranked list of all of the trucks, and a description of each, click here.
For complete Food Truck Fight coverage, go to washingtonian.com/foodtruckfight.
Subscribe to Washingtonian
Follow Washingtonian on Twitter
Follow the Best Bites Bloggers on Twitter at twitter.com/bestbitesblog
More>> Best Bites Blog | Food & Dining | Restaurant Finder