Irish merchant John O'Donnell is credited with delivering the first shipment of Chinese goods to Baltimore in 1785. When he settled down in a plantation just east of town, he named it after China's port city, Canton (today's Guangzhou). When Baltimore boomed in the 19th century, its Canton neighborhood became a working-class enclave of rowhouses and waterside industry.
Today, O'Donnell stands in statuary form in Canton's O'Donnell Square, watching over an area booming since the 1990s as a hip and happening place for the young professional crowd to eat, drink, and buy their first house with a harbor-view deck on the roof. The waterside industry has given way to condos overlooking yacht moorings. The square is the center of the scene, with shops, eateries, and a slew of bars.
Towering over Canton is the face of Mr. Boh, the cartoon purveyor of National Bohemian beer (also known as Natty Boh). The neighborhood was once home to much of Baltimore's brewing industry, including the National Brewing Company, whose hilltop plant is now called Brewers Hill, a mixed-use complex decorated with a mammoth Mr. Boh.
Jump to: Museums Dining Nightlife Where to Stay
Museums and Culture
Canton's leafy Waterfront Park (3001 Boston St.) is a good place to stroll. The waterside promenade is part of a largely unbroken pedestrian way skirting the harbor from Canton around to Locust Point on the opposite shore. You can admire the bobbing powerboats and sailing vessels and enjoy the bars and eateries strung along the shore. Then try to imagine this area as a factory-choked harborside. It once turned out much of the chrome that put the shine on 1950s and '60s automobiles.
For a landlubber's view of Canton, head to Patterson Park, the city's answer to New York's Central Park. The sprawling green space's northwest corner is home to a lovingly restored piece of Victorian architecture: a four-story, Asian-inspired observation tower that residents call the Pagoda. Its hilly perch provides pleasant views, but on warm-weather Sunday afternoons the structure is unlocked and you can climb to the top for an even better look around.
Jump to: Museums Dining Nightlife Where to Stay
Dining
It's tempting to make a meal out of the bar snacks at Blue Hill Tavern (938 S. Conkling St.; 443-388-9363), such as pickled deviled eggs, truffled popcorn, and a Buffalo-wing-inspired mix of nuts with blue cheese. Cocktails including a Dark and Stormy with coconut "spheres" and a vanilla-infused old fashioned are a draw, too, especially during the weeknight and all-day Sunday happy hour when they're discounted to $5. More substantial plates—cornmeal-crusted-calamari salad with chili and lime; shrimp and grits; a Kobe-beef burger on brioche—are also worthy of attention.
At the whimsical Jack's Bistro (3123 Elliott St.; 410-878-6542), appetizers include a "meat Bloody Mary" made with filet mignon, horseradish, tomatoes, and celery. We like the foie-gras-laden mound of French fries with cheese curds and gravy, a Korean pancake topped with chopped barbecue pork, and yellowtail collar with edamame and fried rice. Desserts—fried s'mores, a peach Melba with bread pudding—are similarly over the top.
Want something quick? Di Pasquale's Marketplace (3700 Gough St.; 410-276-6787) in North Canton is good for takeout Italian and meatball subs, freshly filled cannoli, and tennis-ball-size arancini split and sauced with marinara.
Jump to: Museums Dining Nightlife Where to Stay
Nightlife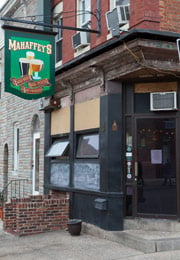 At Nacho Mama's (2907 O'Donnell St.; 410-675-0898), the decor is as much a draw as the chips and guacamole served on vintage hubcaps. The jovial bar is hung with artifacts from Baltimore's National Brewing glory days, when the beer maker owned the Orioles and its foamy offerings dominated area bar rails. Mr. Boh abounds here—one-eyed, many suggest, because he's winking—and goes for about $2 a throw. Rounding out the decor are Colts items — the Baltimore Colts, that is. We're talking Johnny Unitas, Lenny Moore, and Art Donovan.
When you've had enough Natty Boh — an okay brew that most people drink for nostalgia and the price—head to the quieter Mahaffey's Pub (2706 Dillon St.; 410-276-9899), which boasts 20 import and microbrew taps: stouts, barley wines, ales, and IPAs. This cozy local hangout has a three-mugs-for-five-bills happy hour every day until 7 and all day Monday.
Annabel Lee Tavern (601 S. Clinton St.; 410-522-2929) is generating buzz among area foodies as a bar with good eats. You might not think that Edgar Allan Poe, master of the macabre, would make for a good tavern theme. Named for the last poem Poe penned before dying in Baltimore, Annabel's plum-colored walls are hung with Poe manuscripts and painted with snippets of his poetry. Bartenders can pour you a locally made Raven lager, which, like the purple-and-black NFL team, is a nod to Edgar.
Jump to: Museums Dining Nightlife Where to Stay
Where to Stay
The Inn at 2920 (2920 Elliott St.; 877-774-2920) is a contemporary five-room inn in the heart of Canton. Modern rooms are individually designed. The Bordello Room features a wrought-iron bed, a tiled Jacuzzi tub, and, like all rooms, a fish tank. For larger groups, there's the Gato Casa, a two-room suite with a marble fireplace and a kitchen. The Inn at 2920 serves a full breakfast with tempting entrées such as blueberry bread pudding with chicken sausage. The brick-walled sitting room is an oasis from the cityscape out front and has a complimentary beverage station available around the clock. Tip: If you stay two nights or longer, the inn will give you a $50 dinner voucher for nearby Pasticcio Italian Kitchen, a favorite neighborhood spot. Rooms start at $175.
Jump to: Museums Dining Nightlife Where to Stay