For most of its life, Hampden (the "p" is silent) was an isolated town within a city. Its main street and modest housing catered to workers in textile mills in the adjacent Jones Falls Valley. After that industry went south, Hampden found new appeal among those seeking city living without the ballooning prices of waterside neighborhoods. To put it another way, people with MBAs moved to the harborside neighborhoods; those with degrees in philosophy or art history and more tattoos than neckties ended up in Hampden.
Today Hampden has an arty mix of residents and businesses. Its commercial strip—officially 36th Street, though called "the Avenue"—has junk shops, vinyl-record sellers, artist-run craft stores, high-end houseware purveyors, and gift boutiques. Dive bars and wine bars, diners and espresso outlets are strung along it. A merchants association works hard to keep it as local as possible. So no Starbucks.
Jump to: Museums Dining Nightlife Shopping Where to Stay
Museums and Culture
The Baltimore Museum of Art (10 Art Museum Dr.; 443-573-1700), technically not in Hampden but right on its border, is the city's primary art institution. A highlight is the Cone Collection, 3,000 modern works that Baltimore sisters Claribel and Etta Cone amassed while hobnobbing with Henri Matisse, Pablo Picasso, Gertrude Stein, and others during Paris's glory days in the early 20th century. The Cones have their own wing, and admission is free for the permanent collections. The on-site restaurant, Gertrude's, has a popular weekend brunch, and there's usually a summertime jazz series in the sculpture garden.
For a different art experience, head down the hill from Hampden to neighboring Woodberry and the Amaranthine Museum (2010 Clipper Park Rd.; 410-456-1343). This family-run institution focuses on the work of the late visionary artist Les Harris. The labyrinthine installation includes paintings that spill over their frames and onto the walls—a trippy trip that has been covered on NPR. Open Sunday only.
Jump to: Museums Dining Nightlife Shopping Where to Stay
Dining
A crowd that looks imported from an Urban Outfitters catalog is the only reminder that Golden West Cafe (1105 W. 36th St.; 410-889-8891) isn't in New Mexico. The brunch draws fans with fresh limeade, chorizo omelets, bacon-and-banana pancakes, and huevos montulenos, a mess of eggs, bananas, and black beans atop a thick corn cake. Later in the day, the kitchen turns out Frito pie and green-chili cheeseburgers.
Meanwhile, the comfort-food spot Dogwood (911 W. 36th St.; 410-889-0952) serves a good burger and an excellent mac and blue cheese.
Jump to: Museums Dining Nightlife Shopping Where to Stay
Nightlife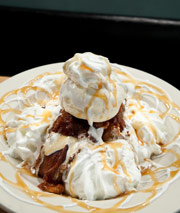 A dozen years ago, the idea of a wine bar opening in Hampden, long a bastion of shot-and-a-beer bars, would have been laughable. Time marched on, and now we have 13.5% (1117 W. 36th St.; 410-889-1064), a lounge named for the average alcohol content in wine. It offers some 40 wines by the glass, 200 by the bottle, and an ever-shifting menu of artisanal cheeses, small plates, and pizzas. Beer and cocktail fans are catered to as well—you can probably even order a shot and a beer, albeit with small-batch bourbon and a microbrew.
Back in the 1920s, a handful of plucky Hampden locals tried to reach Venus in a gasoline-fueled rocket ship. Rocket to Venus (3360 Chestnut Ave.; 410-235-7887) honors these would-be astronauts with a popular restaurant and bar that's hip but not pretentious. The kitchen is known for its Brussels sprouts, which are roasted to sweet goodness with balsamic vinegar.
Jump to: Museums Dining Nightlife Shopping Where to Stay
Shopping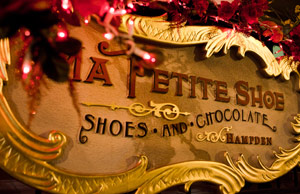 At Doubledutch Boutique (3616 Falls Rd.; 410-554-0055), bows show up on everything from girly handbags to belted coats. Eclectic offerings from BB Dakota and Tulle hang alongside local labels such as Natty Paint Vintage and Snowflake66. With its nice collection of greeting cards, this is also a good spot for gifts.
Ma Petite Shoe (832 W. 36th St.; 410-235-3442) is a union of two of life's great passions: shoes and chocolate. In addition to sneakers and pumps from such brands as Simple, Jeffrey Campbell, Poetic Licence, and Irregular Choice, owner Susannah Siger carries confections made everywhere from Baltimore to Madagascar. On Friday nights, you can taste while you browse—a happy hour from 6 to 8 lets customers sample the most intriguing blends of cacao and sugar.
Jump to: Museums Dining Nightlife Shopping Where to Stay
Where to Stay
While Hampden doesn't have a hotel within its borders, you can stay nearby at a favorite haunt of quirky filmmaker John Waters: the Inn at the Colonnade (4 W. University Pkwy.; 410-235-5400). Named for the white columns out front, this hotel across from the Johns Hopkins campus has an exercise room and pool beneath a lovely glass dome. It's home to Alizée, a French-Asian bistro and wine bar. All 125 rooms have Biedermeier-inspired furnishings and granite bathrooms. A perk: easy access to a running track and tennis courts across the street. Rooms start at $189.
Jump to: Museums Dining Nightlife Shopping Where to Stay