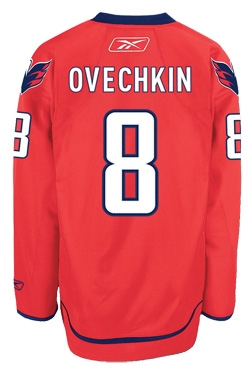 Foreign relations may be the role of the State Department, but the Washington Capitals will make their Stanley Cup run with a roster as diverse as any Embassy Row reception, as its top-selling Winter Classic jerseys show:
1. As the goal-scoring face of the franchise, Alex Ovechkin's is the team's most popular jersey. What's more, his 2008 contract extension—which will keep him in Washington through 2021—means that fans such as Seth Randall, a 26-year-old from McLean, can invest nearly $200 in a jersey without worrying that Ovechkin will be gone next year. "When you spend the money for a jersey, you have to think about that," Randall says. Just ask anyone who bought a Gilbert Arenas jersey.
2. Although he lacks Ovechkin's flash, Nicklas Backstrom has a knack for setting up teammates that has made the Swedish-born center the club leader in assists in each of the past three seasons. This selfless quality convinced Ben Schabert of Alexandria to buy his jersey. "Everybody already has Ovechkin," Schabert says. "Backstrom never gets the love he deserves."
3. The Capitals' inconsistent defense is one reason 21-year-old John Carlson, who's from Massachusetts, has generated so much excitement in his first full season. "He's going to be a premier defenseman in the league within the next five years," says Sean O'Donnell of Arlington, who bought a Carlson jersey before he'd even played an NHL game.
4. Although Brooks Laich has 95 goals in his Capitals career, his popularity is only partly linked to his play. The Canadian center became known as the team's nice guy last year when he pulled over to change a tire for two fans after a season-ending loss. And his beachwear-model looks have created a female following, says Allison Winslow, 25. For her part, Winslow insists she bought Laich's jersey "not just because he's totally hot—he's also a good player."
This article first appeared in the March 2011 issue of The Washingtonian.
Subscribe to Washingtonian
Follow Washingtonian on Twitter
More>> Capital Comment Blog | News & Politics | Party Photos