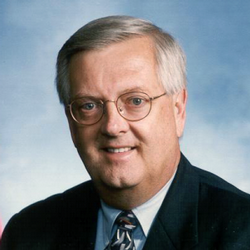 Former congressman Curt Weldon is back in the news—and in Libya. Yes, the hard-scrabble Pennsylvania Republican turned self-appointed diplomat without portfolio is in Tripoli to meet with besieged president Muammar al-Qaddafi. Weldon writes in a New York Times op-ed that he's leading a "small private delegation," with the full blessing of the Obama administration, and plans to "persuade [Qaddafi] to step down."
Wired's Noah Shachtman does a good job explaining why Weldon's visit is so troubling on many levels. Suffice it to say that Weldon, who faced criminal probes while in office, has a lot of explaining to do about his financial interest in the Qaddafi regime.
I had the rare pleasure (I think you can call it that) of spending time with Weldon for a profile I wrote in National Journal in 2006, as well as for my book. Congress doesn't crank out eccentric, erratic, emotional legislators like Weldon very often. He has a long history of rushing into conflict zones and negotiating not precisely on behalf of the United States, but kinda sorta. And he has irritated several administrations in the process. Something tells me that if Obama did acquiesce to Weldon going to Libya, he didn't do it happily.
"I go to all the problem areas," Weldon told me when I was shadowing him for a day. Iraq, the Balkans, North Korea. Here's one of my favorite stories of how he rankled the Bush White House and got into a personal grudge match with Condoleezza Rice:
In 2003, Rice, who was then the national security adviser to George W. Bush, found out that Weldon was preparing to jet off to North Korea for his own set of nuclear negotiations. Rice intervened and got the trip scuttled. Weldon was peeved.
This was Memorial Day weekend, so a lot of senior administration staff were out of town or taking personal time. Weldon called Secretary of State Colin Powell and Andrew Card, the White House Chief of Staff, who were at a picnic. He got them to overrule Rice.
A self-made man with blue-collar beginnings who improbably became Congress's leading expert on Russia, Weldon relished getting one up on the Stanford academic. Rice, it should be noted, is a leading Russophile, too. As Weldon put it to me, "I'm the only member of Congress to be inducted into the Russian Academy of Social Sciences. I'm sure that didn't make Condi Rice too happy."
Later, in a visit with President Bush aboard Air Force One, Weldon said Bush asked him, "You don't like Condi, do you?"
"I said, 'Mr. President, I've never met the woman. But sometimes, I don't think you're well served.' " Weldon told me that the President had "some good advisers," but that he was surrounded by a coterie that kept him "too tightly controlled."
Curt Weldon has never had that problem.
Subscribe to Washingtonian
Follow Washingtonian on Twitter
More>> Capital Comment Blog | News & Politics | Party Photos