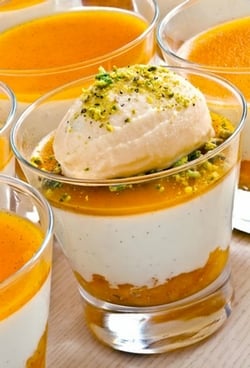 One of our favorite desserts at Zaytinya in Penn Quarter is a Greek-yogurt parfait with sugar-soaked apricots and roasted pistachios. José Andrés's deputy at the Mediterranean mezzeteria, chef Mike Costa, says the creamy confection is similar to a breakfast fruit-and-yogurt combination, but it's kicked up a few notches to make it suitable for dessert.
As with any simple recipes, the parfait shines when the ingredients are top-notch: Costa suggests sourcing the hard-to-find Skotidakis Greek yogurt or purchasing fresh from Everona Dairy or Trickling Springs Creamery at the farmers market and letting it drain in cheesecloth for three hours (or up to 24) for a thick consistency. It's worth a trip to a Middle Eastern market to check for dried Turkish apricots—larger and more acidic than their American counterparts—and citrusy Sicilian or Iranian pistachios. When stone fruit comes into season in late April, Costa sometimes skips rehydrating the apricots in favor of diced fresh peaches, plums, or cherries.
While expertly sourcing ingredients may sound time-consuming, the dish itself is a cinch to prepare and can be made and stored in the fridge up to five days in advance (hold the pistachios until right before serving).
>>Have a recipe you'd like sniffed out? E-mail recipesleuth@washingtonian.com.
Zaytinya's Greek-Yogurt-and-Apricot Parfait
Serves 6
1 whole vanilla bean, split and scraped
1 cup sugar
1 cup dried apricots
2 cups heavy cream
2 cups whole Greek yogurt
2 cups water
¼ cup shelled pistachios
Mix the vanilla-bean seeds with the sugar.
Take ½ cup of sugar and put in a pot with 2 cups water in a pot set over medium-high heat. Bring it to a boil and add the dried apricots. Turn the heat to medium-low and let simmer for about 3 minutes.
Remove from the heat and allow to cool before chilling in the fridge (apricots keep in the liquid for up to a week). When ready to use, remove apricots from liquid and chop into small pieces.
Whisk the cream with the remaining ½ cup sugar until it forms stiff peaks. Fold in half of the yogurt with a spatula, and then fold in the other half.
Heat the oven to 300 degrees. Roast the pistachios for 10 minutes, until toasted and fragrant. Roughly chop.
Spoon the apricots into six serving bowls or martini glasses, dividing evenly. Spoon the mousse over the apricots and smooth the top. Sprinkle each with chopped pistachios if serving within 2 hours, and place in the fridge until ready to serve.
Subscribe to Washingtonian
Follow Washingtonian on Twitter
Follow the Best Bites Bloggers on Twitter at twitter.com/bestbitesblog
More>> Best Bites Blog | Food & Dining | Restaurant Finder