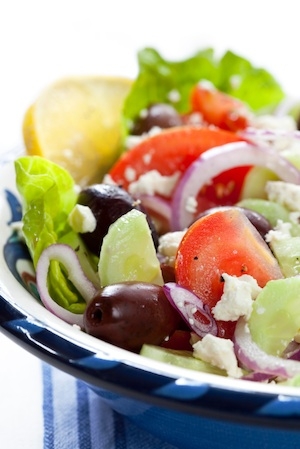 The Stats
Gender: Female
Age: 20
Height: Five feet
Location: Arlington
Profession: Part-time student and intern
Self-described activity level: "I used to be an active ballet dancer and gymgoer. But on campus it's hard to keep up with the gym, thanks to homework and meetings and more meetings. In DC, I find myself too tired from the daily commute in and out of the city. I do, however, walk a lot—going to and from Metro during the work week, and on the weekends sightseeing around the city."
Day One
8:15 AM: First day of Spring. Yawn. It's pouring outside. Make my way to the kitchen to make something for lunch. Put together spinach, cherry tomatoes, and carrots in a Tupperware. Not too exciting, but it'll do.
8:30: Shower to awaken the mind.
8:45: Finish a carton of vanilla low-fat Weight Watchers yogurt and a half cup of blueberries. And a small cup of OJ. That's the orange juice "plus calcium," folks.
9 AM: Off to Metro.
Midmorning: Quench my thirst (and hunger) by looking up fun recipes online.
11:30: Craving for sushi. To buy or not to buy . . .
Noon: Sushi it is! Head down to Nooshi, a delicious little place down the block from work.
1 PM: The Philadelphia roll probably isn't the best bet, but it's small and delicious. Cream cheese in small increments makes this native Philly girl a happy young lady.
1:42: Sushi happily in my stomach, and I'm back typing at the computer. I have a 20-ounce Arnold Palmer (iced tea and lemonade).
1:43: Contemplating getting my spinach salad out of the fridge that I actually brought for lunch. Probably will save it for dinner.
2 PM: Eating a sliced apple. Gotta have my one fruit a day! More likely, it'll be more than one.
5:25: I know I shouldn't have, but I skipped dinner because I get to go to a fancy event at the Kennedy Center. Guess I'll eat my leftover salad when I come home?
7:20: The event ended early, so I decide to go to the gym. Yay, celebrity motivation!
8:15: Back from the gym. I biked four miles and got on the elliptical for 15 minutes.
8:30: Back in my apartment, grabbed the last swig of Arnold Palmer from lunch and about to make a salad when a friend calls on Skype.
9:30: Still haven't made dinner, and now it's late. Debating whether to stomach some carrots. I know I shouldn't skip meals, but I had a good workout and am just plain tired now.
10 PM: Giving up on the food and just going to bed.
Day Two
8 AM: Ready to start the morning . . . sort of. Plug in my straightener to try to make my hair look somewhat presentable.
8:10: Saunter into the kitchen to put together something for breakfast and lunch. Settle on an English muffin with Smart Balance butter blend and a cup of blueberries. Also, gotta have my vitamin C, so I grab a cup of Tropicana orange juice (plus calcium!). Now to get dressed and get ready for work.
10 AM: At work, debating eating my apple slices that I cut up this morning. Instead, will drink lots of water to stay hydrated. Might make tea, too . . . .
10:30: Something smells delicious in the newsroom. Whenever someone makes something in the microwave, it smells up the whole place and makes me hungry.
11:30: Working on the computer. Looking up internships and jobs for the ever-looming future also known as After College. Chatted with a friend about jobs and summer plans while contemplating breaking into my lunch bag and nibbling on the granola bar I brought with me today. Don't mind if I do!
Noon: Mmm, granola bar. Perfect complement to my Nalgene bottle of water and surfing the Web.
12:30: I know I should probably eat something. I should get my salad from the fridge, where it's waiting for me. Sigh. Okay. I will. Looking at recipes online is much more fun.
1 PM: Eating my salad and wishing I had thrown in some tuna and shredded cheese. It's a small spinach-carrot-and-tomato salad. And water to drink. I'm trying hard not to eat anything whose ingredients I don't know. That said, my salad really smells like rabbit food.
2:15: Nothing to do in the office—that means I get to leave early! I'm going to be good and go home, change, and go to the gym.
3:30: Thank goodness for half days. Just did five miles in 25 minutes on the sitting bike. Burned more than 100 calories! Whew! Now I go onto the elliptical and work the abs, then I'll walk a very brisk mile on the treadmill while reading a chick novel. Nothing like a good chick book to get the blood pumping!
5 PM: Hungry from the gym and a little sleepy. Time to cut up some cheese and eat an apple and some crackers. Yum.
6:15: Put seven honey-chicken nuggets in the oven with a couple baby carrots and a little bit of ketchup for dinner. Going to an event for my internship program at the National Press Club and need to make sure I'm not hungry while I'm there or afterward.
10 PM: After a long night of going back into the city and meeting Diane Sawyer at the Kalb Report, it's time to unwind with a nice cup of cold water in my apartment. Then Skyping and bed.
Day Three
8:30 AM: Sleepily made my way to the kitchen to make something for breakfast. I eat a cup of Special K Fruit & Yogurt cereal, a half cup of fresh blueberries, and skim milk. Delish. Today is a morning class, and then I'm off to Trader Joe's to get some ingredients for recipes I'm dying to try this week.
2 PM: After a very long class and an interview for an internship, I trekked over to the Foggy Bottom Trader Joe's. I got fresh basil and tomatoes, onions, and lettuce, plus a nice bottle of extra-virgin olive oil and a bunch of frozen vegetables. Tired and hungry now, I'm going to make a grilled-chicken wrap with feta cheese and cashew-walnut-pesto vinaigrette. On the side, baby carrots and a couple fresh strawberries. Plus, of course, a glass of water.
4:45: Just spending the afternoon lounging around and watching America's Next Top Model. No snacking for me!
6:45: Hanging out around the house, watching television, and talking to friends online, now time to make honey-mustard chicken. Thank God for online recipes.
8 PM: The chicken was a success with the roommates. We made our own honey mustard with a few tablespoons of honey and a few of mustard. I added mayonnaise to make it a little thicker, but that reall
y wasn't necessary. For an extra crunch, we added cornflake crumbs. It was delicious! I'll definitely be making this again. To treat myself, I had a good old-fashioned Shirley Temple. Now off to Safeway to grab something for dessert. I'm thinking a Chipwich.
8:38: Back from Safeway. Decided on Skinny Cow ice-cream sandwiches: vanilla ice cream with a chocolate cookie outside. Have had them before, and they're pretty delicious.
10:35 PM: No more snacks for me tonight. Bedtime.
Day Four
8:45 AM: Got a bit of a later start on this dreary rainy day. Took a shower to wake myself up, put together my lunch of leftover chicken and a little bit of broccoli and fruit. To start the day off right, I made a delicious fruit salad with blueberries, raspberries, strawberries, and banana. Tastes like summer, even though the weather outside says otherwise.
10:55: Reading an article about why working out won't help you lose weight. Time magazine makes a bunch of interesting points, but I still think I'm going to go to the gym later. Instead of sitting at a desk right now, I want to be doing Zumba or running on the treadmill.
11:10: I eat half the banana I brought for a morning snack. Funny how eating in portions and deliberately choosing when to eat makes me feel like a little kid again—snack, lunch, snack, repeat.
11:50: Reading other foodie blogs reminds me to mention that I have been taking One-A-Day women's vitamins. They're the gummy kind. No judgment until you try them.
Noon: Now after reading the other Food Diaries, I'm completely craving Mexican. I'm considering going out on the street and treating myself for lunch. Work is super-slow today, and I could use a pick-me-up. Although I know I should just eat the leftover chicken and broccoli I brought to work today. Sigh.
12:15: Really considering treating myself and getting a burrito. There's a cute little place around the corner called the Well-Dressed Burrito, which isn't too expensive, and I can add lots of veggies. For some reason I'm obsessed with burritos and Mexican food. And today is just a super-slow day and I need something to cheer me up. I know I shouldn't eat to feel better. But sometimes I believe if something as simple as a burrito will make you happy, then why the heck not? I end up going with a rice-and-bean burrito with guac, a little bit of cheese, pico de gallo, and anything else I find when I get there.
1 PM: Instead of satisfying my hunger by looking at recipes and foodie blogs, I'm looking at Forever 21's new spring collection. Debating heading down to Metro Center right now.
3 PM: I think the burrito is making me sleepy. Not a good thing while sitting at work. Like most other people, I wish I could take a nap in the middle of the day like I used to do when I was little. There is a reason little kids need naps to keep them going.
3:30: Done early for the day. Win. Now to go home, maybe rest a little, and then hit the gym.
6:25: Decide I will do sit-ups and make organic macaroni and cheese from Trader Joe's. I know I should probably go to the gym to work off my steam, but I'm just exhausted. I think a couple sit-ups and ab exercises should suffice.
7 PM: Being lazy can taste so good. I had a light-Caesar-salad kit and the mac and cheese. Makes a great dinner.
8:30: Watching Mr. Deeds and resting on the couch. One roomie gives me a Thin Mint Girl Scout cookie. The apartment's feeling kind of cold, so my roomie and I make tea: peach for me and Wildberry Zinger for her. It's a tea kind of evening.
10 PM: You've Got Mail and bed.
Day Five
9 AM: TGIF. Seriously. Thank goodness for the weekends. I didn't feel like getting out of bed today. Stumbled my way to the kitchen to make a fresh salad for lunch. I put romaine lettuce, a little bit of shredded cheese, tomato, fresh tuna fish (no mayo), and cut-up baby carrots—no dressing. For breakfast I made a piece of whole-grain toast with some peanut butter and half a cut-up banana. Water to drink. Now it's time to finish up the morning routine and make my way into the city.
10 AM: At work and barely awake. I feel sleepy and cold. Spring hasn't officially sprung in DC. I'd rather be curled up in bed still asleep dreaming about sandy beaches and warm temperatures.
10:45: Because it's another "slow day," I'm going to eat the other half of the banana I put on my peanut-butter toast today. Yum yum.
11 AM: Forgot to eat the banana because I got busy looking at blogs online. It's a good way to keep busy because every day seems to be a slow day. Oh, well.
12:25 PM: The office got busy with visitors and a bit of shuffling around. I think when everything dies down I'll get my salad from the fridge. For now, I'll munch on my sliced green apples.
12:40: When will this meeting be over? Cue Jeopardy! theme song.
1:48: Finally digging into my salad. Only a buttered roll would make this better.
2:38: I really want to go around the corner and get a quesadilla. Self-control, self-control, self-control.
5 PM: Back home and tired from a very productive day. It's time to hit the gym because I didn't go yesterday.
8 PM: Back from the gym. I think I got shin splints from the jog. Also made baked ziti with sausage. It was delish! And a big hit with the roommates. Pork sausage, peas, onions, green peppers, diced tomatoes, tomato paste, and low-fat shredded mozzarella. I love that I'm becoming a chef!
11 PM: Watched The Parent Trap with my roommates and then went to bed.
From the Expert
Registered dietician Rebecca Bitzer, who has offices in Greenbelt, Annapolis, and Columbia, says, "Great job with the food diary. When working with a nutritionist, it's best to give as much detail as possible so that we understand what's actually happening in your life and how your lifestyle is helping or hurting your health goals. This young woman is definitely health-conscious—she's getting lots of fruits and veggies, and she doesn't seem to be taking in too much caffeine, something most people overdo—but she's a bit misdirected being so strict with her eating. It's often backfiring. A few tips: Make sure your breakfast is adequate to make you feel satisfied for at least three hours after eating. Breakfast needs to include a protein and dairy source. Lunch also needs to include a protein source. And because you're not eating lunch until 1 or 2, a midmorning snack is especially important. Going for long periods without eating will increase your cravings and make it more difficult to make a healthy choice. Before working out, try eating a piece of fruit and a carbohydrate for a boost; afterward, go for some protein, like chocolate milk. Another t
ip: Pay attention to your eating, and avoid distracted eating, like eating while on the computer. It's important to respect your hunger and eat when you're physically hungry and stop when you're comfortably satisfied. If you're finding that you're not feeling satisfied, remember to include a healthy fat in your diet, like almonds, avocados, walnuts, or olives."
Are you brave enough to keep a food diary? We dare you. Send an e-mail to wellbeing@washingtonian.com with your contact information and why you think you'd make a good diarist.
Subscribe to Washingtonian
Follow Washingtonian on Twitter
More >> Health | Top Doctors | Well+Being Blog