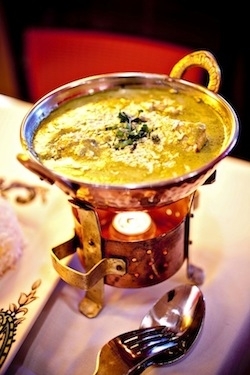 >>Click here for a slideshow of more photos of Curry Mantra.
Is there a better cuisine for restaurant-going vegetarians than southern Indian? The zesty, meatless stews make the vegetable plates at most Modern American restaurants look like prison food by comparison.
Yet many restaurants that excel at southern Indian cooking seem uneasy about staking an entire restaurant to an all-veg vision, preferring to crank out halfhearted renditions of kebabs and curries. Curry Mantra, in Fairfax, is the latest place to hedge its bets, having hired both a southern and a northern Indian chef.
But the proof is in the poori. Of the dishes that filled my table on recent visits to this cozy, vermilion-colored dining room, the best were all southern-derived.
The idli — steamed rice cakes — were thicker and lighter than usual and made a durable sponge for the superlative sambar, a sort of cross between a soup and a stew. The masala dosa — a crisp rice-flour crepe stuffed with a hash of potatoes and onions — was wonderfully crunchy, with a rich, buttery aftertaste; the accompanying coconut chutney — chunky, rich, and fresh—made for an irresistible dip.
The blistered eggplants in the baigan bharta had been turned into a fine mash, but that didn't obscure the flavors that unfolded: now tomato, now onion, now cilantro. The saag paneer, made with fresh spinach, was as vibrant to look at as it was to eat.
The meats were another matter. A seekh kebab, typically among the juiciest lamb preparations, was overcooked. As for the meat-based curries, I often found myself spooning the gravies over my rice and forgoing the meat. Fortunately, the gravies are good enough to reward this sort of tabletop tweaking. Chicken korma, a yogurt-based curry, was electrically green, indicating the presence of pistachios, which lent the dish a lush nuttiness.
Fish was hit or miss. A shrimp masala was like eating shrimp-flavored ghee — the taste of clarified butter was overwhelming. But a Goan-style fish curry featured luscious slivers of tilapia in a creamy, chili-spiked gravy.
You could look at Curry Mantra as a house divided against itself. Or you could cherish its strength and regard it as I do: a superb southern Indian restaurant straining to satisfy a broader clientele.
This article appears in the April 2011 issue of The Washingtonian.