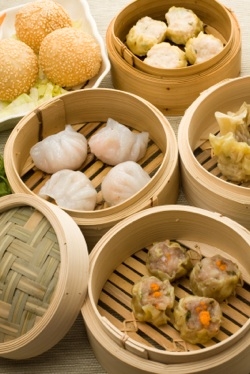 The Stats
Gender: Male.
Age: 29.
Height: Five-foot-eleven.
Weight: 175 pounds.
Location: Arlington.
Profession: Financial planner.
Self-described activity level: "Generally I'm very active, exercising five to six days a week. I have been training pretty consistently for half and full marathons for the last three years. Last June, I climbed Mount Rainier in Washington state. Recently, however, I developed an injury training for a 35-mile endurance race, so my activity level has ground to a halt. My attempts to get into the gym have failed for the better part of the last three weeks."
Day One
9 AM: After a weekend of a bit too much imbibing and not enough sleep, I wake up late and groggy. Nothing like a Gatorade for breakfast to start the week off right. I don't even look in the fridge before running out of the apartment. I spend the whole morning on the phone with clients, half hearing them talk, half asking myself why I exhaust myself on the weekends.
Noon: I successfully turn a quick, ten-minute stop at a client's office with a team member into an hour-and-30-minute dim sum lunch at New Fortune in Gaithersburg. It was either that or Five Guys, so I chose the "healthier" option. This visit is similar to every past visit in that we way over-ordered and had no clue what we were eating most of the time.
6 PM: I am battling the traffic home to Arlington and tell three different people on the phone that I am definitely going to the gym tonight.
7 PM: I am eating leftover lasagna from the weekend followed by uncooked cookie dough that my roommate bought. This continues for the better part of the next two hours while I watch an Anthony Bourdain: No Reservations marathon on TV.
10 PM: I feel disgusting. Time for bed. New start tomorrow morning. My last thought before bed: I wonder if I could find a way to eat for a living.
Day Two
7 AM: Here we go! Up at a reasonable time, feeling fresh and ready to take on the day. Then I grab a Gatorade, get back in bed, and watch ESPN for the next hour. This causes me to get behind on time, so I resort to eating an English muffin as I drive to the office.
10 AM: An e-mail comes in from a mutual-fund wholesaler inviting me to a lunch in Bethesda at noon. I remind myself that I got into this business for three reasons: (1) the opportunity to make a good living; (2) to help people reach their financial/retirement goals; (3) the perks.
Noon: We decide on Lebanese Taverna on Bethesda Row. As usual, the topic quickly drifts from investments to our recent outings on the golf course; I talk about my most recent night out. I've found that the much older people I work with get a weird kick out of hearing my stories. I end up talking most of the lunch while having a great plate of m'saka (eggplant) and sharhat ghanam (spiced lamb) that was suggested in a 2006 Washingtonian review. As usual, the review was spot on. Seems like I had a healthy lunch, until I realize I tried eight other appetizers and had four to five entire pitas.
3 PM: I am definitely working out tonight no matter what.
7 PM: Finally home, and I decide to chow down on some watermelon before running over to the Ballston Gold's Gym.
8:30 PM: Lacking any energy to make an actual dinner, I decide to throw a pound of shrimp into a pan with some salt, pepper, cayenne, and Old Bay. I toss back a coffee and pick at the shrimp while burying my face in my laptop to work for the next four hours.

Day Three
6 AM: Up for a quick P90X Ab Ripper workout. Showered and out of the door by 7 with nothing to eat or drink. Dragging already and the day has just started.
8 AM: On the way in, I arrange a meeting with a work partner at Panera Bread in Friendship Heights to do some planning for the remainder of the week. A ham-egg-and-cheddar sandwich on whole grain with a large coffee gives me a much needed boost. It's going to be a busy day, so I am already anticipating that lunch won't happen. Might as well grab another coffee on my way out to fill me up.
10 AM: I sip my coffee while participating in a few conference calls. We mostly discuss how the clients wish they had taken our suggestion to buy gold and silver last fall. I look in my small office fridge and find only a cup of past-the-expiration-date yogurt. I wish I listened to my friend's suggestion last fall to keep the fridge stocked with healthy snacks and beverages. Nobody listens anymore.
7 PM: Back at the apartment and immediately defrost the remaining piece of lasagna I hid away in the freezer. I polish that off with a bowl of watermelon, only to remember that I told a friend I would grab dinner with her.
7:30: Lyon Hall is out of the short-rib frankfurter. I'm sort of glad, because I would feel terrible about myself if I ate that right after having the lasagna. I opt for the healthier roasted-beet salad with arugula. I also have about ten glasses of iced tea, which makes me think about how I need to start drinking more water during the day.
8:30: Somehow still hungry, or bored. I decide to try a bite of the chocolate cake leftover from my roommate's sister's graduation party.
8:40: I can't believe I ate almost all of the cake.

Day Four
8 AM: In the office for our weekly team meeting. I decide to dial in rather that participate in person so that I can enjoy the breakfast sandwich and coffee I got from the cafe downstairs. I went with my usual egg and cheese on a multigrain bagel.
10 AM: Downstairs again for a Vitamin Water Zero.
Noon: Doing my best to keep the cafe in business, I am back downstairs for a grilled chicken whole-wheat wrap with lettuce and tomatoes. I grab a bag of pretzels, too. For a little cafe, I commend them on always having fresh produce. That must be the reason for the extremely high prices.
5 PM: I decide that for once I am leaving at 5 so that I can get home, go to the gym, and relax for the evening.
6:45: Bumper to bumper all the way home. I guess that's what I get for being an underachiever and leaving at 5. I scratch the workout and head over to Circa in Clarendon for happy hour with a group of friends. This turns into happy hours (plural), and I still haven't had dinner.
10:30: I wonder if Goody's pizza tastes this good if you haven't had anything to drink before eating it.
11 PM: I get talked into (it really wasn't a hard sell) stopping at Spider Kelly's for a Hoegaarden. It's pretty quiet tonight, and I find myself standing next to Mike Green and John Carlson from the Caps watching hockey highlights on the TV behind the bar. The sad Caps fan in me feels bad for them. The mad Caps fan in me thinks they should do less drinking and more practicing.

Day Five
8 AM: I stop in the McLean Starbucks on the way to work to grab a coffee and a low-fat breakfast sandwich with turkey bacon. Bland. At least it fills me up a bit.
9 AM: I call my dad to wish him a happy birthday and tell him I have reservations for him and my mom at Ray's the Steaks in Courthouse. Then I call my brother to make sure he does the same. I also remind him to use the money I sent him to go buy the remaining groceries that we need for his college graduation party tomorrow. His silence says it all—the money didn't make it past last night. Oh, to be in college again.
4 PM: Leaving the office to pick up some clothes for a Hugh & Crye photo shoot tomorrow morning. Their spring line of dress shirts recently arrived, and a group of us were photographed at various locations in Georgetown for their Web site. I'm very much looking forward to Ray's the Steaks tonight and the graduation party tomorrow. Definitely a continuation of the healthy eating I have been doing all week!
From the Expert
Bethesda dietician Randi Weissberger says: "The good news: The diarist's body-mass index, or BMI, is within normal limits—at least for now. He should work at staying at his current weight and preventing the gradual increase that often occurs as we get older and our metabolisms slow down. Planning meals ahead of time—and not skipping them—might help. Skipping meals not only slows down the metabolism; it causes individuals to overindulge when they're finally ready to eat. Breakfast is the most important meal of the day. Studies show that individuals who skip breakfast tend to eat more calories throughout the day than those who eat breakfast daily. I would recommend choosing Gatorade G2 (it's lower in calories than regular Gatorade) in combination with a well-balanced breakfast consisting of complex carbohydrates (fiber-rich carbs like fruits, vegetables, oatmeal, and whole-grain or whole-wheat products) and a lean protein source to hold you over until lunch. If you're in a rush, even grabbing a protein bar that is under 200 calories would be beneficial long-term. Congrats on the days that you were able to consume breakfast!
"I would definitely recommend increasing the non-starchy vegetables in your diet. The vegetable department is lacking! Going out to a salad shop at lunch and choosing vegetables, lean protein, and a light dressing (on the side, of course) would be a nice change of pace in your current regimen. Non-starchy vegetables, such as peppers, zucchini, cauliflower, and broccoli, are low in calories, high in fiber, and will help control your appetite.
"Make sure to drink plenty of water throughout the day. If you are dehydrated, you may think you are hungry when in fact all you are truly craving is water. Water will also help curb your appetite!
"I know sometimes at the end of the day we're so exhausted and feel as if we don't have the energy to work out. However, working out will give us extra energy. Generally people feel better when they force themselves to exercise rather than skipping it. It gets the endorphins moving. If working out at night seems nearly impossible, it's important to wake up at least 30 to 60 minutes earlier to fit in your workout. Typically people who workout first thing in the morning stick with their exercise regimen better compared to those who put their workout off for later in the day.
"Calorie balancing is also very important. If you know you're going to go off track one day (eating and drinking more than usual), you can decrease the amount of calories the day before or the day after and increase your workout regimen. Weight is based on calories in versus calories out. So it's really important to continue to balance the calorie equation to maintain your weight. I would recommend continuing to keep food records like this one. Food records will make you accountable for what you eat and drink daily. Honesty is very important, of course.
"Whatever changes you make, do it gradually. We want to change habits and make this a lifestyle change. Creating new habits can take 21 days to a year to form. Focus on the 90/10 rule as well: As long as you exercise and eat right 90 percent of the time, there is 10-percent leeway for special occasions. Keep up the good work!"
Are you brave enough to keep a food diary? We dare you. E-mail wellbeing@washingtonian.com with your contact information and a paragraph or two about why you'd make a good diarist.
Subscribe to Washingtonian
Follow Well+Being on Twitter
More >> Health | Top Doctors | Well+Being Blog