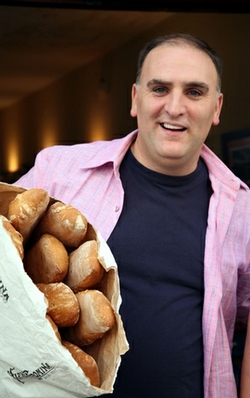 José Andrés, who just won the Outstanding Chef of the Year James Beard Award, has a new project in the works, according to Tom Sietsema of the Washington Post. Andrés is closing Café Atlántico June 12 for a "pop-up" called America Eats Tavern. The restaurant is a collaboration with the National Archives, in conjunction with its upcoming exhibit "What's Cooking, Uncle Sam? The Government's Effect on the American Diet." The menu for the temporary venture, running through January, includes lobster rolls, hot dogs, Brunswick stew, and maple-syrup-covered "snow." After America Eats Tavern closes, the six-seat Minibar—now on the second floor of Café Atlántico—will take over all three floors and expand to 18 seats. Andrés was on The Kojo Nnamdi Show talking about the new restaurant—and ketchup; watch the clip here.
A press release landed in our mailbox with the news that Serendipity 3 will open at Wisconsin Avenue and M Street in Georgetown before Memorial Day. The restaurant, an import from New York—where it opened in 1954—is known for its "Frrrozen Hot Chocolate" and foot-long hot dog. There'll be DC-only menu items, such as crabcakes, local striped bass, and "President's lobster pasta." The owners also have a Las Vegas outpost.
If blog coverage is any indication, Washington is quite excited about the opening of Peregrine Espresso on DC's 14 Street, Northwest. (As a Logan Circle resident, I'm pretty psyched—and hoping the competition forces Mid-City Caffé's baristas to speed up their espresso pulls.) The coffeeshop, which has a location on Capitol Hill, hopes to open in the next week. DCist stopped in; Borderstan has a few more photos and a letter from the owners; and Prince of Petworth snapped a few pictures.
The burger joint Shake Shack opened Tuesday with long lines—starting with one guy who arrived at the eye-opening hour of 8:30 AM. Alex Baldinger of the Washington Post's Going Out Gurus wrote, "Like the grand opening of the first Studebaker dealership in sleepy Anytown U.S.A., Shake Shack . . . finally [put] the District of Columbia on the map." He continued with, "This was validation; yet another example of a New Yorker bestowing his culinary stamp of approval on the D.C. market." Jamie Liu of DCist took umbrage, replying " . . . it is insulting to view Shake Shack's arrival as culinary 'validation.' " What do you think of Baldinger and Liu's commentary? Let us know in the comments.
A second piece of news from Sietsema: Palena's gourmet-goods market opened today at noon. Chef/owner Frank Ruta is selling ingredients he cooks with at the restaurant/cafe, including Neapolitan pasta, Ligurian olive oil, and local honey. Most exciting, though, is the mention of weekend doughnuts. The market will be open daily from 10 to 8.
Missy Frederick at the Washington Business Journal tells us that National Harbor snagged a celebrity chef: Wolfgang Puck Catering is taking over the Sunset Room, a private-events space. Starting in April 2012, the Austrian chef will oversee all catering projects at National Harbor, and his company will help fund a kitchen upgrade. Puck's name is also attached to the Source, the restaurant in the Newseum.
Subscribe to Washingtonian
Follow Washingtonian on Twitter
Follow the Best Bites Bloggers on Twitter
More>> Best Bites Blog | Food & Dining | Restaurant Finder