In late March, I strained muscles in my left buttocks and the back of my left thigh while running a 5K race. Two days later, I pushed through a 45-minute cardiovascular routine, moving through a circuit that included time on the elliptical, step mill, and treadmill. I ignored a persistent ache in my leg, telling myself it was just a tight muscle. By the next day, it felt as though a knot had formed at the intersection of my hamstrings and buttocks. I couldn't walk two blocks without feeling a deep, throbbing ache.
That evening, I met with my personal trainer, Nancy Accetta of Bethesda's Equinox gym, for our regularly scheduled strength workout. "I think I may have hurt myself," I told her. I knew I'd waited too long to say something. Accetta, a certified personal trainer with a master's degree in behavioral sciences and health education, had always encouraged me to call her between our twice-weekly sessions if anything cropped up pertaining to my health and training. But I'd worried that revealing the full extent of my injury could end up sidelining me.
Accetta had other ideas—and rules: She was open to continuing training as long as I was first examined by a physician, preferably one specializing in sports medicine, and referred me to a physical therapist. Once I was in therapy, Accetta designed workouts that circumvented my injury and followed guidelines laid out by my therapist.
Two months later, my leg is still not at 100 percent, but it's steadily improving. Keeping up with my training regimen has been an important part of my healing process.
Supervision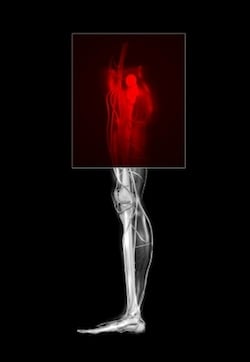 Many athletes rush recovery and push for quicker gains than an injured body can make, says Sean Hanrahan, a triathlete and personal-training manager at Equinox. My official diagnosis is piriformis syndrome, a neuromuscular condition in which a muscle—the piriformis—in the gluteal region tightens and presses against the sciatic nerve, triggering pain or numbness in the buttocks, thigh, and sometimes the lower leg. The cause of my condition, says Kate DiNobile, my physical therapist at NovaCare Rehabilitation in Bethesda, is weakness in my buttocks muscles, which is related to imbalances in my core. She expects me to be in therapy for six more weeks.
Accetta, a stickler for details and good technique, has carefully monitored the pace of my recovery. She has assisted with my therapy "homework," making sure I perform assigned stretching and strengthening exercises. She's designed cardiovascular workouts for the days we don't meet. Those workouts avoid activities that might aggravate my injury, such as running, and instead focus primarily on pedaling a stationary bicycle at low resistance. Other cardio options include swimming and arm-pedal machines.
"It's important to keep your cardio up," says Jon Schriner of the American College of Sports Medicine. "You need to try alternate forms of cardio while the trainer corrects your mechanics." Cardio also increases blood flow to the injured region, allowing toxins to be flushed out and speeding up the healing process.
Accetta also inquires about my diet. Having my trainer there to monitor my mistakes, such as the infrequent chocolate or granola binge, has kept me from gaining weight during this period of reduced activity. It's kept me on track.
Continuity
Being able to continue with weight training, albeit more gently in some instances, has enabled me to adhere to a routine that is key to my physical and mental wellbeing. It's kept me thinking and behaving like an athlete. Training my upper body at nearly the same level as before my injury has allowed me to see toning in my arms, back, chest, and shoulders. Initially, we made adjustments: Many of the upper-body exercises were performed while seated so as not to irritate my leg and buttocks by using those muscles for balance.
Motivation
This is the biggest positive. Working with Accetta has prevented me from sitting on the couch feeling sorry for myself. It's kept me laughing—having an injury that's literally a "pain in the butt" is, well, funny.
Mostly, though, my trainer has kept me focused on the work that my body is able to handle rather than the things it can't. Now that my leg is less sore, I've been standing for much of my upper-body training. And I've been successful with lower-body exercises that have gradually been added back to my routine.
Still, training through injury might not be the right path for everyone. It depends on the person, his or her overall health, and the nature of the injury. Some injuries require rest and time away from the gym.
Accetta, who has endured her own share of setbacks, has made a point of tracking my progress—and continually reminding me of the positive steps. "I know it can be frustrating," she told me recently. "But you will be back. Trust me."
Trusting her has made all the difference.
Subscribe to Washingtonian
Follow Well+Being on Twitter
More >> Health | Top Doctors | Well+Being Blog