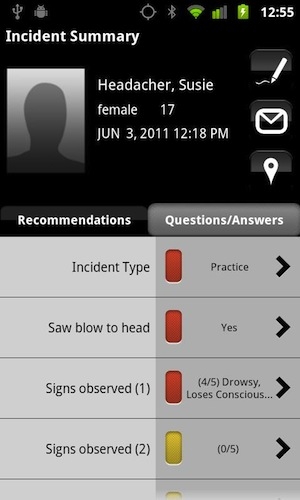 There are smartphone apps that can help you quit smoking or check your vision. Now there's one that can diagnose concussions in kids.
Pediatric neuropsychologist Gerard Gioia, director of the Safe Concussion Outcome Recovery and Education (SCORE) program at Children's National Medical Center, saw an urgent need for a tool that could quickly identify concussions in kids. He says he sees about 50 patients a week with concussion-related injuries—that's about 2,600 kids a year.
Last fall, Goia and Jason Mihalik, an assistant professor at the University of North Carolina at Chapel Hill, got to work with a team of programmers at Psychological Assessment Resources (PAR) to develop a smartphone and tablet app that would help youth coaches and parents recognize and respond to concussions. Currently available for iPhones, tablets, and Android devices for $3.99, the Concussion Recognition and Response app asks a series of questions about the incident and the athlete's symptoms—whether he or she is vomiting, moving clumsily, or drowsy. Then it saves the information and offers guidance for what to do next.
The app can also send an e-mail to a doctor, sharing all the data and information you entered with your physician. "That brings definition to the injury," Gioia says. "As a clinician, I'll be interviewing a family about an injury, and they'll have to search back in their memories about what happened. It's really helpful to all that data right there."
A feature called Home System Monitoring helps parents monitor their child's symptoms for a few days after the injury. The Return-to-Play Guide provides a daily, five-step workout routine for athletes to ensure a safe return to the field when fully recovered.
Gioia says the app will not only help parents and coaches but brain-injury researchers, too. A built-in research function will allow Gioia and his team to access concussion data—everything except an individual's personal information—so they can look for trends, such as where and how concussions are most likely to occur.
Exact numbers on concussions are hard to calculate because many go untreated. The Brain Injury Association of America estimates that as many as 3.8 million sports-related concussions occur every year. Between 2001 and 2005, kids between 5 and 18 accounted for 2.4 million sports-related emergency room visits. Of those, 6 percent—that's 135,000 visits—involved a concussion.
Most concussions do not involve a loss of consciousness, so someone might have one without realizing it. Contact sports, such as football, account for a majority of concussions, but bicycling and playground activities rank in the top five for kids ages 5 to 18. Fifteen states, including Virginia, have enacted laws requiring high school athletes to get a doctor's approval before getting back on the field after a sports-related concussion.
"With all of the state legislation happening now, this app will be one of the tools that will help monitor how things are going," Gioia says. "We think this is really going to be an important component in improving our care to kids."
Proceeds from the app go toward concussion research at Children's National Medical Center and brain-injury research at the Matthew Gfeller Sport-Related Traumatic Brain Injury Research Center at UNC-Chapel Hill. You can purchase the app through the Apple store and Android Market.