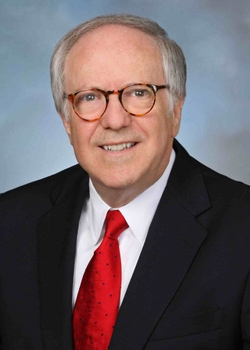 No other lawyer in Washington has a practice like the one built by Williams & Connolly partner Robert Barnett. Though Barnett is probably best known for his representation of about 300 authors—including bestselling writers like James Patterson, political figures such as President Obama and Sarah Palin, athletes, and numerous other celebrities—he does much more than negotiate book deals. He devotes most of his time to litigation and corporate work for both domestic and foreign clients. Nearly 350 TV news correspondents, executives, anchors and producers rely on Barnett to hammer out their contracts. He also helps government officials transition to private sector jobs and handles crisis-management needs for clients with legal and PR problems. Actually, it's probably more accurate to say that no other lawyer anywhere has a practice quite like Barnett's. Here, he chats about his wide-ranging work, life in the District, and what it's like to represent his wife.
How did you develop this niche practice of doing book deals?
In 1984, I helped run the team that prepared Geraldine Ferraro for the vice presidential debate. Even though the Mondale-Ferraro ticket lost the election, Gerry was in extreme demand and one of the things we chose to do was to publish a book. I hired an agent who helped place the book and do the deal. And when that deal was done, David Stockman left the Reagan Administration, and he wanted to write a book. So I auditioned to handle the job. He picked me, so then I'd done one Republican and one Democrat.
Are there any differences between what you do for your book clients, and what a typical non-lawyer literary agent does?
There are three significant differences. I charge as a lawyer on an hourly fee basis, not on a commission basis. I do, if the client wishes, the design and implementation of the rollout of the book. Finally, as a lawyer, I am bound by legal ethics that do not apply to a non-lawyer.
What issues do you handle for the government officials you counsel who are transitioning to the private sector?
I have a master list of potential post-governmental opportunities which I bring to the first meeting. We talk about the 30 or 40 things other people have done. Some people want to make maximum money, some want to do good, some want to do both. So it is the desires of the client that direct my efforts. Most of these people are very sophisticated and know what they want. But they do not necessarily know how to go about finding it, what the terms of engagement should be, and how it should be announced.
Your list of television news clients includes your wife, CBS News correspondent Rita Braver. Is it different working on her behalf, or do you treat this representation just like any other?
The penalties for failure are much higher. When I represent my spouse, it is no secret to my adversary that my aim is high and my motives are pure.
You've worked with many Democratic presidential candidates, yet your clients come from all over the political spectrum. How do you win over clients as far to the right as Sarah Palin and Dick Cheney?
First of all, no one has to hire me, and second, no one has any doubts about where I stand politically when they do hire me, so it is their choice. When you go to a doctor to get your appendix out, you don't ask the doctor if he or she is a Republican or a Democrat. You ask, 'Can you take out an appendix?' I assume they hire me because I will represent them with dignity, I can help them achieve their goals and I will try to get the best results for them. I've never had anyone say, 'I'm not going to hire you because you have particular political views.'
Compared to other major Washington-based firms, Williams and Connolly has maintained a very traditional approach—the partnership is almost entirely homegrown, there is little to no movement in or out of the firm, and the firm still has just one office. Why is this the right model for Williams and Connolly?
It all flows from our founder, Edward Bennett Williams. He believed in having one office because you maintain quality and you maintain control. The clients know what they are getting, the firm is collegial, people know each other and help each other. He also believed we should have everyone be homegrown so they absorb our ethics, learn our system, and learn our skills. So, in 22 years, we've had one lateral [partner join from outside the firm]. We also have never sought to grow by acquisition. We believe that model—starting from our founder—best serves the clients, makes the practice of law the most satisfying and enjoyable for the partners and associates here, and makes for an institution that we're all very proud of.
After living and working in DC for decades, what changes have you seen in the city?
I'm not an urban planning expert. But I have a couple of impressions. There is more art and culture, led by the incredible Kennedy Center and the efforts of Michael Kaiser. I think that the educational opportunities here have improved, both public and private and charter. I think that, with the return of baseball, and the building by Abe Pollin of the downtown arena, and the Nationals stadium by the Lerner family, there has been an incredible influx of economic opportunities and neighborhoods. You just look at the area around Abe Pollin's wonderful [Verizon] Center, and you see a place that was desolate and is now a thriving city mecca. It was always a beautiful city, always a historical city, but I think it's become a more vibrant city.Subscribe to Washingtonian
Follow Washingtonian on Twitter
More>> Capital Comment Blog | News & Politics | Party Photos