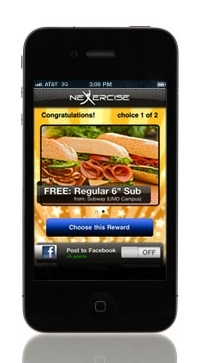 You don't have to be a marathon runner or weightlifting pro to be the champion of this fitness match. As long as you're physically active for at least 15 minutes, you're a winner in this game.
Welcome the Next Generation of Exercise—that's Nexercise for short. This recently released iPhone app puts a new spin on the mobile-fitness-tracking trend by not only logging your exercise, but rewarding you for working out with healthy food, apparel, and sports equipment.
The app, which the Silver Spring-based developers Benjamin Young and Gregory Coleman consider more of a game than fitness tool, operates under a philosophy that a quarter of an hour a day can be life-changing. Here's how it works: You launch the app, select your activity, and keep the device in your pocket or strapped to your arm while you "nexercise." The free software will track your movement using iPhone's built-in sensors, the same "amazing technology," as Young puts it, that's currently being used in space.
And when they say any physical activity, they mean it. Want to simply practice a few yoga poses? Polish your golf swing? Hop on some rollerblades? Go for it. Once you complete 15 minutes, a points value or one of various medals (such as the Early Bird medal for morning exercisers; the Diversity medal for mixing up your workouts) will appear on your screen, qualifying you for a Groupon-like deal to healthy eateries, fitness centers, and sports vendors. Washingtonians may find discounts for Element energy bars, memberships to Balance Gym, and treatments at Awaken to You acupuncture.
"We're in a society where we're looking to avoid any type of physical activity," says Young, who is currently working on implementing more features to the app and getting more vendors on board. "We're trying to incrementally change that."
Of course, strenuous activities and longer durations rack up more points and increase your chances of winning big. There are random drawings for free products as well as monthly grand prizes, usually gift cards worth hundreds of dollars. The duo's intention is for the tangible rewards and low time requirement to serve as motivation those who struggle to maintain good physical health.
"You don't have to drastically change your lifestyle to be healthy," Young says.
If the free goods and 15-minute mantra aren't enough to lure you in, perhaps the satisfaction of beating your friends will. Nexercise allows you to connect with and compete against other users, a feature Young hopes will further push people to get active (take that, Words with Friends).
The free app is currently available for iPhone and iPod Touch; an Android version is in the works. The app can also sync with other popular fitness programs such as Nike Plus and iMapMyFitness.
Subscribe to Washingtonian
Follow Well+Being on Twitter
More >> Health | Top Doctors | Well+Being Blog