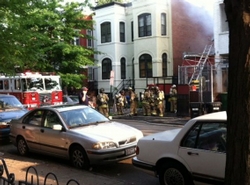 Fire at Tune Inn: Beloved Capitol Hill watering hole Tune Inn suffered a fire in its kitchen early this morning, according to the DC Fire/EMS Twitter feed. Details on the extent of the damage are still scarce, but no injuries have yet been reported. Washingtonian's own Emily Leaman snapped the image at right of the scene outside.
DC Water Declared "Safe" in New Report: If you're a DC Water customer, you probably received your 2010 drinking water quality report in the mail recently. WAMU has a helpful summary up on their Web site for those of you who routinely throw out junk mail. The bottom line? The report calls the District's tap water "safe, reliable and affordable," though it notes that "water quality can vary throughout the city."
Traffic Lights Malfunctioning in MoCo: Drivers heading through the Rockville, Gaithersburg, Germantown, Damascus, and Derwood areas in Montgomery County encountered a real commuting nightmare this morning as the timing of traffic lights was way off, NBC4 reports. The county hopes to have the problem fixed by noon, but in the meantime, officials are urging drivers to take alternate routes.
Two-Year Anniversary of Red Line Crash: Today marks two years since the tragic Red Line crash that killed nine people and injured dozens of others. The Examiner's Kytja Weir takes stock of WMATA's progress in addressing safety issues since then: "Commuters travel on some tracks that still contain the type of safety equipment that mal- functioned that day. They ride in the same model rail cars that telescoped in upon themselves in the crash." However, Weir notes, NTSB Chairman Debbie Hersman said earlier this month that Metro is making "acceptable progress." Metro plans to mark the anniversary with a wreath-laying ceremony this morning.
Cabbie Awarded $22K in Beltway Sex Crash: The bizarre saga of Salem Trad, the 22-year-old who was sued in Fairfax County court for causing a crash because he may or may not have been having sex in the back seat of his car at the time, has come to an end. He's been ordered to pay $22,000 to the cabdriver whose minivan was struck from behind in the incident, the Post reports.
Subscribe to Washingtonian
Follow Washingtonian on Twitter
More>> Capital Comment Blog | News & Politics | Party Photos