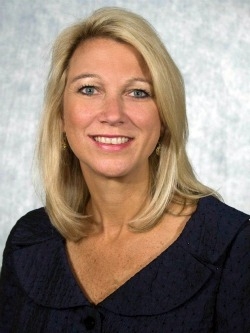 Alice Fisher became managing partner of Latham & Watkins's Washington office in March, making her one of only a handful of women who head offices of major international law firms. During the George W. Bush administration, Fisher was the assistant attorney general in charge of the Justice Department's criminal division. She rejoined Latham, where she was also a partner before her stint in the Bush administration, in 2008. Despite taking on the managing partner position, Fisher still has a full client load and travels to her two sons' lacrosse meets on weekends. But she found time to chat with Washingtonian about running Latham & Watkins's second largest office (with nearly 270 lawyers in DC), the economic health of the legal industry, and her friend, Kathryn Ruemmler, who just became President Obama's White House counsel.
Why did you want to be managing partner?
I am excited about the opportunity. I've only been in the job for basically a cup of coffee. I'm still finding my way. But the opportunity to find ways to support the talented lawyers here, and to support other professionals and colleagues that we have here who aren't lawyers, was very enticing to me. It's a different skill-set. The ability to really help others succeed, mentor people if need be, be strategic in ways that can help the office, and help grow the office, is something you don't necessarily do with day-to-day client work. I also think it's a challenge. It's a different aspect to the job of being a lawyer, and I'm always looking for a new challenge.
Eric Bernthal, your predecessor as DC managing partner, held the job for more than a decade. Did he give you any advice?
He did. You know, first of all, as deputy managing partner, I was able to work with him for six months while I served in that role. So I learned a lot just watching him, more than him saying, "This is the way to do the job." He had an extremely open-door policy, very accessible to everyone, very responsive to everyone, and really very supportive. I tried to do that when I worked in the government, and I've tried to do that now. He just really focused on supporting the people in this office. He cared deeply about them.
Latham, like many firms, dealt with significant layoffs and other difficulties during the recession. There's now talk of a possible "double-dip" recession. What are you thinking about in terms of the economic health of the firm?
The firm is very healthy, and I'm cautiously optimistic—but definitely optimistic—about where we are as a business. Our results in 2010 were very strong. Our trends looking at 2011 are very strong for the firm and for this office. If you look particularly at this office, we have practice areas that are diversified. For example, we have a strong antitrust practice. We are growing and have added some really strategic resources in intellectual property. We have a very strong [mergers and acquisitions] practice—the kind that you don't see really outside of Wall Street. So within this office, I think we're really well-situated.
What about across the legal industry? Are your friends at other firms also optimistic?
It differs. There are several colleagues who, if you talk about it, are still very focused on expenses, and growth, and sizes of associate classes, and things like that. And there are others who are doing wonderful and are happy. So it really runs the gamut. I think at the end of the day, the firms that pay attention to the market, but continue to provide very high quality service to the clients, and meet their clients' needs in a way that the developing market shows they should be met, are going to do the best.
When you returned to Latham from the Justice Department, how did you flip back to the mindset of defending corporations against investigations and fraud probes, from the work you were doing in government, pursuing anti-corruption cases?
I don't think it's necessarily so much switching your mindset. I've been a partner practicing in white-collar [criminal defense] for several years, and I was at the Justice Department for several years working on white-collar [crimes]. I think in a lot of ways, there's a misconception about defense in white-collar cases. Corporations want to find ways to comply with the law. I find a lot of the time in my day is spent helping companies develop strategies to either find and fix and remediate a problem, or prevent a problem. A lot of that is the same mindset as working at the Justice Department. I also think it's helped me become a better practitioner in the area, having seen both sides.
There are so few women managing partners at large law firms. What can big firms do to better retain and promote women?
You need to be fundamentally committed as an institution to helping all lawyers become successful, not just women. I do think that at Latham, we're very committed to seeing women in leadership roles. We have lots of committees where there are opportunities for lawyers—men and women—to serve in important roles within the firm. One example —one of our young partners, Maggie Sullivan, just became global recruiting chair for the entire firm. We also have something called "Women Enriching Business." It's a way to encourage more networking among women. It's open to everyone, men and women, but it's focused on women networking with other women business leaders. I think mentoring is really important. On the other side of that is making sure you have the right institutional structure, whether it's allowing women who want to reduce their hours for a certain period of time to do so with reduced pay, or other things you can do to allow women to have the work-life balance when they need or desire it.
Your friend and former colleague Kathryn Ruemmler recently became White House counsel. Can you share your thoughts on her qualifications for that job? Have you spoken with her since she accepted the position?
It's a fabulous decision by President Obama. Kathy was a partner here, but I also worked with her at the Department of Justice when she was trying the [Enron executive Jeffrey] Skilling case, and she's a friend. She is an extremely talented lawyer, very smart. She has great judgment. She gets right to the issue. And yeah, I've spoken to her. She's obviously very excited about the opportunity. She's spent a lot of time in public service. This is a wonderful thing for her.
Subscribe to Washingtonian
Follow Washingtonian on Twitter
More>> Capital Comment Blog | News & Politics | Party Photos