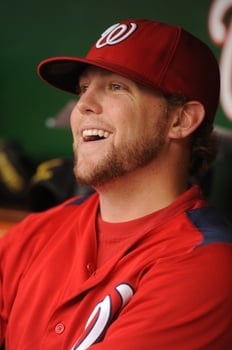 Drew Storen's second season with the Washington Nationals has gone about as well as the 23-year-old pitcher could have hoped. The Nationals' other 2009 first round draft pick (the team took Storen nine spots after No. 1 overall selection Stephen Strasburg) has established himself as Washington's full-time closer and as a key player in the club's rebuilding effort. We caught up with Storen before the Nationals' recent managerial drama to talk about the team's hot streak, pitching in the majors and living in DC.
On June 9, the team was nine games under .500 and in last place. Then you went on an eight-game winning streak. What changed? Did you sense a turnaround was possible?
The results on the field are starting to show the differences we've seen in this team all year in the clubhouse. From the beginning of the season, we kind of said things are gonna be different this year. And you're starting to see that out on the field. So it's something we're obviously excited about and hopefully we can keep building on that.
What about your season? You've captured the full-time closing job and seem to have solidified your role in the bullpen.
I got off to a good start. I have a little bit better idea of what I need to do. It's a learning experience, you know, and I'm fortunate to have good support down there and good older guys who are helping me out a lot. I'm just kind of learning and trying to make adjustments and trying to get better. I feel like every couple of weeks, you'll have an outing where something clicks, but you just have to keep tinkering because hitters are making adjustments to you. You have to adjust to them as well. It's not like one of those things that just happens. You just try to stay on a hot streak and try to limit the ups and downs and try to stay consistent. Because coming out of the bullpen, it just takes one really bad outing to kind of ruin your season.
You went to Stanford, played for the baseball team there but got drafted before you could graduate. After last season, you decided to go back to finish another semester toward your product design degree. Do you have the same plan for this fall?
I don't know yet. I'm going to kind of see how things go. Last year, I played about three-quarters of the year in the big leagues. This year, being a full year, I might be a little more tired. I'm just going to play it by year. I'm still enrolled, so if I want to go back it'll be pretty easy. But a lot of it has to do with getting into the classes I need to, since I'll be showing up a couple weeks late. The baseball will take care of itself. It's not really going to affect my school, because the school will get to that point, even if it's a couple years down the road.
What about off the field, do you feel established here in Washington?
[Nationals' relief pitcher Tyler] Clippard and I live downtown, right by the Verizon Center, right in Judiciary Square so it's an awesome, awesome place to live. We ride our bikes down to Matchbox. We eat Matchbox all the time. We hang out down there and it's an easy ride to the ballpark too. It's just cool to live the city life. Last year, we were in the Courthouse District in Arlington, which was nice, but it didn't have that city feel. I wanted to have that this year.
Have people started to recognize you around town?
A couple times. The mailman stopped me the other day, which kind of caught me off guard. But it's still funny when people notice you. He gave me just the normal like, 'Hey, are you the guy on TV? Hey, you're that baseball player.' It's always cool when you have fans say something to you. When you're out there pitching, you don't realize how many people watch, because I'm so worried about doing my own thing. I don't realize there's thousands of people in the stands and however many people watching on TV.
What are some of your favorite spots?
I'm a big sushi guy, so we always eat at Sei. We've been going to Rosa Mexicano a lot and, of course, Matchbox. Those are probably the top three spots that we'll hit up. After the games, we'll go down there to get a bit to eat or something and just kind of kick it at Iron Horse or Rocket Bar. I think that's probably my favorite thing about living down there, all the good restaurants. I really love the area and it makes me not want to leave.
Subscribe to Washingtonian
Follow Washingtonian on Twitter
More>> Capital Comment Blog | News & Politics | Party Photos