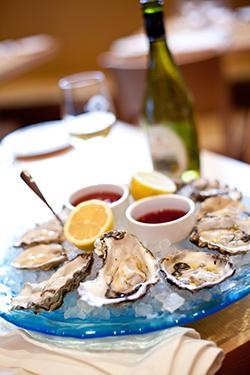 Central
Downtown DC
On a recent visit to Central, I was reminded once again what an extra special place it is—it's consistently good, and that's a rarity. On this night, we were a party of six, and there wasn't a single complaint. The scallops got high marks, and the oysters were beyond comparison—I think Central gets the freshest, the largest, and the best—and I indulged in a full dozen. Even now, when I think about them I begin to salivate. Even the burgers are top-notch and the desserts—oh, those desserts. A banana split was attacked by six spoons, and we all had a different way to say "yummy!"
My rating: 3½ stars.
Pupatella
Arlington
In addition to the usual items at a pizza restaurant, this inviting-looking one has a liquor license and is therefore able to serve a wonderful peach-flavored sangria, with chunks of fresh peaches. The eye-catching oven greets you as you walk through the door, and you can watch the pizzaiolo in action. Although the pizzas are somewhat soggy, they're saved by the thinness of the crust. Even better is the panini sandwich—an excellent choice. And for dessert, a cup of gelato is very satisfying; we had blueberry and coconut.
My rating: 1½ stars.
Ted's Bulletin
Capitol Hill, DC
Here's a "bulletin" for you: If you're looking for a restaurant to bring friends who you wish to impress, this place isn't for you. If you want to have a good time and eat the foods of yesteryear, then it's a smart choice. The food is good, and the portions are large. If you order a club sandwich, be prepared to open wide! There are some nice selections for kids; we sampled the grilled cheese with French fries. I found the beets much too tart and the coleslaw a bit dry, but there were no complaints with the salmon, the creamed corn, or the sloppy Joe. Especially good was the Italian chopped salad—an antipasto with nice ingredients, and it was perfectly seasoned. The pop tart seems to be the dessert of choice among the staff. It wasn't to my liking, but hey, I never liked pop tarts even when my kids thought they were the bee's knees! We also had some blueberry pie served with ice cream and a dollop of whipped cream.
My rating: 2 stars.
Subscribe to Washingtonian
Follow Washingtonian on Twitter
Follow the Best Bites Bloggers on Twitter
More>> Best Bites Blog | Food & Dining | Restaurant Finder