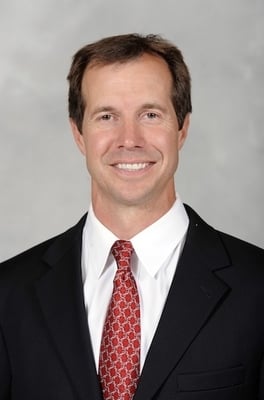 John Tillman recently wrapped up his first season as head men's lacrosse coach at the University of Maryland. He came in with 19 years of experience, most recently as head coach at Harvard University and a head assistant coach at the Naval Academy. Maryland won the ACC tournament, but the team was unseeded in the national tournament. Tillman's Terrapins upset the University of North Carolina, top-ranked Syracuse and Duke before losing in the title game 9-7 to the University of Virginia this year. Tillman talks to The Washingtonian about his superstitions, lessons he's learned this season, and what next year looks like.
Did you adopt any superstitions or rituals through the season?
We started wearing our purple shirts in honor of Maria Young [mother of senior Ryan Young who died of pancreatic cancer]. Once Maria passed away, we wore purple shirts underneath our uniforms. We felt like it was important for Maria and her spirit to be with us and create awareness for pancreatic cancer. She had a big impact on our whole season. If we could have won that championship, it would have been the stuff of TV movies.What's the last thing you told the team before you took the field for the game against UVA?
Looking back, just knowing that the journey had been so long and so hard for us and so challenging, what we told them was, "You were born for this moment. You're ready for this moment." And what will hopefully bring up the victory is playing hard for 60 minutes. Playing hard for each other, our state, our school; staying positive and believing in one another. And telling them honestly, "I love you guys."
It was the Terps first trip to the championship game since 1998, but you went to the title game in 2004 with Navy. What's the most pertinent lesson you've taken with you after two close losses?
You have to look at it as managing the weekend. There are a lot of distractions that go into the weekend. You have to remember that you worked all year to get yourself to the Final Four. Don't get distracted by things that aren't important: playing golf and hanging out in the sun. Be mindful of what's most important and take a businesslike approach. We really had to fight and scratch in a very competitive, physical—as physical a game as I've seen in a long time—game against Duke. It really shows that you've got to have depth come Final Four weekend.
You lose 17 seniors from this team. It's early, but what's next year look like for the program?
The goals of the program haven't changed. Our old saying, be the best, is our goal. It's very hard to win a national championship. There are so many talented teams, great programs, and great coaches. They're very lofty goals, but that's why you put so much into it. We'll be a little more green at the beginning of the year. We're really going to have to do a good job in the off-season this summer with kids getting bigger and stronger. In the fall and winter, some new leaders are going to have to emerge. I have confidence in these guys. Lacrosse is so important around here. We need to do a good job. There are a lot of people around here who care about it and follow it. It's something that inspires us.
What's the most rewarding part of the job?
Seeing the guys become great fathers, successful in the jobs they have, be great husbands. It's great to see them be successful beyond lacrosse. While they're here it's rewarding to see them struggle, uncomfortable and wide-eyed, throughout the process of success and failures, ups and downs.
Seeing how happy those guys were after we beat Syracuse, that's what you work so hard on. It reminds you of why you do what you do. You go into coaching because of the education, the mentorship, and the memories. Not many people get up and are pumped for work. I'm so excited every day, no matter what time of the year it is.
What's your favorite spot in Washington?
I'd definitely try to hit the Smithsonian museums. I love that stuff. If I could get down into the city, that would be my first stop. It's been nonstop since the day I took the job.
Subscribe to Washingtonian
Follow Washingtonian on Twitter
More>> Capital Comment Blog | News & Politics | Party Photos