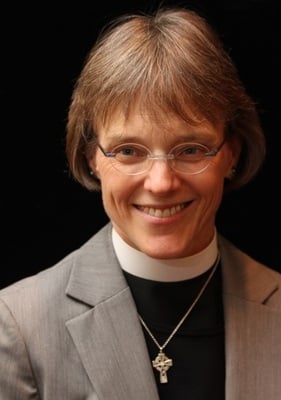 In June, the Rev. Dr. Mariann Edgar Budde was first woman elected to be the ninth Bishop of Washington for the Episcopal Diocese. While she lived at the Virginia Theological Seminary in Alexandria in the '80s, she hasn't been back to Washington since. A mother of two, Budde has a few more months until she and her husband have to move to the East Coast from her home of 18 years in Minnesota, but the current rector of St. John's in Minneapolis is excited to explore the District on her bike. Be sure to catch her on one of her potential Bishop Bike Rides around the city. Budde's official consecration and installation will be on November 12.
What does it mean to you to be the first elected female Bishop of the Diocese of Washington?
It means a great deal to me, given that when I was a child, women were not allowed to serve in elected leadership roles, and girls at the church I attended couldn't be acolytes. I am well aware that I stand on the shoulders of incredibly brave and strong women who forged a path before me.
Besides your new role with the Diocese, what kind of ties, if any, do you have to the city?
I did my seminary training in Alexandria at Virginia Theological Seminary back in the 80s. I did a lot of my field work and Washington and I spent as much time there as I could because I loved the city. I stayed in touch with friends but I haven't been back. And besides my new role, my oldest son Amos, moved to DC in February.
You were also a voice against the same-sex marriage ban in Minnesota. What are your thoughts on that now, especially as you move to DC, where same-sex marriage is legal?
I'm very pleased to be moving to Washington, DC, where same-sex marriage is legal. While there is no legal marriage for same-sex couples in Minnesota, I have presided at many sacramental blessings of life-long unions for gay and lesbian couples, among them some of the most loving people and faithful Christians I know. I have the sense that the momentum is slowly building across the country for change on this issue, and that within five years, many more states will legalize same-gender marriage.
What sort of responsibilities will you take on with your new position?
The primary role of bishop is to be a person of leadership and oversight for the congregations and other institutions of the diocese. My first task is to get to know schools, clergy, and the people and what their concerns are and what their hopes for the future are.
I also have to get to know not only DC, but also Prince George and Montgomery counties. I have to learn how the different parts of Maryland relate to each other and the District.
What do you think the Diocese needs to work on and how do you plan to fix that?
There's a real desire to strengthen the base of ministry in our congregations and schools. We need to make them as strong, viable, and service-oriented as they can be.
Collectively, we need to answer, "What do we stand for as a church? What are the values and activities that reflect what we understand to be our mission in the world?" If you go to any Episcopal church, you'll be struck by how much of its life is dedicated to serving other people. We're there to make sure the people are treated fairly and that they have access to the things that make life meaningful, like housing, health care, and jobs.
The young adult population in Washington is steadily growing. What sort of vision do you have for that group in the diocese?
What I love about that possibility is that I think the Episcopal Church could be, and is already, a wonderful place for young adults to gather and explore issues of their spirituality and core values. There are already a number of Episcopal congregations that have strong gathering places for young adults. I would want to strengthen that and make that a much more visible part of our ministry.
What are some of your favorite spots in Washington?
I love the bike paths around Rock Creek and up and down the Potomac. I remember them with just amazing fondness. I have a lot of fondness for areas like Adams Morgan where there is that great cultural vibrancy that we look forward to reconnecting with.
One of the things i really want to do is have Bishop Bike Rides, where we'll take bike rides as a group around the District or to southern Maryland. I plan to get to know the area on my bike.
Subscribe to Washingtonian
Follow Washingtonian on Twitter
More>> Capital Comment Blog | News & Politics | Party Photos