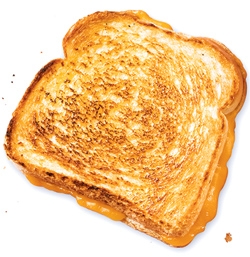 BEST THROWBACK
Stoney's Lounge
1433 P St., NW; 202-234-1818
No matter how many twists chefs give to the grilled cheese sandwich, the devoted fans of Stoney's classic version—thick white bread, American cheese, lots of butter—are testament to the power of childhood comfort food.

BEST UPDATED THROWBACK
Quarry House Tavern
8401 Georgia Ave., Silver Spring; 301-587-835
At the dive bar Quarry House Tavern, butter-slathered bread bookends Swiss, provolone, and cheddar. For an extra-retro meal, add tater tots.

BEST OVER-THE-TOP INDULGENCE
Central
1001 Pennsylvania Ave., NW; 202-626-0015
Central offers a sandwich with melted Gruyère, garlicky chopped mushrooms, and roasted Vidalia onions. But that's not all: On the side comes a dipping sauce made with four kinds of cheese—Gruyère, Parmesan, and two cheddars. It's best to share; your arteries couldn't handle the whole thing.
BEST SOUTHERN TWIST
Cheesetique
2411 Mount Vernon Ave., Alexandria; 703-706-5300
The six grilled cheeses at Cheesetique wine bar range from basic cheddar on sourdough to one stuffed with raspberry jam, walnuts, and scallions. Our favorite has two tangy aged cheddars and pepperjack with sweet pimiento peppers.
BEST USE OF HIGH-END CHEESE
The Big Cheese (Food Truck)
The success of the Big Cheese truck, which parks in DC and Virginia, lies in its simple creations made with artisanal cheese. We like the version with Midnight Moon, a California goat's-milk Gouda with caramelized onions, and the Brie-like Mt. Tam, with apples and honey.
This article appears in the July 2011 issue of The Washingtonian.
Subscribe to Washingtonian
Follow Washingtonian on Twitter
Follow the Best Bites Bloggers on Twitter
More>> Best Bites Blog | Food & Dining | Restaurant Finder