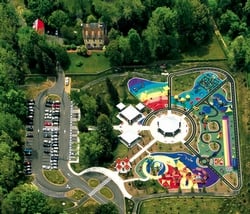 You probably won't find a playground anywhere in Washington as cool and colorful as Clemyjontri Park (6317 Georgetown Pike, McLean; 703-388-2807). Kids' eyes light up when you pull into the lot. The playground has jungle gyms, slides, and rocker-rides shaped like cars and animals. Kids can scramble up a rock wall, pretend to drive a school bus or fire truck, climb the rainbow arches, or make their way through a maze. Carousel rides are $1.75.
The handicapped-accessible playground gets its name from donor Adele Lebowitz's four children—Carolyn (Cl), Emily (Emy), John (Jon), and Petrina (Tri). Lebowitz, whose husband started the local Morton's department stores in 1935, donated the 18-acre property to the Fairfax County Park Authority and said she wanted it designed for children with disabilities: There's a drag-racing strip and a swing for wheelchairs; other swings have high backs for extra support; monkey bars are lowered for easier access. The ground is well cushioned, so Clemyjontri is a good spot for toddlers. Because parking is limited, your best bet might be the overflow lot down the street. And the place gets packed on weekends, so you'll probably want to have one adult on hand for each child.
This article appears in the July 2011 issue of The Washingtonian.