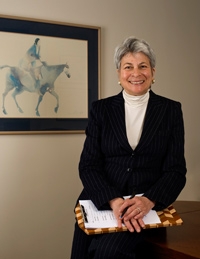 Rita Bank, one of Washington's best-known divorce lawyers, found herself in an unfamiliar role in the courtroom over the past couple of weeks. Instead of arguing a case, she was the one accused of wrongdoing.
A former client, New York–based Nobel laureate Joseph Stiglitz, sued her for legal malpractice in 2005, but the case only recently made it to trial in DC federal court. The jury delivered its verdict late Wednesday afternoon, finding in Bank's favor.
"I am thrilled for Rita. It was the right decision on the merits," says her lawyer, Richard Simpson, a partner at Wiley Rein.
Stiglitz's lawyer, Crofton, Maryland-based David Whitworth Jr., was not available to comment on the verdict.
Stiglitz alleged that Bank's poor counsel had exposed him to increased financial claims from his ex-wife and cost him millions in litigation fees and other expenses. One of his complaints was that Bank should have told him that getting divorced in New York instead of DC could be more costly.
Though the trial was focused on Bank, the woes of another prominent Washington divorce attorney, Glenn Lewis, also got dredged up in the course of the trial. Lewis isn't well known for cutting clients a break when it comes to his fees, but ironically, he served as the "expert witness" on the plaintiff's side, helping to make the case that Bank's bad advice had unnecessarily cost Stiglitz.
In 2009, Lewis sued a former client, Steve Firestone, claiming he was owed an additional $500,000 for handling Fire­stone's divorce. But Firestone turned the tables, countersuing Lewis for overcharging him. In the end, the matter was settled, with Lewis paying more than $100,000 to Firestone.
Lewis's expert opinion in the matter against Bank included his estimate that handling the divorce in DC would have cost $100,000 to $200,000, far less than what Stiglitz spent in New York.
During his cross-examination of Lewis during the trial, Bank's lawyer hammered on the Firestone case to call into question Lewis's credibility as an expert on legal expenses. Simpson asked Lewis if he thought the $627,000 he charged Firestone was reasonable. Lewis's response: "Absolutely."
Stiglitz's lawyer first hired Lewis as an expert in the case against Bank in 2006, before the Firestone suit and countersuit were filed.
Lewis didn't return calls for comment, but during a conversation earlier this month, Whitworth said he hired Lewis because he's well known and is a former president of the Virginia Bar Association.
That's not the only reason. Given that Bank is one of the area's top divorce lawyers and has practiced in DC for decades, Whitworth said, "Candidly, there are a lot of [divorce attorneys] who know her personally" who would not have been comfortable testifying against her. Lewis knows Bank professionally, but Whitworth said apparently not well enough to keep him from testifying.
Bank wasn't the only winner in the case. Court documents show Lewis billed the plaintiff $500 an hour for "consultation and document review" and $700 an hour for testimony
Simpson adds that he believes the jury would have decided for Bank, regardless of who gave expert testimony for the other side.
Subscribe to Washingtonian
Follow Washingtonian on Twitter
More>> Capital Comment Blog | News & Politics | Party Photos