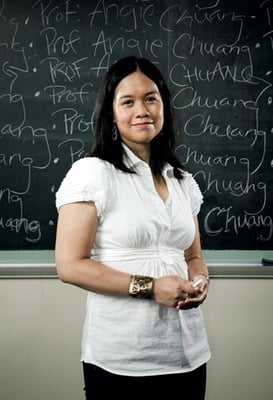 Nobody teaches you Chalkboard 101. When I stepped to the front of a classroom for the first time, I struggled to grasp the stumpy piece of chalk on the ledge of the blackboard and write "Prof. Chuang." My first try was barely readable over the remnants of calculus equations on the board. I pressed harder. The chalk made a squeal. My students groaned.
At 34, I had left a reporting career on the West Coast to teach journalism in Washington. I was used to traipsing around Afghanistan and post-Katrina Louisiana, scribbling in a reporter's notebook. With a piece of chalk in my hand, I was completely out of my element.
Why had I moved here and changed jobs when I'd had a perfectly good one already?
In college, my friends and I were the girls who lived in flannel shirts and never called ourselves girls. It was the early '90s, and we wanted to look like Kurt Cobain, not Courtney Love. We swore we'd never wear heels, change our last names, or sacrifice our careers "for a man."
In 2004, I traveled to Afghanistan, disguised in traditional clothing and a headscarf to get past checkpoints in non-NATO-controlled territory—and fell in love with Asad, my handsome, flak-jacketed bodyguard. Our love story bloomed in the shadow of the war on terror. When Asad got a visa to study in the US, near Washington, our happy ending was closer by 7,000 miles—and a lot of red tape.But it was 2007, and the newspaper industry was well into its decline. Plus I was based out west. To be close to Asad while he finished school, I'd have to find something other than a reporting job—and move across the country. American University had a one-year teaching position in journalism. I told myself it was okay to relocate for a man because it was just a short-term job, not a career change.
This is the part of the story where I'm supposed to tell you Asad and I rode off together and I eventually found my way back to reporting. We didn't. I didn't. Four months after I moved, our relationship ended in a much less interesting way than how it started.
A week after that, AU offered me a tenure-track position. I felt ecstatic and queasy: Hadn't I gotten my teaching job only because of a man? What would my college friends say? Many of them had gotten married; some had changed their names. While a few had powered ahead with their careers, others had chosen less demanding professions or become stay-at-home moms. Some of us were happy most of the time; some of us weren't. Whether we were seemed to have little to do with how far we'd deviated from our agendas for a man.
Fast-forward three years: I now carry a box of dustless chalk in my bag. My hand is steady as a fresh piece glides on the blackboard. I love teaching, I love my students, I love journalism because I can teach it to young people, and I love Washington, that ever-shifting cacophony of cultures, bureaucracies, decisions—of people from everywhere and nowhere.
And I love Asad. Not because I still want to be with him but because he gave me a reason to find my way into this new place, this life I never planned.
This article appears in the July 2011 issue of The Washingtonian. The name of Chuang's former bodyguard, Asad, is a pseudonym.
Subscribe to Washingtonian
Follow Washingtonian on Twitter
More>> Capital Comment Blog | News & Politics | Party Photos