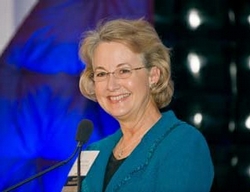 In her 30 years as a real estate lawyer, Wendelin White, the leader of the Washington real estate practice at Pillsbury Winthrop Shaw Pittman, says the recent economic downturn is the worst she's ever seen. White focuses on commercial real estate transactions, representing clients such as Boston Properties, Saul Companies and Lowe Enterprises. Among many other projects, she has handled multiple sales and purchases of Georgetown's Washington Harbour, and she was involved in the development of City Vista at Fifth and K Streets, Northwest, from the project's inception. Here she talks about the ups and downs her practice has been through, the current condition of Washington's real estate market, and her prediction for where the market is headed.
Can you talk about what your practice has been through over the past few years?
Well, it's been a challenging time for our real estate practice. Sales transactions, as well as new development projects, were few and far between for several years. To its credit, Pillsbury did not abandon our real estate practice during the downturn, while many other firms essentially stripped or even completely eliminated their real estate teams. But real estate is one of the four core industries in which Pillsbury has built its name over the past 140 years, so we positioned ourselves to strike the minute the economy began bouncing back. Earlier this year we brought on board a team of five real estate attorneys in New York. They're a perfect fit for us, and they've hit the ground running. We have what I call a tri-coastal real estate practice, primarily in California, Texas, and the East Coast: New York and DC. We're looking to add people in all our major markets, including here in DC.
In your 30 years of practicing, this is the worst downturn you've seen?
For me, personally, yes. I know other people who say it's not the worst. But because I am the person in charge of the real estate group in this office, and it's my job to make sure everyone is keeping busy and that the associates have the chance to work a variety of projects, it's been particularly challenging. At the beginning of the downturn, I was on the managing board of the firm in addition to heading the real estate group in DC. And that was hard, because at the same time the managing board was looking at work levels throughout the firm and trying to make sure our staffing levels were right, I was worrying about keeping my real estate group together and strong. Right-sizing is never easy—I didn't want to lose even one person. But now we're focused on how best to advance our practice as the market bounces back. In addition to the recent real estate hires in New York, this spring we brought on board 15 attorneys, including five partners, from Howrey's top ranked Construction Litigation practice, 11 of whom are based here in our DC office. Further marrying our real estate and construction capabilities allows us to give clients an all-in-one solution.

Are you optimistic about the market?
I am cautiously optimistic. The market is still choppy. Right now there are some deals happening, but everybody's chasing the same ones. Then some bidders get priced out because the deals that everybody wants get bid up so high. So your client who is chasing five deals doesn't necessarily get all of them – maybe gets one, maybe gets none this round.
But it's been a very favorable market for refinancing. I'd say that more than anything has sustained us during the downturn, and it's been a great steady diet from a number of wonderful clients.
I also sit on the board of Washington Real Estate Investment Trust, so I see the DC metro area's competitive market from that perspective as well, from the board of a public real estate company looking for deals.
WRIT is in almost every market sector—multifamily, office, medical office, industrial and retail, although they're looking to sell their industrial portfolio. So I see WRIT chasing deals and I see how hard it is to land one. That said, there's definitely more activity now than last year or the year before.
You often hear that Washington's economy is insulated. Do you think that's true?
It is insulated largely because of the federal government, and because of that it is one of the most sought after locations for real estate investment in the world. So even though our real estate economy slowed down, it didn't slow down nearly as much as other markets.

What are your predictions for the coming years?
I think it's going to be a slow pick-up. I don't expect a dramatic bounce-back to 2007 or 2006. It's going to be slow, and it's very dependent on jobs. If our economy can't create jobs to fill office buildings and to pay people so they can go out and shop, then commercial real estate is not going to rebound quickly. But people do have to live somewhere, work somewhere, and shop somewhere, and play somewhere. I'm all for that. So, sooner or later, the market will recover.
Subscribe to Washingtonian
Follow Washingtonian on Twitter
More>> Capital Comment Blog | News & Politics | Party Photos