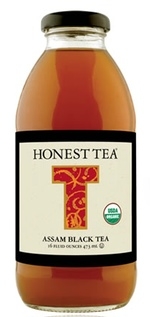 Sophie Gilbert, assistant editor and Sophie at the Stove blogger:
• Can the Michelin Guide be saved? The Financial Times takes a look at the failing fortunes of the esteemed French restaurant guide, which Accenture estimates will be doomed unless it can drastically reinvent itself for the digital age: Star-Crossed.
• Honest Tea (which I swear I never realized was a pun for "honesty" until right now) placed bottles in 12 cities this week, next to a live camera feed and an "honesty box" for customers to put money into. Turns out that DC isn't so honest. Who knew? Chicago First, New York Last in Honest Tea 'Experiment.'
• Bored with salad dressings (or, frankly, salads)? Tom Colicchio offers a master class on vinaigrette, which he calls "the most under-appreciated sauce in existence:" Great Chefs Share Tricks of the Trade.
Todd Kliman, food and wine editor:
• Soda makers are suing a new "anti-soda" campaign in New York City that advertises sugar levels in popular brands such as Coke and Pepsi. I have mixed feelings about this. I'm all for exposing the methods of multinational corporations. But I don't think that campaigns like this change the culture; what they do is succeed in branding an agency as guerrilla and clever: Soda Companies Sue over NYC Anti-Soda Campaign.
• Good for Michelle Obama, using her platform not for foodie photo ops that soothe the do-gooding liberal soul, but to enact real, systemic change in low-income communities: Michelle Obama seeks to stamp out food deserts with the help of some grocery giants.
• Love this: In Appleton, Wisconsin, the fuzz upholds the law. With nine-year-old girls. At a lemonade stand: Cops Bust Lemonade Stand.
Ann Limpert, food and wine editor:
• Molecular gastronomy for the masses: Dippin' Dots is now making edible espresso, while an MIT professor has patented a recipe for carbonated ice cream: In the Lab With the Ice Cream Makers.
• If I'm having a particularly bad bout of insomnia, it's usually the shudder-inducing memories that begin to creep in, such as the evening a few years ago when I was dared to eat a scorpion. I put on the fakest I'll-try-anything-once face I've ever summoned, took a deep breath, and crunched through it, soon realizing that the worst part of eating an arachnid is not the actual flavor, it's getting the damn thing out of your teeth. Mmmm. Since then, all my bug eating has been vicarious, and although Daniella Martin makes a pretty good case for their sustainability and nutritional value, I think I'll leave the bee larvae tasting to her (they're like "bacon-chanterelle," she says): What Do Bugs Taste Like, Anyway?
• So this isn't technically a food story, but GQ writer Andy Ward's quick riff on what he calls the "music couples can cook to" genre is too good. See ya never, Norah Jones: Rock Your Children Well.
Kate Nerenberg, associate food and wine editor:
• I know I'm personally guilty of some of these, but I think anyone writes even a single sentence about food should take a cue from this list (do people actually use "yummilicous," "yummo," or "yummers" in anything but an email?): The 78 Most Annoying Words to Read in a Restaurant Review.
• David Sedaris takes a trip to China and finds there's a lot more to the food than General Tso's chicken. As is always the case with Sedaris, there's a big dose of humor in here: Chicken Toenails, Anyone?
• This brochure from the Environmental Working Group does lots of good things, including making the term "carbon footprint" understandable, showing how many car miles are equivalent to four ounces of certain foods. And it tells you fun facts that you can break out at a party, such as eating one less burger a week is the same as taking your car off the road for 320 miles (because I don't own a car, can I still eat that burger?). But the most astonishing—and sad—fact is that eating cheese is kind of terrible for the environment: Meat Eater's Guide to Climate Change + Health.
Rina Rapuano, assistant food and wine editor:
• Because Estadio is making my favorite cocktails in the city, I have to try the recipe for white sangria with tequila at the end of this article: Summer in a Glass.
• I'm planning on doing some late-summer preserving, so I picked up this book. I've got my eye on a blueberry-lemon-honey jam and ginger-garlic pickles: Tart and Sweet: 101 Canning and Pickling Recipes for the Modern Kitchen.
• It's also time to fire up the ice-cream maker. I'm consulting this book for inspiration: The Ciao Bella Book of Gelato & Sorbetto: Bold, Fresh Flavors to Make at Home.
Subscribe to Washingtonian
Follow Washingtonian on Twitter
Follow the Best Bites Bloggers on Twitter
More>> Best Bites Blog | Food & Dining | Restaurant Finder