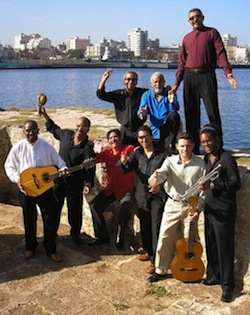 Tuesday, July 19
FOOD: Fans of traditional Spanish cuisine won't want to miss the first week of Jaleo's Paella Festival. Through the end of the month, the restaurant will feature six distinct paellas crafted by Chefs Rafael Vidal and José Andrés. And with options like Paella Valenciana, which features chicken, rabbit, and lima beans, and Paella de pescados y mariscos, which features mixed seafood, there's something for everyone.

DANCE: Cuban band Sierra Maestra will be lending their energizing rhythms to the Artisphere's dance class. Learn a few moves during the event's hour-long lesson, then show 'em what you've got during the band's jam session. Tickets ($25, $22 for students, seniors, and military) can be purchased at the event Web site. Dance class starts at 7:30 PM, live music and dance begins at 8:30 PM.
THEATER: It's your last night to catch Gallantry: A Soap Opera in Act One at the Warehouse. The play follows a naughty nurse trying to deciding between having an affair with a patient or remaining faithful to her husband. But leave the kids at home—this mini-soap opera contains nudity. This production is part of the Capital Fringe Festival. Be sure to check out our guide to the can't-miss performances of 2011. Tickets ($17) can be purchased at the event Web site. 6 PM.
MUSIC: Virginia-based musician Meredith Bragg will be dropping by the Black Cat for the release of his new album, Next. The song "Next Time" was recently featured on the show Parenthood. You can sample a few of his tracks here. Tickets ($10) can be purchased at the event Web site. Doors open at 8:30 PM.
Subscribe to Washingtonian
Follow Washingtonian on Twitter
More>> After Hours Blog | Arts & Events | Happy Hour Finder | Calendar of Events