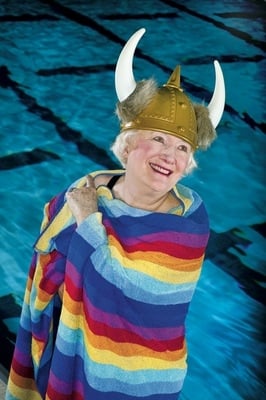 Whether in a period costume or a swimsuit, Carol Ireland has been in front of an audience most of her life.
After retiring from the Opera Society of Washington—where she sang soprano for 15 years—Ireland, now 71, joined the DC SynchroMasters, a synchronized-swimming team, and took her artistry from the stage to the water.
"In opera you complement the music with your movements and exercise breath control," she says. "It's the same in synchro."
Singing in a chorus and landing lead roles in student productions at DC's Coolidge High School gave Ireland her first taste of the limelight. She studied music at Cornell—where she met her husband, Terry—and London's Royal College of Music, then joined the chorus of the Opera Society, which later became the Washington National Opera, and stayed until her retirement at age 40.
Though leaving the opera enabled Ireland perform solo occasionally as well as teach piano and harpsichord, which she still does from her Silver Spring home, she missed performing with a group.
The solution came one afternoon 23 years ago at the YMCA when a member of the DC SynchroMasters encouraged her to give the sport a try. After a few months of triweekly practice, Ireland competed with the team at the U.S. Masters Synchronized Swimming Championships. The DC SynchroMasters usually bring home a medal or two each year.
Though synchronized swimming takes strength and lung capacity—both of which Ireland built through years of singing while wearing costumes weighing up to 25 pounds—she acknowledges that the sport isn't always taken seriously.
"People think we just go upside down and twiddle our toes," she says with a laugh.
The camaraderie keeps her going: "After a while, you don't remember if you won or lost. It's really about the other people and your ability to create something together."
That's one reason she has no intention of hanging up her swim cap anytime soon.
"An operatic singing voice goes by age 40 or 50," she says, "but in synchro there is hope that at 80 I'll still be swimming."
This article appears in the July 2011 issue of The Washingtonian.
Subscribe to Washingtonian
Follow Washingtonian on Twitter
More>> Capital Comment Blog | News & Politics | Party Photos