What if there were a parallel Earth with the same people living on it? Georgetown graduates Brit Marling and Mike Cahill explore the possibility in their buzz-worthy film Another Earth.
Another Earth
One of the most buzzed-about films at Sundance earlier this year has a couple of local ties: star/co-writer Brit Marling and director/co-writer Mike Cahill are both Georgetown grads, having graduated in 2005 and 2001, respectively, both with degrees in economics. With the success of Another Earth, which was picked up at the festival by Fox Searchlight for $1 million, and is being promoted heavily, it seems safe to assume neither of them will have to fall back on their practical degrees anytime soon.
Perhaps the biggest attraction of the film for Sundance audiences was the film's break from the festival's norm of indie dramas and quirky comedies, all of which start to run together after a while. Another Earth stood out for its sci-fi premise and for continuing the recent trend for small-scale, idea-driven science fiction, reminiscent of another film that took off at Sundance two years ago, Duncan Jones's Moon.
In Earth, Marling plays a young scientist who makes a tragic mistake on the same day that a planet appears in the sky that looks exactly like our own: a parallel Earth with the same people living on it. Cahill and Marling use the premise to examine her character's guilt and the paths that are created by our choices—how might different choices made by our doppelgänger in another world make their lives different from our own?
View the trailer. Opens Friday at E Street Cinema and Bethesda Row.
Life in a Day
Last year, Ridley Scott's production company put out a call for YouTube users to submit videos of their lives on a single day, July 24, with little guidance as to content aside from some questions that people might answer in the videos if they chose to. In the end, they received over 80,000 clips from 140 countries, a total of 4,500 hours of footage to sift through. Director Kevin Macdonald and editor Joe Walker pulled 94 minutes of clips from that total to tell the story of one day, as it played out in the everyday lives of people all over the world. The result is breathtaking—much more than just a collection of clips.
The task of condensing the experience of life as a human being alive on this one day might seem foolish, given the diversity of people, language, geography, economics, and so on, but what plays out onscreen is as riveting as any narrative, even if the only structure holding it together is the chronology that leads it from one night to the next, with the familiar beats of the day cut together to show that we're actually far more similar than we are different. This movie is the time capsule to send out into space to explain to any being who might come across it what humans are.
View the trailer. Opens Friday at West End Cinema.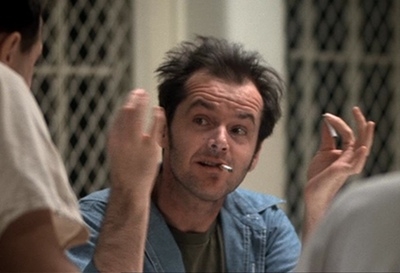 One Flew Over the Cuckoo's Nest
Confluences of heady, risk-taking cinematic artistry and huge financial success might seem rare today, but they were practically the norm in the last golden age of Hollywood, from the late 1960s through the mid-'70s, when films like The Graduate, Bonnie and Clyde, and Easy Rider topped both box office charts and critic's lists.
One Few Over the Cuckoo's Nest became one of the most successful of the era in both those regards, becoming one of only three to ever win all five of the "major" Academy Awards (Picture, Director, Screenplay, Actor/Actress), and making over $100 million at the box office—a bona fide blockbuster in 1974, particularly on a modest budget of less than $5 million.
Today it enjoys a spot on most all-time top 10 or 20 lists, and has likely eclipsed the Ken Kesey counterculture classic upon which it was based in terms of cultural import. A point which was likely a continual thorn in the author's side, considering that he hated the adaptation so much he sued the producers over their changes to his book.
It's easy to chalk up the film's popularity to the anti-authoritarian zeitgeist of the mid-'70s: a society finally rid of the albatross of Vietnam celebrating a rebel spirit, in Jack Nicholson's revelatory performance as convict R.P. McMurphy, who gets himself sent to an asylum to avoid prison work detail, and while there foments a patient rebellion against the restrictive rulemaking of the hospital's evil Nurse Ratched. But the film wasn't so much timely as it is timeless; it feels at once a piece of the time from which it sprang, yet because it leans so heavily on metaphor and allegory, is as enduring as a fairy tale, though a very grim one indeed. Screen on the Green features the film as its second offering outside on the Mall for this year.
View the trailer. Monday at dusk (around 8:30 to 9 PM) on the National Mall between Eighth and 14th streets, Northwest. Show up early to get a prime spot—some folks start arriving as early as 5 PM to stake a claim. Free.

The Beast Stalker
Dante Lam become famous to fans of Hong Kong cinema when he won the best director prize at the Hong Kong film awards in 1998 for his film Beast Cops. Despite the similarity in titles, his acclaimed Beast Stalker isn't related to that film at all, even if it did return Lam to critical acclaim win a number of awards itself.
This film is a police action-thriller, with a cop consumed by guilt over an accidental shooting trying to redeem himself by investigating a kidnapping that's related to the case that put him on desk duty to begin with. Lam revels in going completely over-the-top with the action and the plot twists, which is pretty much what Hong Kong cinema is all about.
View the trailer. Screens Friday at 7 PM and Sunday at 2 PM at the Freer, as part of the Made in Hong Kong Film Festival. Free.
Cowboys & Aliens
Director Jon Favreau moves from one comic adaptation to another, leaving the Iron Man franchise to adapt the 2006 graphic novel Cowboys & Aliens. Understanding the premise is as simple as reading the title: This is a dusty western showdown, except with a crew made up mostly of tough, grizzled hombres taking on visitors from another world instead of Indians. (Actually, a local tribe of Indians ends up assisting the settlers in alien dispatch duties, so a more accurate title might Cowboys, Indians, and Aliens, but that doesn't look quite as catchy on a poster.)
Favreau has developed into a dependably professional director of this kind of effects-heavy spectacle picture, and from the trailers, it appears that leads Daniel Craig and Harrison Ford are both doing their best to channel the intimidating glares and gravelly voices of classic westerns.
View the trailer. Opens Friday at theaters all over the area.

DVD/Blu-ray Pick of the Week: Source Code
We led off this week referencing Duncan Jones's Moon, and as it happens, his follow-up to that film comes out today on home video. While much slicker, more fast-paced, and generally accessible than his debut, Source Code shows that Jones hasn't let his indie success go to his head. This is a sci-fi action adventure in which Jake Gyllenhaal plays a military officer who is part of an experimental government program that allows scientists to send someone back into another reality, in a kind of time and dimensional travel that can only last for eight minutes. He's unable to change the past in any way that will affect the present, but they want to send him there to gather information on a terrorist attack so that in the present they can catch the culprit and prevent more destruction. Each time he fails to identify the attacker, he has to go back again, reliving the same eight minutes of someone else's life in different permutations until he reaches his goal.
Like Another Earth, Source Code is less concerned about the science in its fiction than it is in creating a fantasy that will allow the filmmakers to explore the human condition. Jones expertly navigates a premise that could easily become tedious, with the same scenario repeated multiple times, and shows a great deal of versatility, even as he deals with some of the same themes from Moon, but in an entirely different environment. You can read my interview with Jones from last spring here.
Special Features: Audio commentary with director Duncan Jones, actor Jake Gyllenhaal, and writer Ben Ripley, and a number of interviews and trivia features.
View the trailer.
Subscribe to Washingtonian
Follow Washingtonian on Twitter
More>> After Hours Blog | Arts & Events | Happy Hour Finder | Calendar of Events