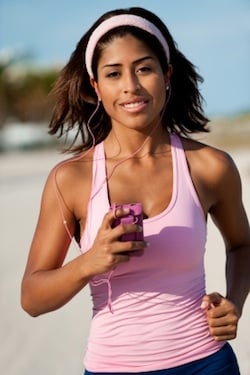 Working out to music is almost necessary to fitness fiends and novices alike. The New York Times reported in 2008 that some studies show improved results when listening to music during exercise. The best results come with music that is at a tempo between 120 and 140 beats per minute. It's no wonder almost everyone at the gym has their headphones in.
Here is Well+Being's one-hour workout playlist that you can check out via Spotify, a music-sharing program. Download Spotify to your smartphone and you'll be able to listen to this playlist wherever you go.
What are some of your favorite songs to workout to? Leave a comment with your suggestions or share your own Spotify workout playlist.
1. "Dog Days Are Over" by Florence and the Machine
2. "The Edge of Glory" by Lady Gaga
3. "Start Me Up" by the Rolling Stones
4. "99 Problems" by Jay-Z
5. "Under Pressure" by David Bowie and Queen
6. "Bulletproof" by La Roux
7. "Stronger" by Kanye West
8. "Live Your Life" by TI featuring Rihanna
9. "Kids" by MGMT
10. "Fighter" by Christina Aguilera
11. "Here It Goes Again" by OK Go
12. "All These Things That I've Done" by The Killers
13. "Run The World (Girls)" by Beyonce
14. "Lose Yourself" by Eminem
15. "Born This Way" by Lady Gaga
16. "Harder Better Faster Stronger" by Daft Punk
17. "Survivor" by Destiny's Child
18. "Eye of the Tiger" by Survivor
Subscribe to Washingtonian
Follow Washingtonian on Twitter
Follow Well+Being on Twitter More >> Health | Top Doctors | Well+Being Blog