This afternoon, DC area residents (and some in New York as well) felt the tremors of a 5.9 magnitude earthquake that originated some 80 miles southwest of the city in Virginia. It is the largest recorded earthquake in the area's history. The US Geological Survey says people may feel smaller aftershocks this afternoon. Many office employees reported being evacuated from their buildings. You can report where you were when you felt the earthquake to the USGS at this link.
Looks like non-emergency employees of the City of Alexandria were dismissed for the rest of the day.
Airplanes can take off from Ronald Reagan National Airport, but they currently cannot land.
Some reports are coming in that there has been damage to the National Cathedral. You can see the photo on the Washington Post's Facebook page.
The Washington Examiner's Emily Babay tweets that Montgomery County police are reporting "minor structural damage" that is still unconfirmed. They ask residents do not call 911 for information.
All Smithsonian museums will be closed today due to the earthquake.
Amtrak operating at reduced speed due to the earthquake in the Northeast corridor, NBC4 reports.
@citizencassidy tweeted a photo of structural damage to a baptist church on 13th and Monroe streets, Northwest.
DC Fire and EMS' twitter feed reports that nearly 2,000 calls came in requesting service. The daily average is 450.
The Washington Business Journal has a slideshow of scenes from the earthquake in downtown DC.
The AFP is reporting a water line broke at the Pentagon. CNN is also reporting that terminal A at the Ronald Reagan National Airport is being evacuated due to a gas odor following the earthquake.
@DowntownDCBID tweets: "Downtown is gridlock at the moment. If you do not have to go yet, please wait. Thanks for your patience."
@abeaujon, the arts editor at TBD, tweets a video of some cars in Tyson's Corner that have been crushed by falling bricks.
An e-mail WMATA sent out at 3:23 PM this afternoon says Metro users should expect siginifcant delays on their commutes home. "The speed restriction is likely to remain in place for several hours and will likely affect the evening commute," says WMATA's stakeholder engagement officer, Ann E. Chisholm.
FEMA has some guidelines for what to do after an earthquake. H/t to Facebook user Jessica Elizabeth Tavares.
Now WMATA says MARC train commuters should expect "significant" delays on the way home tonight.
AP reports that the DC Fire Department says there's structural damage to the Ecuadorian embassy.
The Washington Post tweeted that all DC parks and rec centers are closed until the facilities can be inspected.
The Nats just tweeted they'll be delaying the opening of their center front gates for tonight's game. Follow them @Nationals for futher updates.
DDOT says Rock Creek Parkway is outbound only until further notice.
WMATA says it will extend rush-hour service by an hour for trains and buses, WTOP reports.
DC Circulator says due to gridlock at Union Station, expect delays on the Navy Yard line.
DC Fire and EMS tweets that the Lincoln, Washington, and Jefferson memorials are closed. The Martin Luther King Jr. and World War II memorials will remain open.
HOV lane restrictions have been lifted on I-395, I-95, and I-66 due to earthquake-related congestion, DDOT tweets.
Mashable has a good summary of some of the social media aspects of the earthquake, saying that cell service was mostly down, but people were turning to Twitter to stay updated. And thousands of people checked in to the "Earthquakeocalypse" venue on Foursquare.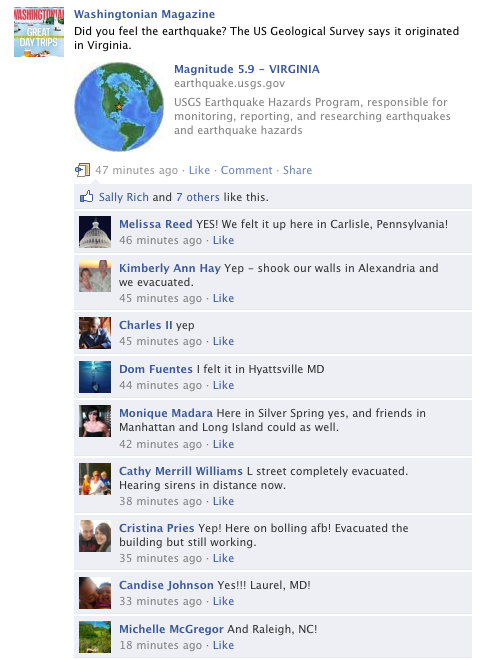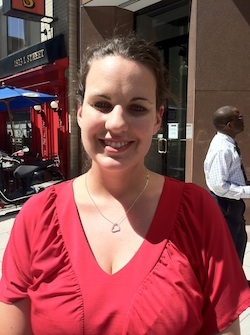 "We had our balcony door open since it's so nice out. I heard a crash, and I thought the wind had knocked something over. But then we quickly realized it wasn't the wind and decided to leave."
"I've never felt an earthquake before. I can't imagine what it's like to be in California and have it happen all the time."
—Donna Koenig, Gambrills (Anne Arundel County) was on the 18th floor of 1819 L Street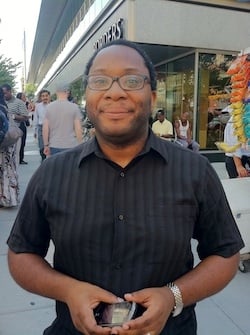 "It felt like the building was falling down, so we just got up and left."
—Raymond Jones, Wheaton, was on the 7th floor of 1801 L Street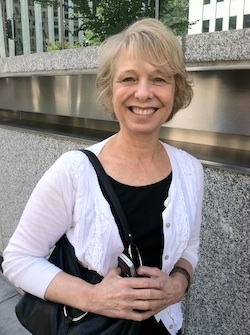 "It started shaking in our office, and I thought it was the construction going on next door to us. When we realized it was an earthquake, someone said we should duck and cover, so everyone got on the floor and covered their heads."
"I have two sons who live elsewhere now, so I sent them an e-mail right away."
—Deborah Baker, DC, was on the 3rd floor of 1735 K Street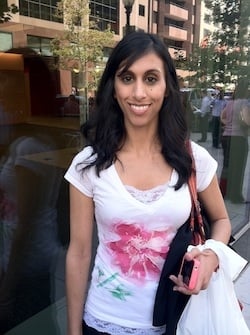 "I'm from San Francisco—I've lost count of how many earthquakes I've been in. I can actually sense one before it hits, so I knew the shake was coming. I was still surprised. I thought I had moved away from the earthquake zone."
—Ferheen Siddiqui, Fairfax, was in a boutique in downtown DC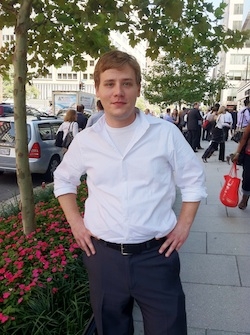 "At first, it kind of felt like somoene was shaking my chair or stomping on the ground. All of a sudden it got stronger, and I realized what was going on. It was just this back and forth shaking and rocking."
"I've never been in an earthquake before. everyone got up and looked at each other, and no one really knew what to do or what was going on. We're not really prepared for that in DC."
—Casey White, DC, was on the 5th floor of 1801 K Street
Did your twitter feed look like this when you clicked on the #earthquake hashtag?
A twitter wordcloud via the Daily Dot: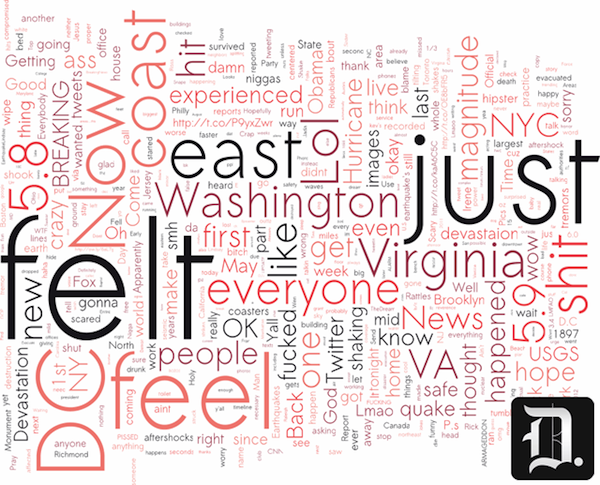 Subscribe to Washingtonian
Follow Washingtonian on Twitter
More>> Capital Comment Blog | News & Politics | Party Photos