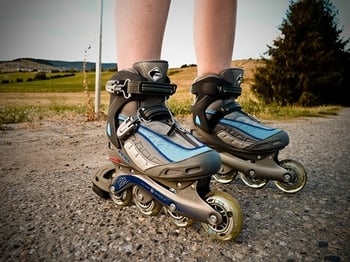 If you're over 30, chances are good there's a pair of dusty, long-forgotten Rollerblades somewhere in the back of your closet. If so, it's time to remove a decade's worth of grime and mothballs; Rollerblades are back in.
The health benefits of inline skating haven't changed. According to the Mayo Clinic, a 160-pound person burns up to 913 calories inline skating for an hour compared to 584 calories jogging (at five miles per hour), with less impact on the knees and joints. Inline skating also improves balance and firms the legs and glutes.
The Washington Area Roadskaters, a club founded in 1987, hosts several regular skates each week. And lately, the numbers are up. Every Friday night there is a scenic, 10 to 12 mile "social skate" around the National Mall (about two hours at a laid back pace) starting at the White House at 7 PM. "We had about 30 people last Friday, more than usual," says George Marinkovich, the Roadskaters head skate leader. If you are more advanced, Marinkovich suggests the Sunday morning 22-miler or the Wednesday night 13-plus-miler where you'll skate away from the city to incorporate lots of hills. Either one ensures waking up with sore legs.
If the last time you laced up your skates you were also putting a Smashing Pumpkins CD (or, gasp, cassette tape) into your Walkman, you might want to first try a free lesson for adults in Rock Creek Park Saturdays at noon. Marinkovich says you will learn the basics and "most important, how to stop!" He also recommends purchasing safety gear.
For more information on skating meetups, locations, and lessons, go to skatedc.org. For kids call DC Inner City Excitement (DC-ICE) at (202)-468-1214.
Think you're ready for a real race? Try the "Skate of the Union" on September 11 in Chantilly. The big racing event raises money for the Special Olympics of Virginia. Visit skateoftheunion.org.

Subscribe to Washingtonian
Follow Washingtonian on Twitter
More >> Health | Top Doctors | Well+Being Blog