Paul Rudd and Elizabeth Banks star in Our Idiot Brother, in theaters this Friday. Photograph by Nicole Rivelli/The Weinstein Company
Our Idiot Brother
Honesty isn't always the best policy. Or at least that's part of what Ned (Paul Rudd) finds out as the trusting idealist who manages to first get in trouble with the law, and then, after a short stint in prison, to ruin the lives of nearly everyone he comes into contact with, mainly through his inability to realize that some truths are better left unsaid. Or just plain lied about. Ned isn't so much an idiot as he is a little out of step with the rest of us. He particularly has trouble relating to his sisters, each of whom have problems of their own that he manages to inadvertently exacerbate. Miranda (Elizabeth Banks) is a high-strung, type-A journalist trying to move up the career ladder two steps at a time. Natalie (Zooey Deschanel) is a Brooklyn hipster living with her girlfriend in a crowded loft space, dreading the looming heightening of their commitment. Liz (Emily Mortimer) is the only married sibling, and her marriage to a self-centered documentary director is crumbling without her even being aware. Director Jesse Peretz looks to make an R-rated comedy that, rather than trying to earn that rating through the provocative insanity of its situations, tries to simply be a comedy about and for adults.
View the trailer. Opens Friday at theaters all over the area.

Lifeforce
There were two creative forces from the boom in '70s horror films whose early shots were heard round the world, but then saw their careers largely stall in the '80s. One was Dan O'Bannon, responsible for the Alien franchise, and the other was Tobe Hooper, who directed the original Texas Chainsaw Massacre. The two came together for one film, 1985's Lifeforce—scripted by O'Bannon with Don Jakoby, directed by Hooper. The film was a failure, even coming on the heels of Hooper's success as the director of Poltergeist, but like many of the '80s releases from Cannon Films, it's developed a significant cult following. The plot sits right in the spot where horror and sci-fi meet, as one might expect from this pair, adapting Colin Wilson's 1976 novel The Space Vampires, about a space shuttle crew who discover an alien vessel in the coma of Halley's Comet. Onboard are a trio of alien vampires who eventually make their way back to earth and begin transforming the population into life-sucking zombies. The AFI is showing a 70 mm print of the film as part of their ongoing '80s retrospective this weekend, so expect to see O'Bannon and Hooper's vision in crystal clear detail this weekend.
View the trailer. Friday and Saturday night at 11 PM at the AFI.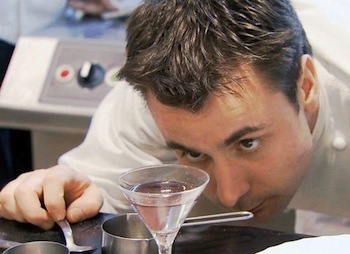 El Bulli: Cooking in Progress
Foodies looking for an in-depth examination at the meticulous testing and research that goes into fine cuisine will likely find plenty to fascinate in El Bulli, documentarian Gereon Wetzel's year-long profile of Ferran Adrià, the Spanish chef behind the renowned waterside Catalonian eatery of the title (which actually just closed its doors as of the end of last month). When it was in operation, the restaurant was only open for about half the year, with the rest of that time set aside for Adrià and his team to develop the intricate dishes that made up the elaborate hours-long 30-course meals that for which the restaurant was famous. Some critics have noted that the film is short on character detail about Adrià, preferring to stick to the process of culinary creation, but if food fascinates you, it may suit your tastes.
View the trailer. Opens Friday at West End Cinema.
24 Hours Berlin—A Day in the Life
This is the second film to play in town recently that involves footage recorded by multiple filmmakers on a single day. The other, Kevin Macdonald's Life in a Day, took thousands of user-submitted YouTube videos and editing them into a single, pithy whole. The makers of 24 Hours Berlin had far less footage to work with: just 80 professional camera crews provided the footage that forms the basis of the documentary, shooting subjects all across the city of Berlin from just before dawn on Friday, September 5, 2008 for a full 24 hours. But rather than whittling it down to feature film length, the filmmakers created an experience that is something like reliving that day in its entirety, from multiple perspectives. That's right, the finished film runs the full 24 hours of the day on which it was filmed. For the brave souls who show up to attempt the marathon screening—which begins at 6 AM this Saturday and goes on until Sunday morning—the Goethe-Institut will have prize drawings every two hours, will provide breakfast foods, and will have lunch and dinner selections for sale.
View the trailer. Saturday at 6 AM until Sunday at 6 AM at the Goethe-Institut. Free.
Barton Fink
By 1991, the Coen brothers had made a critically-acclaimed indie noir, a well-received but financially unsuccessful gangster flick, and an instant-classic cult comedy. Barton Fink, their fourth film, may have been their second in a row to lose money at the box office, but more than any of their previous films, it was the one that announced that these were two filmmakers who were destined to become giants. The film earned the brothers their first Oscar nominations, and took the top awards at Cannes for that year. For me, it remains their best film.
John Turturro stars in the title role, as an anxious but egotistical New York playwright who heads to Los Angeles to make it big as a screenwriter in the early 1940s. The Hollywood that he finds is hardly all sun and sparkle, and as his writer's block grows greater, his surroundings grow increasingly surreal and absurd, none moreso than the strange insurance salesman who lives next door in the run-down hotel where Fink rents a room. The genre-hopping Coens create a seamless mashup of noir, entertainment-industry critique, absurdist comedy, and psychological horror, masterfully blending and bending genres that have no business even existing side by side, let alone mixed the way they are here.
View the trailer. Monday and Tuesday at 9:20 PM at the AFI.
DVD/Blu-ray Pick of the Week: Trollhunter
This Norwegian export only finished its brief run at E Street a few weeks ago, but if you missed it­or if you caught it and had as much fun with it as I did—your chance to see it at home is already here. Writer/director André Øvredal takes the bogeymen of Norwegian legend and mashes them up with found-footage-style, faux-documentary horror flicks like The Blair Witch Project and Cloverfield—and manages to come up with something greater than the sum of its parts, as Trollhunter is far more inventive than most of the movies it takes its cues from.
The "found" footage is from a group of student filmmakers out to make a documentary on bear poaching, only to meet up with a hunter who isn't hunting bear, but rather a far more dangerous game: massive trolls that have escaped the territories designated by the government for them to reside out of the public eye. Making trollhunter a jaded public servant carrying out what amounts to bloody bureaucratic work provides plenty of opportunities for Øvredal to take satirical pot-shots at public policy, with the help of noted and controversial Norwegian comic actor Otto Jespersen in the lead role. Don't worry, though: No knowledge of Norwegian politics or mythology is required, as the film keeps both its action and its social critiques grounded within the context of the film itself, which can be enjoyed as an adventure piece even without getting into its subtler layers.
Special Features: Deleted and extended scenes, bloopers, visual effects, and behind the scenes features.

View the trailer:
Subscribe to Washingtonian
Follow Washingtonian on Twitter

Follow the After Hours Blog on Twitter
More>> After Hours Blog | Arts & Events | Happy Hour Finder | Calendar of Events