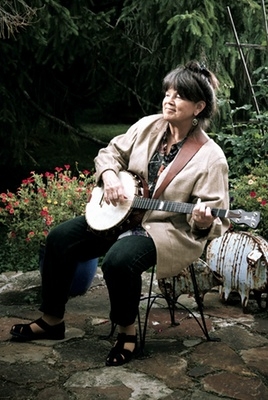 Music had always come easily for Lynn Morris. At age 54, the Winchester, Virginia, resident was a two-time winner of the National Bluegrass Banjo Championship and the only woman to earn the title. She'd been named female vocalist of the year three times by the International Bluegrass Music Association and ten times by the Society for the Preservation of Bluegrass Music of America.
She and her Lynn Morris Band had just released their fifth album when she suffered a stroke in March of 2003.
"It was the darkest, most frightening time of my life," says Morris's husband and former bandmate, Marshall Wilborn. "Having no experience and no knowledge of stroke recovery, I thought that in six months she would be in great shape and we'd just pick up where we left off. But it didn't work that way."
Morris's right arm was incapacitated and she suffered from aphasia, which impaired her ability to understand and use language. Without her, the band broke up.
Wilborn recalls a doctor's appointment he went to with Morris, who was weeks into her recovery and barely able to speak: "He said, 'If and when you return to your music . . .' and when he got that much of his sentence out, Lynn, without a struggle for one single word, said to him, 'Don't tell me I can't, because I'm gonna do it.' The doctor and I both had our jaws on the floor."
The couple turned to the Stroke Comeback Center in Vienna, where speech pathologist Darlene Williamson uses group therapy to provide communication rehabilitation for stroke victims after their traditional health-care coverage runs out.
"Lynn from day one was convinced she would sing again," Williamson says.
As part of their weekly sessions, Morris used an electronic keyboard to exercise her fingers and motor skills.
"She definitely maintained her ear for music, her pitch, her rhythm," Williamson says. "She had an extraordinarily strong ability to listen and say, 'Nope, nope, nope, the banjo is a little slower than the bass.' "
In May, Morris, now 62, delighted fans when she and her guitar finally took the stage alongside her old band, headlining the Shenandoah Apple Blossom Bluegrass Festival.
"I had a stroke but, you know, I'm living," Morris told the packed tent.
"The people are awesome," she says of the standing ovations she received. "I almost cried."
For the time being, Morris, who now operates sound equipment for bluegrass musician Bill Emerson, hasn't booked any future performances, but she credits her love of music for fueling her recovery. Even when songs that used to take two or three tries to master now take 50 to 100, Morris says it's worth it.
"I love the banjo, the guitar," she says. "I love bluegrass music, I love country, I love jazz, to sing. I love everything."
This article appears in the August 2011 issue of The Washingtonian.