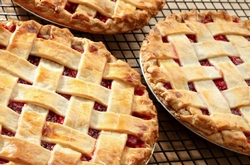 Events are light this week, so there's plenty of time to create your own foodie fun. We just came out with our annual Cheap Eats list, so check out our recommended spots for wallet-friendly tacos, dumplings, butter chicken, pupusas, and more. New on the food scene are two soul food trucks worth trying (one American, the other Korean), and the airy Hank's Oyster Bar & Lounge for cocktails and nibbles.
Tomatina Festival at Ripple: Wednesday, August 31
Here's a chance to get your fill of summer tomatoes—with this Cleveland Park restaurant's Spain-inspired La Tomatina festival. At 7:30, actors will stage a tomato fight. Chef Logan Cox's five-course menu ($65 per person) will feature such dishes as yellow-tomato raviolo with sardine butter; grass-fed beef with roasted tomatoes, pine nuts, and basil; and sweet tomato with whipped Idiazabal cheese and an almond-shortbread crumble. Haven't had enough of the fruit yet? They're also screening Attack of the Killer Tomatoes and offering tomato-water cocktails and even tomato beer. Call 202-244-7995 for reservations.
Comfort Food Cooking Class at Zola Wine & Kitchen: Wednesday, August 31; 6:30 PM
Dressed-up comfort food is still a restaurant trend, but there's no reason you can't make haute mac and cheese on your own. Chef Robert Meltzer demonstrates how to make truffled mac; panko-fried chicken tenders with house-made mustard sauce; grilled gruyere sandwiches; and charred-tomato/basil soup. Save room for a brownie sundae with raspberry-liqueur drizzle for dessert. Reservations—$75 per person—can be made here.
Pie Contest at the Bethesda Central Farm Market: Sunday, September 4; 11 AM
Amateur pie makers can ready their whisks for this farmers' market competition, where sweet and savory pies will be judged by a panel. The contest is open to any non-professional baker—there are both adult and youth divisions—who submits an entry form by August 31. Attendees are invited to watch the judging and sample the various pies after a winner is chosen. Bethesda Central Farm Market is located on Elm Street between Wisconsin and Woodmont Avenues. Click here for more information.
Subscribe to Washingtonian
Follow Washingtonian on Twitter
Follow the Best Bites Bloggers on Twitter
More>> Best Bites Blog | Food & Dining | Restaurant Finder