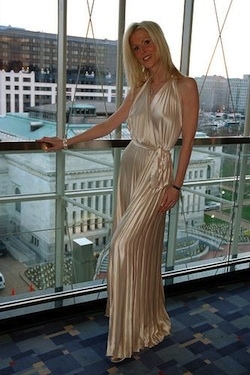 TMZ is reporting that Michaele Salahi, of Real Housewives of DC and White House "party crasher" fame, is missing. Her husband, Tareq told TMZ he last saw Michaele at their home around 11 AM yesterday when she was headed to a hair appointment, to which she reportedly never showed up. Tareq also told TMZ he received a phone call from his wife last night from an unfamiliar Oregon number in which she told him she was heading to her mother's home, which is just a few minutes away. Tareq told TMZ when he called Michaele's mother, she was unaware of such plans. The Huffington Post is reporting that Michaele has already called the police to confirm that she's unharmed and dealing with some "family issues." So is this a real missing persons report or just another publicity stunt?
A quick look at the Salahis' upcoming schedule leads you to believe the latter. The Salahis are scheduled to hold a grand reopening for their recently bankrupt winery Oasis Vineyards Friday, September 23, through Sunday, September 25. The fundraiser, held in conjunction with DC's Most Fabulous magazine—which, incidentally, doesn't have the most fabulous Web site we've ever seen—is designed to benefit multiple sclerosis. They have $50 and $100 non-refundable tickets (plus fees) available, a portion of which goes toward MS research. A large donation gets attendees into the invite-only VIP section of the event. The Eventbrite page also lists a disclaimer that by attending the event, you're consenting to being taped for a television show.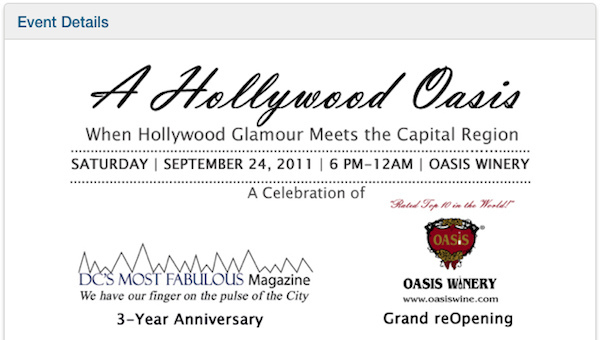 Meanwhile, the Washington City Paper previously reported that an auction is scheduled for September 18 at noon; the auction lists the entire contents of the winery, including oak barrels, a DeFraneschi grape press, stainless upright and horizontal tanks, "200 Gallon thru 1200 Gallon Capacity," tractors, and other wine-making and storing devices.
Subscribe to Washingtonian
Follow Washingtonian on Twitter

More>> Capital Comment Blog | News & Politics | Party Photos