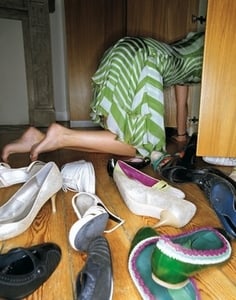 I study my closet and consider cleaning it. I suspect, however, that this is cheating. I shut the doors, resisting the urge to organize or purge.
"Yes, that would have been cheating," says Lani Rosenstock Inlander the next morning when I admit my temptation.
Inlander, a personal stylist and organizer, is there to examine and help me perk up my wardrobe—a service for which she typically charges $250 an hour. Inlander worked for Visual Therapy, the style company that's done makeovers for The Oprah Winfrey Show and The View, before launching her own company, Real Life Style (917-355-8104; lani@real-life-style.com).
Dressed in jeans, a striped tee, and a bright scarf, Inlander begins by asking about my daily life and what I think my "wardrobe holes" might be. I explain that as a writer and yoga-studio owner, I work from home during the day and tend to head out at night for restaurant openings and other events. I spend my days in jeans or yoga pants and my evenings in dresses. My wardrobe holes are what I call in-between outfits—not as casual as workout clothes, not as dressy as work attire.
Inlander suggests we start with the dresses—the entire left side of my closet—and I begin trying them on and subjecting myself to her once-over. It's slow going at first because we stop to talk about why something does or doesn't work. Inlander believes the most important part of this process is educating her client so he or she won't make the same style mistakes again.
There's the halter dress with an A-line skirt that still has the tags on it because I just wasn't sure. Inlander explains that the cut of the dress is great but the bold black-and-white pattern on the bottom makes me seem hippy. The dress goes into a pile to be taken to a consignment shop.
There's the emerald-green silk shirtdress with a full skirt. Inlander loves it but warns me to be careful with pleats, as they can add weight. She suggests taking the dress to a tailor to have the pleats tacked down, and that dress goes into a separate pile.
There's a berry-colored dress. I love how it fits but hate how wrinkled the material gets. Inlander tells me to have it pressed with starch.
There are dresses with sticky zippers and a black cotton favorite that she says would get fresh life with a dye job. They go into the pile for the tailor. There are fantastic dresses—for someone four inches taller—that go into the consignment-shop stack. Others go into a donation pile, having outlasted their usefulness. And, thankfully, there are plenty that get enthusiastic nods of approval.
Inlander is kind in her critiques, but I wonder if the process goes as smoothly for everyone. She tells me people have to be ready to do this—it doesn't always go well when her services are given as a gift.
We turn to the other side of my closet and now move quickly. This is the sparse side. I have far fewer tops and blazers. I know what should have been ditched long ago. And I'm beginning to pick up on the lessons Inlander is imparting.
She gives new life to a red peasant blouse, which seems too short, by suggesting I wear it with skirts instead of jeans because the proportions are more complementary. She recommends that I have a lace pleat added to a too-high slit of a pencil skirt. And she agrees with me that the holes in my closet are in-between items, suggesting I invest in a few blazers, jeans, and basic tank tops.
As I slip in and out of clothes, I ask her about mistakes she sees. Women are rarely in the right size bra, she says—the band tends to be too big and the cup size too small. People repeat the same mistakes, whether buying an unflattering color or an unbecoming silhouette. For example, women who are bigger on the bottom tend to buy skirts or dresses that add volume, reinforcing their shape instead of balancing it out with something a little fuller on top.
Another mistake Inlander sees is that some women purchase impractical things—lots of high heels when they're chasing kids around and spend most of their time in flats, or sundresses with skinny spaghetti straps when they're large-chested and don't like strapless bras.
"I see a lot of wardrobes stocked with really expensive cocktail dresses and ill-fitting suits or jeans," says Inlander. "People don't invest in what they wear every day because we want to be at a party all the time. Whatever you wear every day needs to be the best. If you're an executive, you need to have a power suit that makes you feel great. If you're a mom, you need to have jeans that make you feel hot."
We've appraised everything in my closet and begin to organize. Inlander groups things by color first and then arranges dresses and shirts by sleeve length—sleeveless, then short sleeve, then long. She says color-coding my wardrobe will make it easier to see what I have plenty of—green, teal, black—and what might be missing. She makes me promise to buy hangers in the same style and color, recommending flocked ones, which take less room than wood or plastic and keep clothes from slipping off.
Inlander asks if I'm ready to tackle my dresser, which is packed with yoga clothes and T-shirts, or my sweater chest. After six hours, I feel confident in the lessons I've picked up and able to take on that cleanup myself.
The next morning, Inlander e-mails me to ask how it was to wake up with a new closet. A few days later, I write to tell her there's a lot less indecision when I get dressed—it really is like having a new wardrobe. I don't admit that I've dragged several friends to my bedroom to show off my closet.
This article appears in the October 2011 issue of The Washingtonian. Subscribe to Washingtonian
Follow Washingtonian on Twitter