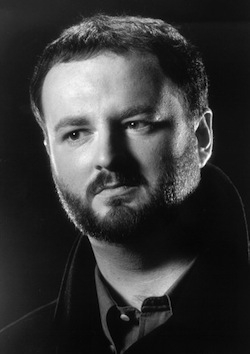 Puccini's Tosca, the first production of the new Washington National Opera, now under the auspices of the Kennedy Center, was something of a dud. It would be unfair to expect that the merger with the Kennedy Center would instantly solve the struggling company's problems, however, and the next three productions, all firmly under the more expert baton of WNO's excellent new music director, Philippe Auguin, hold greater promise. The one encouraging note from this Tosca came in an unexpected place, the second-cast Cavaradossi of Gwyn Hughes Jones, heard late in the run on Friday night. The Welsh tenor made a brilliant Washington debut, singing this demanding role with far greater grace, beauty, and dramatic appeal than his first-cast counterpart.
Somewhat surprisingly, given the ease and power of the top of his voice, Hughes Jones started singing as a baritone. The placement of the voice is forward, producing a slightly nasal tone that was sometimes exacerbated by the decidedly Welsh color of some of Hughes Jones's vowels as he sang in Italian. He sang Cavaradossi, a role that is often rendered with little nuance, with vigor and solidity but also with pleasing sensitivity. His rendition of the big aria, E lucevan le stelle, was melancholy and anguished in gestures both vocal and physical, with an exquisite decrescendo on one critical high note that was artful and affecting. He may not be quite the body type that more and more opera directors, in an opera world now so regrettably obsessed with film simulcast and camera closeups, but in an art form where vocal concerns should drive casting (but, sadly, often do not), that is easily overlooked.
American baritone Scott Hendricks held his own as Scarpia, replacing Alan Held in this cast, with good (if not great) vocal heft, but less villainy than what makes a really memorable Scarpia. Russian soprano Natalia Ushakova, making a one-night appearance in the title role, gave one of the most hackneyed, overacted performances in recent memory, chewing the scenery between crazy grimaces, melodramatic silent-movie gestures, and horror movie screams. This champion-level emoting was in inverse proportion to the power and subtlety of her voice, ranging from a leathery bark at the bottom, still often covered by the orchestra, to a forceful but erratic top, with a sense of intonation that was only approximate. For all of Ushakova's melodrama, her suicide leap was tentative by comparison to Patricia Racette in the A-list cast, and one could even see her feet bounce up again from my vantage point on the left side of the house. The often retold legend of a Tosca, whose crash pad was replaced with a trampoline by disgruntled stagehands is so good that it must be apocryphal, but this came close enough to get a laugh. One does wonder exactly what about Ushakova appealed to those who gave her this opportunity.
The same singers in the supporting cast did equally well in minor roles as they had on opening night, especially Valeriano Lanchas as a round, bumbling Sacristan and Robert Baker as the conniving Spoletta. Even by the end of the run, Plácido Domingo still produced a chaotic mess at the podium, with a slightly less leaden pacing of the score, largely because the singers kept insisting from the stage on moving things forward. The other conductor who led a couple performances in the run, Israel Gursky, was "perfectly adequate," according to one report. Hopefully, a rosier future is around the corner for Washington's leading opera company.