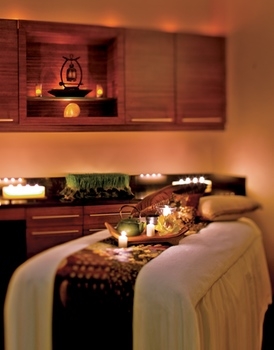 I'm a sucker for anything pumpkin-related. When Starbucks announced in August that its pumpkin spice latte was back on the menu (perfectly appropriate for 90-plus-degree weather), I was irrationally overjoyed—I practically ran to the nearest coffee joint. I've eaten almost ten variations of pumpkin sweets in the past two months, and I don't plan on stopping anytime soon.
So when I found out that the Sports Club/LA in Foggy Bottom was offering a fall-themed fruit and spice body peel and wrap, complete with a pumpkin and apple spice exfoliating scrub, naturally I was ecstatic. Sure, I couldn't ingest the stuff, but to be wrapped up in all that deliciousness for 50 minutes? Sign me up.
When I arrived at the club's spa, I was led through the dim halls to the women's dressing room. We passed by the relaxation room, where the friendly receptionist told me to help myself to the free mini-cupcakes from Georgetown Cupcake. But there was no time; I had to get my pumpkin on.
After changing into the complimentary robe and slippers, I met Kevin James, the licensed massage therapist who would conduct the treatment. He left the room to give me some privacy, and after getting completely undressed I got under the towels on the spa table, which was covered with a tinfoil-like material.
Kevin began by rubbing a warm apple and pumpkin spice mixture all over my back, arms, legs, feet, stomach, and chest. It smelled amazing. But then things got a little weird.
The music seemed to turn suspiciously suspenseful as Kevin started wrapping me in the tinfoil; he then covered everything but my face with towels.
"Now," he said, "you're going to bake for a few minutes."
Definitely weird.
I lay there awkwardly, feeling my body temperature rise. I was, quite literally, a pumpkin roll baking on a tinfoil sheet.
After what felt like just five or ten minutes, Kevin began peeling away the cozy wrap. The exfoliation began as he gently wiped away the scrub with warm, wet towels. Then he massaged a cinnamon, vanilla, and brown sugar cream into my skin, which was supposed to seal in the properties of the peel as well as moisturize.
Once the treatment ended, I headed to the relaxation room, where I finally treated myself to just one cupcake (sadly, not pumpkin-flavored). But I didn't stay in there long—the room felt 20 degrees colder than my cocoon.
As I hopped on the Metro later, the man next to me jerked his head, no doubt catching a whiff of my sugary aroma. Sure, there's a good chance I smelled like a walking Bath & Body Works store, but that didn't bother me. My skin had never felt so soft, from my arms down to my toes. I was one happy pumpkin.
The Sports Club/LA is offering its body peel and wrap, as well as a pumpkin facial, until December. Each treatment is $99. To schedule an appointment, contact the Sport Club/LA Spa at 202-974-6601.