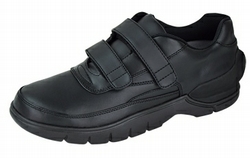 When someone suffering from a memory-loss disease such as Alzheimer's wanders off, it can throw relatives and caregivers into a state of panic. The GPS shoe, equipped with a built-in tracking system, aims to eliminate that problem.
The shoe, developed by GTX Corporation in Los Angeles and Aetrex Worldwide, holds the GPS tracking system in its midsole. Caregivers receive alerts on their smartphone or computer when the shoe wearer wanders past a preset distance. The alerts include a link to a Google map pinpointing the exact location of the wearer.
"There are five million people with Alzheimer's who routinely get lost", says Andrew Carle, who consulted with GTX for the project and developed the microchip-based "Nana" Technology, designed for people 75 years and older. (More than 60 percent of dementia patients tend wander at some point, and many times repeatedly, according to the Alzheimer's Association.) "You can call their name all day long, but number one, they don't think they're lost, and two, they don't recognize their own name," says Carle, who also serves as the director of the Senior Housing Administration program at George Mason University. Paranoia is another issue for Alzheimer's sufferers, he says: "Sometimes people are found a mile from where they were last seen, but they were in hiding."
The biggest benefit of the GPS shoe and tracking service is the ability for caregivers to create a "geo-fence," a set of pinpoints on a Google map. For instance, say an older relative takes the same walk every night around the neighborhood. Caregivers can create a geo-fence that tracks the exact route. "So, Dad takes his walk one night. The second he breaks that geo-fence, I'll get a Google alert that will pop up on my computer or phone showing me exactly where he is," explains Carle. "If I'm not in town, I can immediately contact my neighbor or local police and tell them where to find him."
The alerts can turn three days of searching into just three minutes, according to Carle, which saves not only time but potentially lives, as well. "Unfortunately, when these people aren't found within 24 hours, there's a much higher rate of injuries or death."
Other technologies, such as Comfort Zone, involve pagers or wrist-worn devices with location-mapping systems, but the shoe is less conspicuous and is designed by Aetrex to be medically appropriate for older people.
As long as the person is wearing the shoe, caregivers will be able to track his or her whereabouts whenever they have access to the tracking service on their phone or computer. The wearer's routes will show up on the Google map in a dotted line dubbed the "cookie trail."
The shoe was just approved for sale by the FCC, and will be available soon through Aextrex's Web site for approximately $200 to $300. The corresponding alert system will fall in the $20 to $30 range.