Table of Contents:
Pages 1 – 5. The list of 50 Great Places to Work
Page 6. Our 12 Honorable Mentions
Page 7. Methodology: How We Choose Our 50 Great Places to Work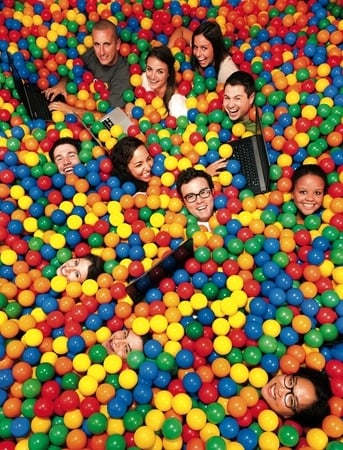 Not many offices have a ball pit for staff to romp in. LivingSocial is that kind of a place. Photographs by Vincent Ricardel
What makes a place to work something special? Is it good pay and benefits? A healthy balance between work and life? Smart colleagues? Or is it interesting work–and the freedom to do that work without being micromanaged? According to the 13,000 who filled out our Great Places to Work survey, it's all of the above. It's not easy to find an employer that offers all those things. These 50 workplaces do.
*Number of area employees; firm also has staff out of area.

American Immigration Lawyers Association
Downtown DC
Nonprofit association
"It's very satisfying to contribute to our mission of protecting the rights of immigrants and striving for fairness in immigration laws," says Jenny Werwa, senior manager of communications. Besides taking pride in what they do, AILA employees also like the flexible hours, opportunities for advancement, and friendly environment. That's why they stay–the average tenure is about six years.
Other perks: Considering its mission, it's no surprise that AILA treats employees with compassion. Benefits include fully paid health-care premiums, shortened summer hours, and a four-to-six-week sabbatical after ten years of service.
Number of employees: 55
—–
Axiom Resource Management
Falls Church, VA
Management consulting for government clients
Axiom employees are proud of the work they do, mostly for the Department of Defense–they might help wounded soldiers who need accessible computers or analyze battle injuries to improve military vehicles and equipment. Staffers like the firm's transparency, the respect they're given, and the family feel.
Sharing the wealth: All staffers get a holiday bonus, even if they start in December. There's also $1,000 toward a new home or $500 toward a new rental, sports teams including two softball squads, and lots of charitable outings. In the last seven years, Axiom raised more than $177,000 for the Fisher House Foundation for military families.
Number of employees: 285
—–
Broad Street Realty
Bethesda, MD
Real estate
With the market in a slump the past few years, it's not easy being happy in real estate. But employees at this commercial-realty firm love coming to work. They give management high marks for transparency and communication–weekly meetings keep everyone updated–and say that bosses are quick to give thanks. "The principals are ethical, good people who provide a quality product and take care of their employees," says property manager K.C. Burzio. "This among other things makes them stand out in our industry."
Nice perks: Frequent free meals–including Tuesday pizza dinners and Friday lunches–help keep the staff sated. Fully paid health-care premiums help keep them healthy.
Number of employees: 21
—–
BTS
Columbia
Tactical cellular networks
Employees at BTS, or Battlefield Telecommunications Systems, are proud to provide mobile communications for the military. "The products we build help soldiers communicate more effectively and keep them safe," says Jacinda Shelly. Meanwhile, management supports its own–with good pay, fully paid health-care premiums, no cap on tuition reimbursement, and the latest technology.
Other generous perks: BTS provides a $1,000 contribution to each employee's medical flexible-spending account, two weeks of paternity leave and six weeks of maternity leave, $50-a-month reimbursement for a gym membership, catered lunch every Wednesday, and free use of a Florida condo for one week a year.
Number of employees: 70
—–
Carfax
Centreville
Vehicle-history reports
Carfax's work is serious–its vehicle-history reports help consumers buy used cars with more confidence, a mission staffers are proud of–but the culture is not. There are basketball hoops, a putting green, video games, scavenger hunts, and a shufflepuck table. "It provides a great environment that makes employees want to come to work," says data-operations manager Jeff Crowley.
Generous perks: There's a free lunch every Friday, and anniversary bonuses are substantial ($500 for five years, $1,000 for 10, $1,500 for 15, and so on). Employees gave Carfax some of the highest ratings among all surveyed workplaces for flexibility and work/life balance–perhaps one reason turnover is typically just 5 percent.
Number of employees*: 278
—–
Cassaday & Company
McLean
Financial planning and investments
The financial industry has seen its share of ups and downs, but the folks at Cassaday & Company remain upbeat. "We're one big family that stays together, thick and thin," says Christopher Krell, a principal at the firm. Through it all, employees are kept in the loop: There are monthly staff meetings and scorecards staffers use to track their goals. Firm head Stephan Cassaday meets at least once a month with each employee. And the office gets together for lunches and pool parties and to clean up an adopted section of Route 7.
Generous benefits: A profit-sharing plan gives each employee a bonus equal to 3 percent of his or her gross W-2 wages; gym memberships are fully paid.
Number of employees: 24
—–
Cleary Gottlieb Steen & Hamilton
DC's Foggy Bottom
Law firm
Though the lawyers at Cleary Gottlieb work hard, they aren't incentivized to compete with each other the way attorneys are at most firms. While compensation at law firms is typically merit-based–factors such as the value of a lawyer's clients and the hours billed determine pay–associates and partners alike get paid based on seniority at Cleary. As a result, everyone is encouraged to work together rather than fight over assignments.
Humane perks: If you don't want to use the on-site gym, the firm will pick up 75 percent of the membership fee at Fitness First or Washington Sports Club. Family-friendly offerings include a new-mothers room for women who are breastfeeding and free backup childcare.
Number of employees*: 325
—–
Dataprise
Rockville
Technical services and support
At this fast-growing IT firm–its staff has increased by 120 percent in five years–employees say there's lots of opportunity to learn and grow. Some 90 percent of the managers were promoted from within. Staffers also praise the fact that there's never been a layoff, salary freeze, or cut in bonuses.
Humane perks: In any month that Dataprise exceeds its financial goals, it donates to a charity selected by the staff. Employee growth is encouraged, with quarterly reviews and tuition reimbursement of up to $10,000 a year. The kitchen is amply stocked with free food including fresh fruit, cereal and milk, cold cuts and bread, hummus, vegetables, tuna and chicken salad, and yogurt.
Number of employees*: 100
—–
Decisive Analytics Corporation
Arlington
Systems engineering consulting
DAC staffers love working on cutting-edge solutions for clients such as the Department of Defense. In this employee-owned firm where everyone gets stock shares, they all feel that they have a say–and that management cares about them.
Generous perks: DAC's long list of great benefits includes 25 days off annually, fair pay and bonuses, free long-term-care insurance, an annual training trip to a destination such as Las Vegas, free parking or $120 a month for public transit, and a hefty yearly contribution of up to 15 percent of salary into each employee's 401(k). The company also gives back: Each quarter, staffers assemble care packages for soldiers overseas.
Number of employees*: 110
—–
Delta Resources
Arlington
Professional Services Contracting
Employees at this government contractor are proud of the work they do supporting the military: "I'm making a difference by coordinating and testing new technologies that are saving lives," says Doug Thrash about the Mine Resistant Ambush Protected vehicle program. In turn, Delta staffers feel supported with very good pay and benefits.
Generous perks: For every hour over 40 in a week that an employee works, he or she gets an hour of "Delta time" that can later be cashed out for vacation or pay. Other benefits include an annual $250 fitness reimbursement, a watch valued at up to $1,000 for a five-year anniversary, and a yearly banquet at which awards are handed out.
Number of employees*: 206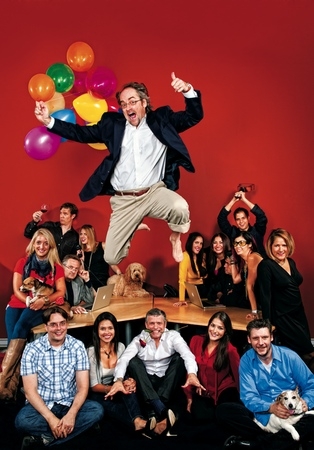 Dickstein Shapiro
Downtown DC
Law firm
Like their contemporaries at other top Washington firms, the attorneys and staff at Dickstein Shapiro handle challenging matters across a range of practices, including intellectual property, white-collar investigations, and regulatory work. But Dickstein employees say the friendly environment–lawyers and non-lawyers mingling, practice groups lunching together, respect for family commitments–separates them from the pack.
Humane perks: Since the 1990s, Dickstein has offered an alternative work arrangement that allows lawyers to make partner on a part-time schedule. Employees also enjoy free language, yoga, winetasting, and other classes as part of the Dickstein Shapiro University program.
Number of employees*: 533
—–
Eagle Hill Consulting
McLean
Management consulting
This woman-owned, boutique consulting firm is so small that everyone is involved in shaping the direction and business of the firm, and they all feel empowered to make decisions. Everyone knows one another well: When an employee works long hours on a project, he or she might be rewarded with a gift certificate to a favorite restaurant or store.
Generous benefits: Despite the small size, the firm offers outsize benefits such as fully paid health-care premiums, twice-yearly bonuses, 21 days off to start, biweekly meetings with homemade breakfast, and very flexible schedules. In fact, employees gave Eagle Hill a perfect score for flexibility.
Number of employees: 25
—–
The Education Trust
Downtown DC
Nonprofit advocacy
The Education Trust's mission is to close the achievement gap separating low-income students and students of color from other youth. "Every day I get to argue on behalf of students that lots of people have written off," says Kate Tromble, director of legislative affairs. "There's not much more satisfaction I could expect from a job." Employees praise the supportive managers, and they love their smart, passionate coworkers.
Why they stay: With paid health-care premiums, a fitness room, and social events such as bowling nights and family barbecues, the nonprofit treats employees well. It practices what it preaches: Seventy-one percent of senior management positions are filled by racial or ethnic minorities.
Number of employees*: 48
—–
The Educe Group
Bethesda
HR Technology consulting
The Educe Group helps companies use technology to improve employee performance, so it's only natural it would pay attention to its own employees' development and happiness. Coworkers not only cheer each other on but feel very supported by the owners–including with generous salaries.
Rewards and recognition: There are lots of employee honors–including the Dolly Parton Prize for the consultant with the highest billables and the Beanstalk Award for the staffer who has grown the most. Employees enjoy personal birthday gifts (say, a spa day or a membership to a beer-of-the-month club), and team-building trips to places such as New Orleans and Philadelphia.
Number of employees*: 9
—–
Elevation
Georgetown
Multicultural advertising
Employees at Elevation enjoy their work–the small advertising agency has served big clients such as NBC/Universal, Canon, Toyota, Bloomberg, and the Virginia Lottery. To keep the creative juices flowing, staffers are treated to a loft-style office with Potomac River views, hot meals prepared weekly and served family style, and staff outings that have included seeing comedian Lewis Black at the Warner Theatre and watching Caps games from the company suite.
Diverse environment: Elevation's staff hails not just from the United States but also from Cuba, Spain, Switzerland, Venezuela, Puerto Rico, Mexico, Peru, Colombia, Panama, El Salvador, and the Dominican Republic.
Number of employees*: 15
—–
FGM
Reston
Government services
While the work at FGM is solemn–technical solutions for the Department of Defense and other federal agencies–the culture is anything but. Dress can be very casual (flip-flops and Hawaiian shirts are fine) and the vibe laid-back (offices customized with coffee carts and couches, door-decorating contests). Employees like the fact that this latitude extends to the work: They say they're trusted to do their jobs and to be innovative and creative.
Nice benefits: Employees enjoy private offices and a contribution of 6.5 percent of their salary into their 401(k). Social events include happy hour every Friday, an annual chili cook-off, and a volleyball team.
Number of employees*: 120
—–
5AM Solutions
Reston
Life-sciences software
5AM Solutions develops software for scientists, hospitals, and others to improve the pace of medical research. "I feel like the work that we do is really making a difference by helping researchers find cures for diseases that affect so many of us," says IT director Michael March. The company pays attention to its own employees' health, with a supportive culture and terrific work/life balance.
Sharing the wealth: Employee benefits include fully paid health-care premiums, bonuses, eight weeks of vacation after ten years there, the ability to telecommute at least once a week, and three paid days a year to volunteer. The firm donates 5 percent of its profits to charities chosen by employees.
Number of employees: 40
—–
Food & Friends
Northeast DC
Charitable organization
At Food & Friends, employees are motivated by the organization's mission. "Every day we deliver a free, healthy meal and a friendly hello to people facing serious illnesses," says corporate-gifts manager Ellen Root. "I feel grateful to help ease a burden and provide friendship." Employees feel valued and challenged, and they love being surrounded by smart, dedicated coworkers. That's why they stay–more than 70 percent have been with the nonprofit at least five years.
Nice perks: "Kudos" are read at weekly staff meetings–the best one of the month means $250 for both the person who wrote it and the employee it was about. Every Friday, the office closes three hours early.
Number of employees: 51
—–
Government Accountability Office
DC's Chinatown
Federal-spending oversight
America's "congressional watchdog," the Government Accountability Office investigates how the federal government spends taxpayer dollars. Employees say that they like their role in improving the government's performance and in ensuring its accountability by providing Congress with objective and nonpartisan information.
Nice benefits: GAO employees have access to on-site daycare and fitness centers, and they enjoy telewo
rk options as well as a student-loan payment plan that repays up to $10,000 a year, to a maximum of $60,000, for higher education.
Number of employees: 2,000
—–
Gryphon Technologies
Greenbelt
Government contracting
At Gryphon Technologies, the employees, some of whom are retired veterans, love their mission: engineering and technical support for the military, particularly the US Navy. They also like working for a successful firm–it has landed on Inc. magazine's list of the fastest-growing private companies eight years in a row. And they appreciate the leadership, which they say treats them with respect.
Nice benefits: Employees receive a 401(k) match of up to 6 percent of salary, $500 new-baby and marriage bonuses, employee-of-the-quarter awards, and regular raffles for tickets to the Redskins, Capitals, Nationals, Orioles, DC United, and other sporting events.
Number of employees*: 220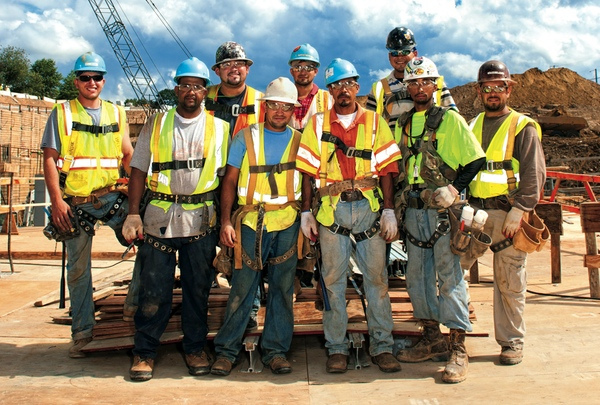 Workers at James G. Davis Construction Corporation feel like they're part of building the company–one staff perk is stock ownership.
GSM Consulting
Leesburg
Defense engineering contracting
At this growing firm, employees praise the "great atmosphere" created by management, which "treats you like family." If, that is, your family paid you very well–95 percent of those who answered our survey say the salaries are higher than industry average. No wonder there was zero turnover last year.
Generous benefits: Despite its size, GSM has big perks, including five weeks of vacation, a 401(k) contribution of 15 percent of salary, fully paid health-care premiums, $1,200 toward the creation of a will, $5,000 a year to attend training or conferences, $720 toward Internet access, and $1,750 toward the purchase of a gadget–although employees are given all the technology they need for their jobs.
Number of employees: 52
—–
Home Builders Institute
Downtown DC
Nonprofit education and training
Staffers appreciate HBI's relaxed, family-friendly feel, the flexible work schedules, and the inspiring mission. Founded in 1983, HBI trains at-risk youth and others in the building trades and promotes careers in construction. Says communications specialist Laura Phillips Garner: "There's a caring here that I've never experienced anywhere else in the workplace."
Nice perks: One of the best parts of working at HBI is the flexibility–many employees work compressed weeks, and at least 40 percent telecommute once a week. There are also monthly massages, spontaneous bonuses, office bike rides, and golf outings.
Number of employees*: 40
—–
Integrity Applications Incorporated
Chantilly
Systems and software engineering
Whether working on a next-generation weather satellite or developing innovations to reduce energy consumption, employees find the work, for defense and intelligence agencies, challenging and fulfilling. And rewarding–93 percent of those surveyed said the pay is higher than the industry average. No wonder turnover is less than 5 percent. Of last year's 72 hires, 89 percent were from staff referrals, giving the company a family feel.
Generous perks: Besides high pay, staffers enjoy fully paid health-care premiums, a contribution of up to 10 percent of salary into their 401(k), and $1,200 funded into a medical flexible-spending account.
Number of employees*: 336
—–
James G. Davis Construction Corporation
Rockville
General contractor
At James G. Davis Construction, the average tenure is 8 to 12 years. Employees stay for many reasons: challenging work, access to good mentors, excellent benefits, and a family-friendly atmosphere. "It's a small-company feel with large-company benefits and opportunities for growth," says project manager Brian Nussbaum.
Nice Benefits: In addition to $10,000 annually in tuition reimbursement, Davis offers free weekly on-site classes in everything from Spanish to technology. A generous benefits package includes fully paid health-care premiums, an employee stock-ownership program, and an on-site fitness center.
Number of Employees: 410
—–
Knight Point Systems
Reston
IT Solutions
This government contractor's revenue has grown by nearly 1,200 percent in the past four years. Knight Point also believes in growing its employees, who receive an average of 56 training hours each year. Staffers share in the firm's success, from bonuses to a lavish holiday party–at last year's, members of the fastest-growing division received an iPad. They play hard, too, whether on the office putting green or at Wii tennis tournaments.
Sharing the wealth: The six-year-old firm–founded by a service-disabled veteran–has donated more than $106,000 to charity over the last three years. The management team buys lunches or dinners for servicemembers they see in airports.
Number of employees*: 71
—–
LivingSocial
Downtown DC
Daily deals
A growing giant in the world of daily deals–it's gone from 33 staffers to 3,900 worldwide in less than two years–LivingSocial is a high-energy workplace filled with Millennials who love the entrepreneurial culture and the fact that their ideas are listened to–and who don't mind long hours. Says Colleen O'Reilly: "You really feel like you are part of something special here. You're part of a company making history in the business world."
Unusual perks: To keep the staff energized, there's air hockey, Skee-Ball, and several social events a week–from cupcake-eating contests to ziplining to winetasting. Rewards for hard work have included Super Bowl tickets and a trip to the Academy Awards.
Number of employees*: 780
—–
Marriott International
Bethesda
Lodging
Like many hospitality companies, Marriott has been affected by the recession, having to lay off staff. But employees say there's still lots of opportunity for growth and that the benefits, including work/life flexibility, are good. They're proud to work at such a respected company–one where, when departments and hotels had to scale back holiday parties for economic reasons, many people focused on doing something for charity.
Sharing the wealth: Every May, Marriott sets aside a week for employee appreciation, treating the staff to activities and free meals. Marriott's generosity extends to the communities it's in as well: Last year, corporate contributions to charity exceeded $23 million in cash and in-kind donations.
Number of employees*: 4,723
—–
Merritt Group
Reston
Marketing and Communications for technology firms
Public-relations work can be known for its long, thankless hours. Merritt Group, which provides PR, interactive marketing, and social media for technology clients such as Verizon and Microsoft, is different. Employees call the environment "caring," with a strong emphasis on work/life balance. Everyone telecommutes on Fridays and can do so on other days as needed.
Other generous benefits: Fully paid health-care premiums, a health savings-account contribution of $750 per individual or $1,500 per family, 20 to 30 annual vacation days after a year of employment, eight hours per quarter to use for volunteering, and frequent staff get-togethers such as happy hours.
Number of employees*: 28
—–
Miriam's Kitchen
DC's Foggy Bottom
Nonprofit serving the homeless
Founded in 1983, this organization serves 4,000 homeless men and women annually. In addition to free healthy meals, Miriam's Kitchen provides clean clothing and mental-health care. "I get up every morning knowing why I do my work," says director of development Sara Gibson. "To make the lives of homeless men and women better."
Nice benefits: Besides flexible schedules and generous compensation–nearly
80 percent of surveyed employees feel they're paid higher than the industry average–each staffer has $1,000 to $3,000 to use for professional development. Other benefits include fully paid health-care premiums, seven weeks of leave in the first year, and yoga classes.
Number of employees: 21
—–
The Motley Fool
Alexandria
Financial advice and media
A core value at the Motley Fool–the multimedia firm whose financial products include a Web site, books, and subscription newsletters–is to have fun. And they do, whether at a mini-golf tournament in the office, on a ski trip, or during a burger-eating contest. There's one "fool," as employees are called, whose job is to make sure colleagues are happy and in jobs that match their passions.
Generous perks: Employees get the freedom to do their jobs–and unlimited vacation. They also enjoy subsidized on-site massages and manicures, a wellness coach, an internal university, and $1,200 a year to use toward expenses such as cell phones, computer equipment, insurance of any kind, or a gym membership.
Number of employees*: 215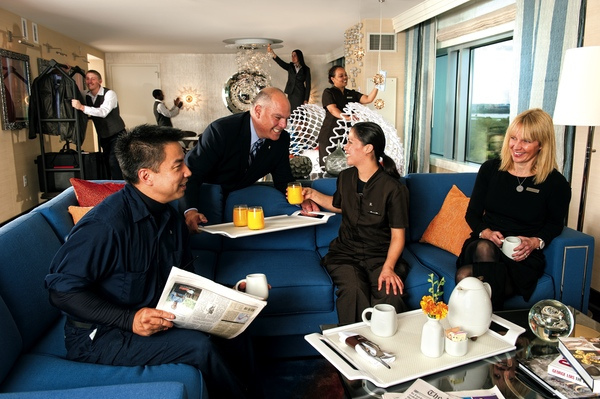 There's a genuine spirit to serve at Marriott, whether employees are catering to guests or helping one another.
NASA
Southwest DC and Greenbelt
Space exploration
With its mission to broaden mankind's knowledge of the universe, NASA is the perfect place for dreamers and doers. Where else do you get the chance to make discoveries about our planet and our universe or to try to answer fundamental questions about humanity and our place in the cosmos? "We have the chance to create new capabilities for future generations to explore and the opportunity to dream big dreams and make them come true," says public-affairs specialist Grey Hautaluoma.
Nice benefits: Here on Planet Earth, employees get such perks as an on-site health unit with a doctor, an on-site gym, Metro subsidies, telework options, and flexible schedules.
Number of employees*: 2,775
—–
National Rural Electric Cooperative Association
Arlington
Nonprofit association
NRECA employees like serving co-ops that bring affordable, reliable electricity to remote areas of the country. The list of benefits is generous, particularly for a nonprofit: subsidized on-site childcare, tuition assistance of up to $10,000 a year, spot bonuses of up to $5,000, and 19 days of vacation in the first year of employment.
Giving back: Employees are encouraged to volunteer–for every 24 hours of time an employee gives to charity, he or she receives an extra vacation day. Group service activities have included making sandwiches for DC Central Kitchen and organizing a team for the Susan G. Komen Race for the Cure.
Number of employees*: 520
—–
National Society of Collegiate Scholars
DC's Dupont Circle
Nonprofit Organization
At NSCS–which offers scholarships, study abroad, and other opportunities for high-achieving college students–staffers are given unlimited personal and sick leave after two years of employment as well as a flexible telecommuting policy. That's not all that keeps staff interested in their work. "NSCS allows us to grow quickly," says director of operations Bailey Khan. "There aren't standard rules for promotion like 'X years makes you an X.' If you earn a promotion, you get it, whenever."
Sharing the wealth: Perks include fully paid health-care premiums, 75 percent off Washington Sports Club memberships, and a two-week break over the holidays.
Number of employees: 23
—–
NetApp
Vienna
Data storage and enterprise technology
At this fast-paced, growing California-based firm, employees say they enjoy the autonomy to do their jobs as well as a nice work/life balance. Employee appreciation is shown in ways both small (thank-you notes from executives, espresso machines, fresh fruit on Tuesdays) and big (very generous health care, including enhanced dental benefits; high pay; and $13,360 toward adopting a child).
Sharing the wealth: Just as NetApp is magnanimous to staff, it gives to charity. Employees get five paid days a year to volunteer, and those in the Vienna office frequently raise money for charity, whether through a Foosball tournament or by volunteering to shave their heads for kids with cancer.
Number of employees*: 353
—–
N.E.W. Customer Service Companies
Sterling
Consumer services
N.E.W. is focused on customer service: Its worldwide staff of more than 6,000 provides extended warranties and buyer-protection programs for retailers around the world. Just as it looks out for its clients, it looks out for employees, with everything from flex hours in summer and meeting-free Fridays to on-site massage and a gift-wrapping service during the holidays.
Family perks
Employees love the work/life balance and the fact that company events such as Halloween festivals and movie nights include their children. They also relish the fun team spirit and often band together for charitable outings such as Habitat for Humanity building projects.
Number of employees*: 600
—–
Northern Virginia Orthodontics
Ashburn
Dental care
The staff at Dr. Zachary Casagrande's practice loves making patients smile–literally. What makes them smile themselves: They get spa days, bonuses, or other rewards for meeting patient-care goals; they go on company trips to destinations including Las Vegas and Hawaii; they're treated to lunch when things are busy; and they work in a high-energy, modern office with an Internet cafe and arcade room for patients.
Unusual perk: Casagrande is a die-hard Washington Capitals fan–his office is decorated with framed jerseys, pucks, and other memorabilia–so not only are there outings to see the team play, but on game days the staff wears Caps shirts for good luck.
Number of employees: 11
—–
Ntiva
McLean
IT solutions
The mostly male techies at Ntiva love how much they can test, work with, and learn new technologies. "With its nurturing yet fast-paced environment, Ntiva is allowing me to develop my knowledge and career at a rate I've never experienced at any other employer," says Randy Mazzi, a help-desk technician. The company's innovation and teamwork have apparently paid off: Ntiva's three-year sales growth has exceeded 200 percent.
Techie perks: The firm offers "enrichment" time off for staffers who want to pursue a project that might improve Ntiva as a company. An on-site lab lets them play with new gadgets. Spontaneous days off, such as a "spring refresh day," reward staff with long weekends.
Number of employees*: 56
—–
Plan B Technologies
Bowie
IT and engineering
This IT-solutions and professional-services provider has been on Inc. magazine's list of the 5,000 fastest-growing firms since 2008, and it was a finalist for the Chesapeake Regional Tech Council's Tech Company of the Year Award this year. The challenging work and the growth, say employees, give the workplace lots of energy.
Nice perks: PBT attributes its success to going the extra mile for clients, and it does the same for staff. Employees enjoy fully paid health-care premiums, an $85 monthly contribution to a health savings account, regular telecommuting, quarterly awards and spot bonuses, frequent free meals, and handwritten thank-you notes from the CEO.
Number of employees*: 47
—–
Portal Solutions
Rockville
IT solutions
With a liberal telecommuting policy and lack of micromanaging, this IT firm gives staff a lot of freedom. "They allow us to completely manage where we work from," says Carlos Fernandez. "We're able to dial into meetings and many times take long trips and work from other parts of the nation." Still, most love coming to the office to bounce ideas off one another. Catered lunch on Monday and Friday is a lure, too.
Nifty perks: There are four hours of "creative time" each quarter to work on anything employees woul
d like, plus weekly lunch meetings at which staff is kept up to date on firm goings-on. Those with at least six years' tenure get 30 vacation days.
Number of employees: 35
—–
Praxis Engineering Technologies
Annapolis Junction and Chantilly
Software and systems engineering
The engineers at Praxis aren't expected to be 100 percent billable–staffers praise all the time they're given to bone up on new technologies to better serve government clients in defense and cybersecurity. "The focus on employee improvement is mind-boggling compared with other companies at which I've worked," says engineer John M. Ay Sr.
Generous perks: Praxis treats its staff to unlimited beverages, snacks, and fresh fruit; profit sharing that's typically around 7 percent of salary; "bagels-and-jeans day" every Friday; and an atmosphere many describe as supportive and family-like.
Number of employees: 241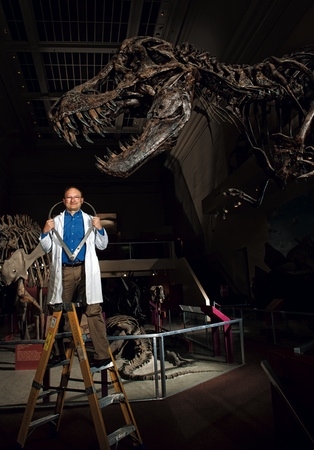 Rand Construction Corporation
DC and Alexandria
Commercial general contractor
Staffers say this award-winning firm is a great place to start and grow a career–the atmosphere is entrepreneurial, employees are given a lot of responsibility, and there are many opportunities for growth. "If you are willing to work hard, you will do well," says project manager Tom Boyer.
Generous perks: Employees come together Monday through Thursday for a subsidized catered lunch ($5), and weekly Costco runs keep the kitchen stocked with snacks. Ten-year anniversaries are recognized with a Caribbean cruise for two. After five years, superintendents are given a new pickup truck.
Number of employees: 144
—–
Segue Technologies
Arlington
IT consulting and products
Employees here say the work is challenging and interesting: They've developed everything from software for the Air Force to a Web site for Five Guys to an app for visitors to Arlington National Cemetery. While staffers like the ability to grow, the company itself has grown: Revenue has increased by 115 percent in three years.
Nice perks: The staff enjoys fully paid health-care premiums, quarterly all-hands meetings, and a fun atmosphere that includes regular happy hours. Segue shares its success, providing a good deal of monetary and volunteer support to Arlington charities such as the Animal Welfare League and Doorways for Women and Families.
Number of employees*: 59
—–
Smithsonian Institution
Throughout Washington
Museums and research
"The increase and diffusion of knowledge" was part of James Smithson's bequest that established the Smithsonian in the mid-1800s. Today it's one of the world's most respected institutions. Locally, it runs 17 museums as well as the National Zoo–offering lots of fascinating jobs.
Unusual perks: Employees enjoy a 20-percent discount in Smithsonian shops and cafeterias and free daytime admission to the Imax theaters in the Air and Space Museum, the Museum of Natural History, and the Udvar-Hazy Center. Plus, most Smithsonian museums around the country honor one another's employee IDs, so admission fees are often waived.
Number of employees*: 4,500
—–
Southern Management Corporation
Vienna
Property management
The largest privately held residential property-management company in the Mid-Atlantic, Southern Management Corporation owns and operates 73 communities, including more than 24,000 apartments. That means lots of opportunity (it hired more than 350 people this year), and current employees rave about the emphasis on training and promotion.
Sharing the wealth: Employees say they feel thanked and recognized for good work, with good pay, a pension-plan contribution of 5 percent of salary, an annual awards banquet, a yearly family night at Six Flags, and other perks.
Number of employees: 1,550
—–
Spider Strategies
Downtown DC
Software development
It's hard to imagine a more flexible firm than Spider Strategies. Nearly every employee works from home every day. (A few work at a client site.) Staffers set their hours–which suits those who prefer to work at night. There are rarely meetings–three or four a year. Every Thursday is set aside for R&D, so staffers can explore the latest in technology. And vacation is unlimited. The company is very successful–between August 2010 and August 2011, it's added more than 150 customers and increased revenues by 53 percent.
Generous perks: As if staffers weren't spoiled enough, they also get fully paid health-care premiums, a 3-percent IRA match, and pay that's higher than the industry average.
Number of employees*: 12
—–
Suntiva
Falls Church
Management consulting
Employees say Suntiva provides great work/life balance, support from the top, and challenging work with clients such as the Food and Drug Administration and the National Institutes of Health. The firm has been on Inc. magazine's list of the 500 fastest-growing companies four years running.
Nice perks: Employees–many of whom have 20 years or more of experience–call the management caring. There's a wellness coach, $300 annually toward a fitness expense such as a gym, and staff wellness contests that result in a donation to charity. Suntiva itself has donated more than $100,000 to Teardrops to Rainbows, which supports children with cancer.
Number of employees*: 55
—–
US Department of State
Northwest DC
International relations
"We're making history every day when we come to work. That's pretty amazing," says Gilberto TorresVela, an economic officer in the Office of Cuban Affairs. Employees at the State Department feel that their work makes a difference in foreign affairs, helping to make the world more secure. Many also love learning new languages. And of course, for those who like to travel, the State Department offers outposts all over the world.
Nice benefits: Employees have access to a student-loan repayment program, a transit subsidy, and, through the Foreign Service Institute, a wide array of courses.
Number of employees*: 44,362
—–
US Nuclear Regulatory Commission
Rockville
Nuclear-power regulation
Staffers love the mission of protecting people, safeguarding the environment, and contributing to national security by regulating the safe use of civilian nuclear materials. The NRC is consistently ranked as one of the best places to work in the federal government, including in a biannual ranking by the Partnership for Public Service.
Generous perks: A new flex program allows employees to vary their hours throughout the day–for example, someone could work from 7 to 11 am in the office and then 4 to 8 pm from home. There's also an annual health fair and an on-site center that offers technical, leadership, and administrative training.
Number of employees*: 2,832
—–
ViON Corporation
Georgetown
Enterprise storage hardware/software
ViON's engineers work on complex storage, server, and software solutions for enterprise data centers, mostly for federal clients such as the Department of Homeland Security and the Army. And, they happily report, they do their work with a great deal of freedom to make decisions and do their jobs. Which may help explain why the average tenure at this 32-year-old firm is 15 years.
Generous perks: Employees get annual bonuses, a share of profits is deposited into each person's 401(k), tuition reimbursement is unlimited, and everyone has received an annual raise in the past ten years. After two years, an employee gets 20 to 26 vacation days.
Number of employees*: 85
—–

Whole Foods Market
Throughout Washington
Grocery chain
Employees, or "team members," say this Fortune 500 firm is a positive, caring place where they're encouraged to be creative and they feel empowered. A store's beer manager, for example, may select which brews to stock, while a deli worker might concoct a new salad. Staffers earn well above minimum wage and vote on everything from new hires to health benefits.
Healthy perks: It's no surprise that a company focused on healthy living does a lot for employee wellness. Staffers get a 20-percent store discount–but can earn up to 30 percent for, say, a good cholesterol reading. Everyone gets a tax-free Personal Wellness Account of $300 to $1,800 to use for non-covered medical expenses.
Number of employees*: 4,127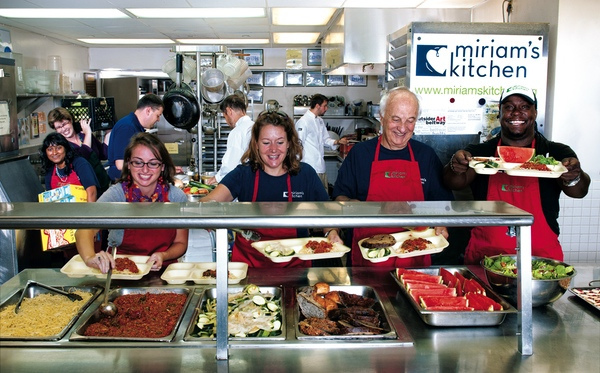 Miriam's Kitchen has a serious mission–to feed the homeless–but the staff has fun doing it.
Akridge
DC
This commercial-real-estate firm celebrates its successes–whether by handing out bonuses or by giving its 180-person staff three extra days of vacation when they win a major award.
Anthony Wilder Design/Build
Cabin John
The recession has been hard on residential construction, but the employees here have stuck together: To minimize layoffs, they all voted to take a pay cut. Perks include fully paid health-care premiums and deductibles.
AOC Key Solutions
Chantilly
This small firm, which helps clients secure federal contracts, is supportive, open, and flexible. Pay is high and loyalty rewarded: Vacation accrues to 10 weeks by year 20.
Association of Women's Health, Obstetric and Neonatal Nurses
DC
Staffers are passionate about improving and promoting nursing through research, education, and advocacy. They also love the flexible schedules–40 percent telecommute at least once a week, and many work compressed workweeks.
BCF Solutions
Chantilly
Employees at this midsize government and commercial contractor praise the caring managers. When a project required working late for a week and a half, a manager brought dinner nightly. When a coworker's house was damaged in a storm, a manager spearheaded a collection and got the company to match the funds.
Chenega Federal Systems
Lorton
This IT, engineering, and intelligence firm is an Alaska Native Corporation; its shareholders are villagers in Alaska. One mark of staff satisfaction: Thirty-five percent of hires last year were from staff referrals.
Decision Lens
Arlington
Employees enjoy interesting work: The firm's decision-making software is used by such clients as the Green Bay Packers (to select draft picks) and NASA (to weigh design-and-budget tradeoffs for a deep-space antenna).
InSysCo
Fredericksburg
InSysCo, a midsize government contractor that's a subsidiary of GTSI, is so flexible that some staffers work one day a week and others–most of whom are at client sites in DC and New Carrollton–telecommute one or two days.
Mark G. Anderson Consultants
DC
Good work is rewarded at this midsize consulting firm: Employees enjoy generous bonuses, profit-sharing of up to 15 percent of salary, and a trip to one of the Seven Wonders of the World for a ten-year anniversary.
Thermopylae Sciences & Technology
Arlington
Whether developing smartphone technology or geospatial applications, employees here like working with cutting-edge technology. They play hard, too–from Ping-Pong games to Cake and Beer Day.
Walker & Dunlop
Bethesda
Generous anniversary gifts (ten years means a one-week trip valued at $7,000) and growth opportunities keep the 165 employees at this commercial-real-estate finance company engaged. In turn, they give back: They've raised $329,000 in the past five years for Fannie Mae's Help the Homeless program.
Welz & Weisel Communications
Fairfax
Marketing and PR firms aren't known for flexible hours, but at Welz & Weisel–which does strategic communications for IT firms–the staff telecommutes one day a week and leaves early on summer Fridays.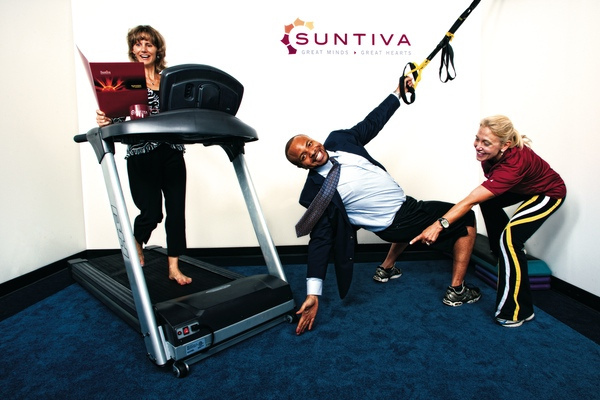 Suntiva has a wellness coach, Melissa Dow, who keeps employees such as Alison Miller and Jesse Hardy fit and motivated.
How do we choose our 50 great places to work?
First, any company or nonprofit that wanted to be considered filled out an application telling us about its workplace–everything from vacation time and health-care benefits to telecommuting policies, charitable efforts, and employee turnover.
Next, we surveyed a sizable random sampling of employees at each firm to see how happy they were. We weighted employee scores heavily because the best benefits in the world don't mean much if people feel they're treated poorly. Employers couldn't see the responses, so employees could be honest. Our questionnaires were designed by Leora Lawton of TechSociety Research in Berkeley, California.
Federal agencies and law firms were chosen differently. To determine good government agencies to work for, writer James Michael Causey conducted a survey with Federal News Radio and also consulted with the Partnership for Public Service, which does its own annual Best Places to Work rankings. To pick law firms, Marisa M. Kashino, who covers the legal beat for the magazine, carried out her own research.
We considered more than 200 workplaces. We compared like with like–small firms with small firms, technology firms with other technology firms, nonprofits with nonprofits. Just because an employer isn't listed doesn't mean it's not a great place to work; it may mean that company didn't apply.
In the end, we chose workplaces that offer terrific benefits, stimulating work, flexible schedules, opportunities for growth, and respect for their staff. Because the past few years have been hard for many businesses, we also looked at how a firm is faring. Most of the companies here are healthy and experiencing growth.
Best of all, most are hiring.

This article appears in the November 2011 issue of The Washingtonian.