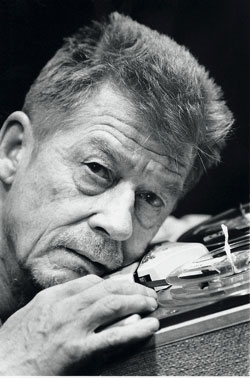 NEW AND NOTEWORTHY
Studio Theatre continues its run of new international plays with The Golden Dragon, a take on immigrant lives and cross-cultural interactions by German playwright Roland Schimmelpfennig. Set in a Chinese-Vietnamese-Thai restaurant, the play explores immigrants' stories through food. November 2 through December 11.
November 3 through December 4, WSC Avant Bard—formerly Washington Shakespeare Company—presents The Mistorical Hystery of Henry (I)V,a comedic riff on Henry IV, Parts I and II, adapted and directed by Tom Mallan. The two parts are combined into one play, with women taking on some of the male roles.
At Sidney Harman Hall for three nights November 4 through 6 is a concert-style staging of The Boys from Syracuse, Rodgers and Hart's 1938 musical take on The Comedy of Errors.
Jersey Boys was a big hit when it last came to Washington for a sold-out run in 2009. The Tony-winning musical, based on the life and hits of Franki Valli and the Four Seasons, is at the National Theatre November 10 through January 7, and stars Washington native Joseph Siravo as Mafia boss Gyp DeCarlo.
November 15 through December 11, Signature Theatre presents the world premiere of A Second Chance, Ted Shen's musical about an unlikely love affair. Husband and wife Brian and Diane Sutherland star.
Also at Signature is Hairspray, directed by Eric Shaeffer, November 21 through January 29. Based on the John Waters movie, the Tony-winning musical stars WETA and satellite-radio personality—and stage newcomer—Robert Aubrey Davis as Edna Turnblad, the drag role that's been played by Harvey Fierstein and John Travolta.
November 23 through December 31, Round House Theatre presents Pride and Prejudice. Adapted from the Jane Austen novel by Joseph Hanreddy and J.R. Sullivan, it stars Rick Foucheux as Mr. Bennet, Kate Cook as daughter Elizabeth, and Michael Brusaco as Mr. Darcy.
November 25 through January 1, Shakespeare Theatre Company stages Much Ado About Nothing, the Bard's comedy about bickering enemies who fall in love. Ethan McSweeny directs, relocating the story to 1930s Cuba.
Opening at Arena November 25 is You, Nero, Amy Freed's farce about the troubled Roman emperor. Freed is a playwright in residence at Arena. The play runs through January 1.
Synetic Theater brings its physical, mostly wordless approach to Romeo and Juliet this month. Alex Mills and Natalie Berk star as the star-crossed lovers in this Shakespeare adaptation, running November 25 through December 23.
English actor John Hurt comes to Shakespeare Theatre with Dublin's Gate Theatre in Samuel Beckett's Krapp's Last Tape, November 29 through December 4. Hurt, best-known for his Oscar-nominated role in The Elephant Man, has been praised for his interpretation of Krapp, a man confronting the end of his life.
LAST CHANCE TO SEE/STILL RUNNING
Rorschach Theatre's production of After the Quake closes November 6.
As does Arena Stage's The Book Club Play (read our review here).
Synetic Theater's production of Othello also closes November 6 (read our review here).
Woolly Mammoth's A Bright New Boise closes November 13 (read our review here).
Constellation Theatre Company's Arms and the Man runs through November 20 (read our review here).
Greek, at Scena Theatre, closes November 27 (read our review here).
Theater J's After the Fall also runs through November 27.
The Folger Shakespeare Library's production of Othello runs through December 4 (read our review here).
And Keegan Theatre's take on The Crucible runs through December 19 (read our review here).
FOR KIDS
Adventure Theatre presents the world premiere of 'Twas the Night Before Christmas, a new children's play by Ken Ludwig. November 18 through January 2.
November 23 through January 8, Imagination Stage puts on Dr. Doolittle, about the doctor who talks with animals, adapted into a musical by Mark St. Germain and Randy Courts.
NOT TO FORGET
Stay, a Theater of the First Amendment production, is at the Lansburgh Theatre November 11 through 27.
Quotidian Theatre Company has Conor McPherson's Shining City November 11 through December 11.
The Sound of Music is at Olney Theatre Center November 16 through January 1.
At Arena Stage November 18 through January 1, the Oregon Shakespeare Festival presents Equivocation.
And it wouldn't be November without some holiday shows. The following favorites also open this month:
A White Christmas is at Toby's Dinner Theatre November 10 through January 8.
A Broadway Christmas Carol returns to Metrostage, and runs November 17 through December 18.
A Christmas Carol is at Ford's Theatre, running November 18 through December 31.