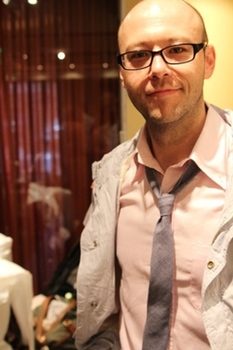 A few weeks ago, Chad Hamilton came to us with the request to be our next food diarist. We soon realized that his food diary would be unlike any other—the 34-year-old was undergoing chemotherapy for testicular cancer. Today, we're happy say that Hamilton is now cancer-free. After four months of treatment, he was given the good news at his last appointment this past Tuesday. "It was pretty uneventful," he admits, "but highly emotional."
While Hamilton still has two more chemo treatments to complete, he says he's ready to get back to exercising. However, the former professional boxer says that since the life of each injection lasts 28 days, it won't be until at least the end of the year that his body will be physically ready to endure to the hardcore workouts he used to do with CrossFit.
But he doesn't mind waiting a bit longer. "I'm looking forward to working out and socializing with my friends for more than two hours. I'm looking forward to not feeling like I have this nasty chemical running through my veins," he says.
A big congrats and thanks goes out Hamilton for being living proof that cancer can be defeated.
Watch Hamilton compete in a Crossfit Workout of the Day: 30 clean and jerks at 135 pounds in 7:07 minutes. By the way, he did this on September 17, months before he learned the good news.
Read Hamilton's blog post from this morning, when he shared his news.