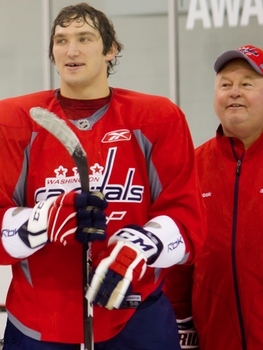 Bruce Boudreau hasn't generated this many headlines since that time he kept saying "f&*$" on HBO. The Caps coach has been receiving plenty of plaudits for the balls it took to bench Alex Ovechkin at the end of the third period on Tuesday night. And rightfully so. Everything worked out to perfection, both on the ice and off. Even Ovechkin himself had to concede that point.
It got me wondering what it would be like to have such a ballsy coach at the helm of some of the area's other prominent teams. Could Coach Bruce bring structure to the disorderly Wizards? Could he instill some accountability in the Redskins?
If Bruce coached the Wizards . . .
For starters, Andray Blatche's minutes would be cut in half. I doubt that would bother anyone too much. Even Seven Day Dray would concede that he could use the extra rest, and man, the cushions on those chairs are thick. Very supportive. Very comfy.
There would be increased accountability elsewhere, of course. Jordan Crawford could still dream of being better than Michael Jordan, but he'd have to do it without the green light to shoot 20 times a game he has enjoyed under Flip Saunders. On the other side of the court, JaVale McGee would probably be expected to play the kind of defense that doesn't involve blocking every shot within 15 feet of him. Weird, right?
If Bruce coached Maryland football . . .
Sorry, Kevin Plank, but you can take that third alternate helmet and shove it someplace uncomfortable—at least until the team is playing well enough to warrant such ostentatious sartorial selections.
If Bruce coached Maryland basketball . . .
Let's just say he wouldn't allow a meddling athletic director to chase him away. Though, to be fair, he probably wouldn't last for 15 seasons.
If Bruce coached the Redskins . . .
Current coach Mike Shanahan has had plenty of run-ins with star players. The difference is, his method of standing up to players usually involves showing them up. No forced conditioning drills for the disgruntled tackle or the public shaming of his quarterback for Bruce. Nothing but the cold reality of the bench for those who deserve it, and a straightforward explanation for the rest of us.
The biggest loser in this scenario would be Kyle Shanahan. Not only would he no longer be the coach's son, he'd no longer be the guy calling the plays. Because Coach Bruce calls his own game.
After all that, maybe he could do something about that practice bubble everyone is waiting on.