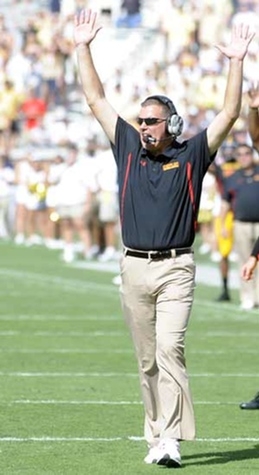 Unless you're the CEO of a major American investment bank, you don't generally get rewarded for taking a thriving and productive organization and rendering it insolvent. Perhaps Randy Edsall would have been better suited to be the head football coach of Bear Stearns.
Having instead gotten the gig at the University of Maryland last winter, Edsall, the longtime coach at the University of Connecticut, was charged with taking over stewardship of a Terrapins program that had been left in good health by his predecessor. Last season under Ralph Friedgen, Maryland posted a robust 9–4 record and earned a bid to the Military Bowl, which they won by 31 points. By comparison, counting Saturday's flop at the hands of border rival UVA, this year's Terrapins are a wheezing 2–7. Their only wins have come against lightweight Towson and against Miami, whose roster was thinner than Kate Moss at the time due to an improper benefits scandal that broke the week before the game.
Remind me again—why did Maryland fire Friedgen?
That question is being asked more and more frequently as this autumn unfolds and the program becomes less and less relevant. The Terps are now mathematically incapable of amassing the six wins required to become bowl-eligible this season. What's worse, apathy has overtaken the fanbase. The announced attendance for the Boston College game two weeks ago was 29,945—the smallest in more than a decade at Byrd Stadium. Some who were there estimated the actual crowd to be one-third of that figure.
One of the reasons Friedgen was unceremoniously dumped at the end of last year (though no one will ever admit it) is that—to use the politically insensitive jargon of the locker room—he's fat. Despite the not-insignificant weight loss he achieved last year, at more than 300 pounds, Friedgen still looked less like Vince Lombardi and more like Vince Pastore (Big Pussy from The Sopranos. Sorry—I watch a lot of A&E). While football coaches are rarely judged on their aesthetics, some viewed Fridge's extreme appearance as an impediment to recruiting. Others found it just plain embarrassing that the face of the program was a face that lacked the customary adjacent neck.
Edsall, with his toned physique and military-style crew cut, certainly looked the part of the football coach more than Fridge ever did, but someone forgot that over the years Terps fans have shown they care far less about appearances than they do about results. Take their basketball coach for the past 21 years: To see Gary Williams prowling the bench during a Maryland game, you'd think an extra had wandered off the asylum set from One Flew Over the Cuckoo's Nest. But he was a brilliant tactician, a master motivator, and he brought a national championship to College Park, so the school and the state fell in love with him despite his foibles. In other words, Maryland fans don't mind if their coaches have rough edges—or round ones, in Fridge's case.
But new Maryland athletic director Kevin Anderson, like most new managers in most every industry, was eager to put his stamp on the program. So, Friedgen's success notwithstanding, he orchestrated a coaching change.
Edsall arrived in College Park with a laudable track record of building things from scratch. He took over UConn's football program in 1999, overseeing its transition from 1-AA status to the top echelon of the BCS a decade later. And Connecticut was not Edsall's first job in football-nation building. In 1995 he was the defensive backs coach for the NFL's Jacksonville Jaguars in their inaugural year as an expansion team. Just a year later, that franchise had gone from birth to the AFC Championship game (remember when Mark Brunell was a name that didn't make you sigh?)—and Edsall was part of the staff that made it all happen.
Problem is, Maryland football circa 2011 was not a startup. It didn't call for an architect. It called for a superintendent—a guy who knew how to operate a structure that was already in place and make improvements as needed. A little charisma to charm the tenants wouldn't hurt, either. In retrospect, Edsall seems grossly ill-suited to that job description.
I sat in the press conference last year when Edsall was introduced as Friedgen's replacement, and there was a palpable ambivalence in the room among both the assembled media and Maryland alumni. There had been widespread rumors circulating in the days leading up to the announcement that Anderson was going to hire former Texas Tech coach Mike Leach—and Maryland fans were fired up about that prospect.
Leach, as you may recall, is the guy who liked to rile his players by talking in press conferences about their "fat little girlfriends," and who once forced an injured player to sit alone in a dark equipment shed. Depending on your point of view, Leach is either colorful or a full-fledged nutjob. But Maryland fans wanted him because he was a winner, rough edges be damned. In fact, Leach's rough edges were part of the draw. As with Gary Williams, Terps fans saw in Leach a coach who could provide Maryland football with an identity. Williams's maniacal passion put Terps basketball on the map—which is saying something when you play in a conference with Duke and North Carolina, et al. Leach took a Texas Tech team mired in the college football traffic jam that was the Big 12 and turned them into a national player. Perhaps he could do the same for Maryland.
But Anderson made the safe choice. He picked Edsall, who seems unlikely to offend anyone—and equally unlikely to inspire anyone.
I have met and interviewed Randy Edsall on just two occasions. I hardly know him well enough to accurately judge his capabilities as a tactician or a motivator over the long term. But by means of comparison, in 2001 when I started as the preseason play-by-play broadcaster for the New York Jets , I had weekly meetings with the team's then–head coach, Herman Edwards. I was so captivated by his skills as a communicator and a leader of men that by the end of our second meeting I would have been willing to run out onto the practice field and impale myself on a tackling dummy if that's what Herm had asked me to.
I didn't get that vibe from my meetings with Edsall. Neither, apparently, have his players.
Starting next Wednesday, Brett Harber will be doing biweekly chats with readers. Got a question about local sports teams? Submit it to next week's chat here.