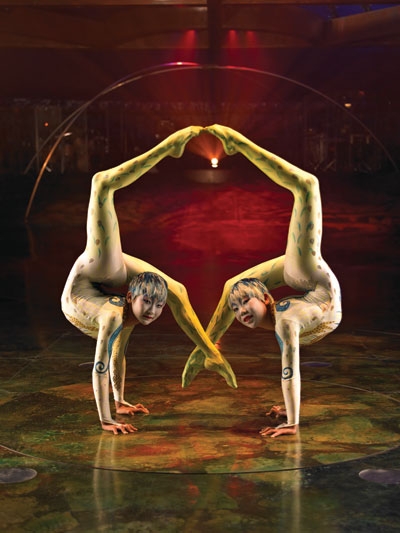 Since Guy Laliberté founded Cirque du Soleil in 1984, the company has grown from a troupe of Montreal street performers to a global entertainment monolith with more than 5,000 employees and a predicted 2011 revenue of around $1 billion. Whether you love the company (100 million people have seen their shows worldwide) or hate them (the Wall Street Journal ran this diatribe earlier this year), it's impossible not to be impressed by the company's fusion of mind-boggling acrobatics, live music, and circus theatrics.
Cirque du Soleil rolls into the Verizon Center this week with Quidam, a show about a lonely girl transported to a fantasy world, which originally debuted in 1996. "Quidam," which translates as "nameless passer-by," describes the mysterious headless character who facilitates the girl's trip through her new, surreal environment. "She's ignored by her parents, and she's trying to find new adventures in her life," says performer Adrienn Banhegyi, who jumps rope in the show. A former competitive jump rope artist from Hungary, Banhegyi joined Cirque du Soleil more than a year ago and has been touring with the company ever since. "We're different characters speaking different languages, but we spend most of our time together—working together, eating together, traveling together—so it becomes like a family," she says.
In addition to jump rope (and this is no average double dutch), Quidam incorporates aerial silk acrobatics, hand-balancing, juggling, "statue" acrobatics (a genre Cirque du Soleil has virtually made its own), and banquine, in which 15 different artists hurl each other into the air. The show also features six live musicians performing a score by Benoit Jutras. Even the set itself involves a degree of artistry: It includes a giant arch made from five 120-foot aluminum rails, and the specially designed rubber floor has more than 200,000 perforations to allow light to shine through it. To learn how to apply her makeup, Banhegyi spent three weeks training with professionals in Montreal, and her elaborate face paint still takes 50 minutes each day to complete.
The show relies on a certain amount of audience interaction, so be prepared to perform if you're sitting close to the stage. "It's an emotional show," Banhegyi says. "Sometimes you laugh, and at other points it's more touching. No two shows are the same, because you have to find the connection with the audience and see how they like it. But it really is a magical world."
Cirque du Soleil: Quidam is at the Verizon Center November 16 through 20. Tickets ($43 to $118) are available through Ticketmaster.