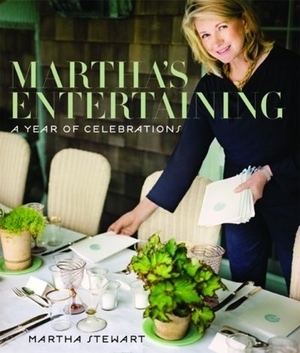 Last night, domestic doyenne Martha Stewart spoke at DAR Constitution Hall to promote her new book, Martha's Entertaining: A Year of Celebrations. (Check out some Thanksgiving-themed highlights from the tome here.)
Stewart, decked out in a tan sweater and (were those leather?) skinny pants, first gave a presentation featuring photos from her new book. This basically amounted to gorgeous "house porn" of her homes in Bedford, New York, the Hamptons, and Maine. She discussed her love of gardening, mentioning the trouble with timing the blossoming of her peonies.
"It makes it hard to plan my peony party," she said, adding, "Nature is fickle; mankind is even more fickle."
She also showed photos from her Easter-egg hunts (hundreds of eggs are hidden), Fourth of July parties, and, of course, Thanksgiving.
"I approach the holiday as a pleasant challenge," she said, adding that she enjoys "subtly altering traditions" each year.
Contrary to popular belief, not every Turkey Day with Martha Stewart goes exactly as planned. One year, she held Thanksgiving in her barn (the photos were the absolute definition of rustic chic, with horses looking on as Martha and her guests dined). She cut her thumb, a child's shirt caught on fire, and one of her dogs got kicked by a horse.
"No more Thanksgivings in the stable," she said wryly.
She also suggested this recipe for cooking a Thanksgiving turkey, and explained that she prefers to serve a Thanksgiving lunch, venture out for a long hike afterward, and enjoy turkey sandwiches ("with cold stuffing and lots of cranberry sauce") later in the evening.
Martha then sat down with Marc Pachter, the interim director of the National Museum of American History, for an interview. She spoke about her childhood in Nutley, New Jersey; her experience at Barnard College (her first choice school was Stanford, but her family couldn't afford to send her); her marriage at 19; and her time as a stockbroker on Wall Street.
"If I had stayed on Wall Street, I'd probably be running a company," she says. "I left Wall Street, and I'm still running a company."
Pachter made many comparisons between Stewart and Julia Child.
"I was the original Julie in Julie and Julia," Stewart said. "I cooked every recipe, but I didn't think to write a book about it."
To wrap up the evening, Pachter asked Stewart about her legacy. Stewart said she had been thinking about that but hadn't come up with an answer yet.
"I'm not nearly finished with what I want to do," she said.