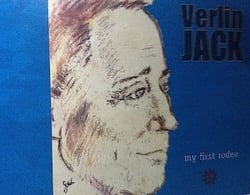 Philanthropist and businessman Jim Kimsey is famous for creating the largest company ever started in Washington, America Online, and as its founder emeritus, as you can imagine, he's done very well for himself. Now he's created something altogether different (and disarming), and while it may not make him millions, it's likely to bring him positive reviews. He's recorded a CD—part blues, part rock, part country—that will drop at the beginning of December. The name of the CD is My First Rodeo, and the nom de plume, or nom de album, he uses is Verlin Jack (Verlin is his middle name).
Based on hearing a few of the tracks, My First Rodeo is impressive. Kimsey's rendition of Leonard Cohen's "Chelsea Hotel" demands a glass of bourbon, neat, and some rain pelting the windows.
Kimsey is shy about the project. It started as a Christmas present for 2,000 of his closest friends, after he was inspired by Jeff Bridges's Oscar-winning performance in Crazy Heart. Actually, Kimsey's tone and style are reminiscent of Bridges, and the tunes should appeal to the same fan base. He used a vocal coach to get his chords pitch-perfect. He even drew the cover art, a self-portrait, with materials given to him by artist and good friend Bill Dunlap.
Kimsey has been asked to perform by CBS News anchor Bob Schieffer (who has his own band, Honky Tony Confidential), but at this point he is not committing to any gigs. Which is a shame—tunes like "Thunder Road" and "Johnny" would be well served by a small, dark venue like Blues Alley.
And as one of the individuals who was actually there at the beginning of the Internet, will he make the 20-plus tracks available on iTunes? "I have no idea," he says.