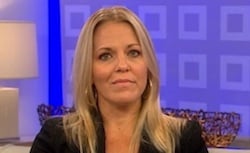 Traci Nobles, one of the women who had an online affair with former New York Congressman Anthony Weiner, says she still plans to publish her tell-all, I Freinded You [sic], but it has been postponed until at least the end of the year. Earlier it was announced it would come out last month. She says she's "struggling" right now—divorcing, jobless, suffering from endometriosis, and having to live off the man who will be her ex-husband. Nobles, 35, is a former cheerleading coach and Pilates instructor "with two college degrees, in exercise science and health promotion and education." We caught up with her to learn more about the book, why she is publishing it, and what it has to say that hasn't already been made public.
When did your relationship with Weiner start?
In mid-October last year. He friended me on Facebook. One evening I got on Facebook chat and saw his chat light was on. I sent a message, "Is this the Anthony Weiner? Shouldn't he be writing bills?" He replied, and we chatted for a good four or five hours, into the morning.
What was the chat like?
It was provocative. I felt like I was a schoolgirl meeting a rock star. We talked about politics some of the time, but pretty much the majority of the conversation was sexual. I think he could tell I was not a shy girl. The first picture I got was ten days after we first chatted. We did video Skype. We talked every day from October up to Thanksgiving, sometimes for hours. It started off hot and heavy and then sort of died down.
How did it end?
With him saying he was going to have to stop talking to me. He said his wife was getting suspicious. I didn't think we would actually end up getting married. I knew it was probably gonna end with my heart being broken. But I shared a lot with him. I like to think I can write—short poems—and I would share that with him.
Did you break up by phone or by text?
We were texting and I was crying.
What is the status of your book?
It's written, but it is still a work in progress. It was supposed to be published in October. I plan to have it done by the end of December. We've actually heard from a few publishers, but as of now it is going to be an e-book.
What do you have to say that hasn't already been said?
There's a lot that hasn't been out there. Even if nobody reads it, I feel like it's a therapy. I hate that it [the episode with Weiner] makes me look sort of lonely at the time, but that's what I was going through.
Would you publish full transcripts of the texts you two exchanged?
I would.
Will you include the graphic sexual parts?
Yes.
How do you feel about how this might affect his wife and your husband?
I try not to think about it.
Do you regret anything?
No, I don't.