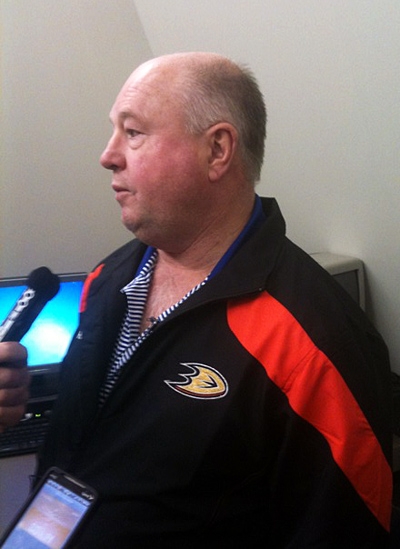 I always thought the Capitals should have made Bruce Boudreau plushes—little stuffed dolls of the coach to be hawked at Verizon Center concession stands. Each one would have a replica of that telltale peach fuzz on the top of his head, and if you pushed your finger into its ample belly, it would let loose a tirade of expletives. What Caps fan wouldn't pay $24.99 for that?
Sadly, Washington's Boudreau era ended last week, as the coaching curmudgeon was fired and replaced by franchise legend Dale Hunter. Boudreau went 201–88–40 during his time in DC. That kind of record usually gets a guy a raise, not a pink slip. But it wasn't that simple here.
Boudreau was blessed with perhaps the most naturally talented roster in the NHL, but while he was able to marshal their skills to achieve great regular-season success, they repeatedly flamed out in the postseason. With the establishment of Alexander Ovechkin as the most talented player on the planet (at least he was two years ago), it was assumed Lord Stanley would be paying a visit to Washington. It never happened. The Caps failed to advance past the second round of the playoffs under Boudreau and with the team slumping this autumn, team management decided to pull the plug on the coach—something many expected six months ago followng the team's four game sweep at the hands of the Lightning.
The thing is, Boudreau is a good coach. When he took over in November 2007, the Caps were in last place. By the end of that season, he had poked and prodded them to a division championship, and the lifelong minor leaguer was given the Jack Adams Award as the NHL's coach of the year. He was colorful and likable and the kind of guy for whom players don't mind working hard. But in coaching, everyone has a half-life, and it became clear last month that Boudreau was approaching his.
In a game against the Anaheim Ducks on November 1, the Caps found themselves down a goal with just over a minute left in regulation. Boudreau called timeout to draw up out the team's final offensive thrust. Shockingly, Ovechkin was not part of the plan. Boudreau decided to bench his slumping superstar for the game's deciding sequence—and it worked. Nicklas Backstrom scored the game-tying goal and the Caps went on to win in overtime. Boudreau's decision was justified, but it simultaneously may have sealed his fate.*
While both men denied it publicly, from that moment on the relationship between Boudreau and Ovechkin seemed strained. And when a coach loses his rapport with his star player, it usually isn't long before things unravel with the rest of the team.
Ironically, it was those same Anaheim Ducks—the ones who bore firsthand witness to the moment that may have cost Boudreau his job in Washington—who hired him as their new head coach less than 24 hours after the Caps let him go. Yes, one team's outcast is another team's savior.
But as a Caps fan, I wasn't ready to let go. This is the man who presided over Washington's evolution as a hockey town. He made us relevant. So when I was in southern California this past weekend, I paid a visit to Boudreau at his new workplace. I stopped by a place called Anaheim Ice, which is the Ducks' version of Kettler Iceplex. It was Saturday afternoon. Boudreau had just coached his first game for the Ducks the night before—they lost in overtime to the Flyers (that should ring a bell, Caps fans). The Anaheim players had just concluded an optional skate. Boudreau strolled in wearing a pair of khakis and a disturbingly un-red Ducks windbreaker. The following is a transcript of our chat:
When you have a chance to look back, what will you think of as your most memorable moment in Washington?
I mean, there were some great times. But probably the most memorable one would have been the first year: coming back and winning the last seven games to make the playoffs for the first time in seven or eight years, and winning the division. I thought the players were so into it, and watching the fan base raise from about 6,000 when we got there to 18,000 to now 115 straight sellouts . . . I think that's the best thing that I'll remember.
Do you find it odd that you took over for Glen Hanlon during the Thanksgiving weekend in '07, and it was essentially the same time this year that you were replaced?
Yeah, I'm not really looking forward to Thanksgivings these days [laughs]. There are a lot of similarities. When I took over in '07, we played Philadelphia the next night and won 4–3 in overtime, and wouldn't you know, we lost 4–3 in overtime here (in Anaheim) when I took over. You know, it's amazing how coincidences happen.
Do you buy into the notion that teams need new voices sometimes? Or is that just a cliché people use when coaching changes are made?
I don't know. I guess sometimes you can get tired of hearing the same old voice. The best example would be Mike Keenan. Great coach, but moved around an awful lot, and it was always the same story: that he wore out his welcome or the guys got tired of him because he was very demanding. I guess it can happen, but then you wonder why—what's wrong with Lindy [Ruff, head coach of the Buffalo Sabres since 1997]? Does he have a different voice? Has Barry Trotz [head coach of the Nashville Predators, also since 1997] got different vocal cords from us, or what? Nobody seems to get tired of them. So I don't know. I mean, you have to ask the players. I've never been involved as a player, in all my time, with a coach getting let go mid-season.
I was just down in your dressing room talking to Ryan Getzlaf and Teemu Selanne, and I asked them for their early impressions of you. They each said you were very positive and nothing like what they saw on that HBO 24/7 series last year. Do you think people who don't know you got an inaccurate impression of who you are from watching that series? [The show famously captured multiple instances of Boudreau losing his temper with his team and using language that would charitably be described as "salty."]
Well, I still shop like that [laughs]. [The show also captured Boudreau doing all of his Christmas shopping in a two-hour window on December 24, and buying his wife a pair of shoes that were both the wrong size and the wrong color.] There's a difference between being positive and getting your game face on. It's knowing and seeing what the team needs. If they're down, you don't want to keep kicking them. You want to build them up. These guys [in Anaheim] need building up. There are going to be times, I would assume, when I'm going to dump on them pretty good, but you can only dump on people for so long before they either rebel or it goes in one ear and out the other.
In retrospect, can you explain why the Capitals had so much regular-season success and such shortcomings in the playoffs?
To me, it's very easy. In this league, there are so many teams that are very close to being the same. To win a championship, it not only takes good teams; you also need luck, you need things to bounce your way. I mean, look at us when we lost to Pittsburgh in seven games in Washington [in 2009]—we could have won the first five games, we lose in seven, and they win the Stanley Cup. We lose to Montreal [in 2010]—I don't know what you can do. In game six, we took 110 shots at the net and couldn't score. Those two rounds, we could have gone a lot deeper. Last year, we didn't have a good series against Tampa, but out of the four years, I thought that was the only bad round that we had. The first year, we lost to Philly in overtime in the seventh game on a power play.
[Caps general manager] George McPhee said that at the end of your tenure in Washington, the players were no longer responding to you. Was that a fair comment for him to have made?
I mean, he had to make it. I don't know if that was true with everybody. It might have been true with a person or two. I think for the most part, if you ask the players, they were still engaged in what I was doing.
How would you characterize your relationship with Alex
Ovechkin at the end?
Good. I thought so. I don't think he's playing as well as he can, but I thought our relationship was fine.
You didn't lose him?
I don't know. He's still there. I know where to find him, so I don't think I lost him. It's not like the last two games [since Boudreau left], he's gotten four goals in each game and said, "Wow, I'm glad the coach is gone."
In your opinion, why isn't Ovi playing as well as he can?
I don't know. If I had the answer, I would have corrected it.
Follow @BrettHaber on Twitter.
*Editor's Note: This paragraph has been updated to correct an error that originally mentioned the benching occured during overtime. We apologize for any confusion.